Oscar Klefbom, chosen No. 19 overall in 2011, spent the early portion of his career being known as 'not Jonas Brodin'. In the last year or two, the conversation has turned around completely—it now appears the Oilers have themselves a major piece of a successful future. Home grown, drafted by Edmonton management outside the lottery. How good is he? Folks, he might just be the rarest of all things, a complete blue drafted by the Oilers and retaining a wide range of skills upon arrival in the NHL. Hey Oscar? Stay healthy.(Young Lions)
OSCAR KLEFBOM 15-16
5×5 points per 60: 1.09 (1st among regular D)
5×4 points per 60: 3.27 (2nd among regular D)
Corsi for 5×5 %: 50.5
Qual Comp: 2nd toughest among D (first pairing)
Qual Team: 4th best available among D (second pairing)
Corsi for 5×5 % REL: 6.8
Shots on goal/percentage: 48 shots/8.3%
Boxcars: 30gp, 4-8-12 .400
Information via Stats.HockeyAnalysis.com, behindthenet.ca and hockey-reference.
VOLLMAN SLEDGEHAMMER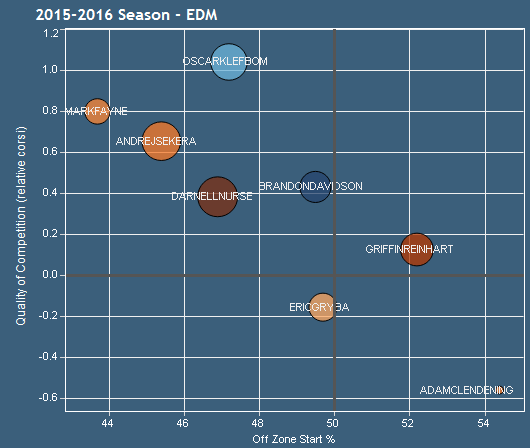 RE 16-17: 55GP, 5-16-21 .381
How good can he be? Top pair. You would want to see him play for 250 games, and you would like them to come in three seasons (including playoffs), but this is a very promising player—who is already established as an NHL player.
What were his injuries last season? He had a finger injury on December 12, day-to-day. After that, it was various descriptions (lace bite, staph infection) but it was real and it was serious.
When was the last time you were this concerned about an Oilers player? Probably Fernando Pisani. We still don't really know if he can come into camp and perform at par. The young man has missed a lot of time and there has to be at least some concern about the lace bit problem coming back again.
This RE number seems low. The GP is the big item, this is actually a 31-point season if he played the entire way. Klefbom needs to prove he can stay healthy. Major, major story for 2016-17.
He should be a 40-point projection. I would refer you to the dictionary meaning of reasonable. If Oscar gets a lot of power-play time and plays 82 games, he could post a big number. I am estimating that big number would be 31, and that he will not play 82 games.
How big is this injury story? The Oilers badly need this guy. He is a big piece.
They didn't compromise the foot? Klefbom: "I think it'll be 100 per cent. I just want to put this behind me." Source
How important is Klefbom to the build? Massive. You could see it after he went down in December. The team was addled the rest of the way. If he can't join this group for the next decade, it will fall upon the next group to replace—not reinforce—the defense. A major distinction and a possible derailment of this rebuild. It is a big damned deal.
Who did he play well with? His three partners were Justin Schultz (54 percent 5×5 Corsi for percentage), Mark Fayne (50.1) and Brandon Davidson (49.0). Source
What player-type is he? There is substantial evidence now that he is a complete defenseman. Mobile, wide range of skills, 6.03, 210, sturdy, rugged—and now that he is away from the Swedish assist police, we know he has an offensive game.
What could he be? I wish you could have seen the old timey Habs (I hated them) back in the day. You would see them early in the year and some new guy—like Bob Murdoch or John van Boxmeer—would catch your eye. You would run to the latest Hockey News to see his AHL numbers, and wonder if he was going to be a star. Chances were, the guy would not be back that season. Crazy. Oscar is so good he could have been a Habs farmhand in 1972. Almost all of them had a wide range of skills. It was a factory.
So, Oscar could be Murdoch or van Boxmeer? Better. I believe he could be better, by some margin.
What is the best thing you can say about him? The Oilers are miles better with Klefbom on the roster and if he is healthy next season we should see a more balanced defensive group.
How good could he be? I do not recall the last Oilers defensive prospect with this kind of range. He covers the entire spectrum, and his mobility is terrific. He can move left and right quickly, skates well in any direction, is a rugged player who can battle and has no fear.
Do you want to talk about the quote? Your choice, it is here.
Is there any way for this to be a non-story? The nature of these things is that they are forgotten until the next time. I will tell you this: If New Jersey or Edmonton has a season outside expectations, it will have a new life. If Hall performs very well or poorly in NJ, it will have a new life. It is now a part of public record.
I wish it had never happened. Ever since the world began, Euro hockey players go home and talk to the local media. They are far from the team, feeling relaxed and they let their guard down.
He backed off the original quote. Yeah. And he does not strike me as an outspoken person or a bad teammate. Matty came to his defense right away, he has seen the wars and would know if Oscar was a different sort. Mostly, hockey players are alot like other hockey players.
Does that do anything for you? It doesn't change the original quote. I don't think it makes Oscar a bad person or a horrible teammate, but it will be with him for a long time.
Why can't you let this go? Has nothing to do with me. This is about Oscar Klefbom and a quote that saw the light of day. We can discuss damage control (he did a pretty good job of it) but it is out there now, nothing anyone can do. And it will come back.
How much do you have Oscar playing? I have him at 22 minutes a night, same as Larsson. I think they will be a very effective tandem when together.
How did you break it down? 18 minutes at evens, two and two. Larsson's 22 are 19 minutes at evens, three on the penalty kill.
How much do you have him on the power play? Oscar is my No. 2 LH option, behind Sekera. Maybe he emerges as No. 1, maybe Brandon Davidson passes Oscar. We are dealing with an unknown.
Could he score 40 points eventually? I don't know. His Swedish league totals did not imply this kind of offensive ability, and his shot is good enough to warrant PP time (as indicated).
Why this song? Oh, youth. Get everything out of it you can, and then put the pedal to the metal for one more spin, baby. You won't regret it when you are 50, and have more stories to embellish. This is Oscar's time, and if he is healthy, perhaps these young lions will finally climb from the depths of the second division.