As the summer rolls lazily along, we get small amounts of information about items great and small. On a blazing Friday, probably time for us to set the possible training camp roster and fill it with some of the names flying around right now.
https://twitter.com/NEWS1130Sports/status/763569529750380544
Foster is an interesting player. Good speed and skill, he has had injury issues during his junior career. A teammate of Tyler Benson, he is listed as a center. As a quick comparison, Tyler Benson (age 17) had an even-strength primary points-per-game total of .567—Thomas Foster had .143. His boxcars (28gp, 8-12-20) are interesting, but he didn't get his numbers in the same way as Benson (30gp, 9-19-28). Interesting invite, and the first confirmed for the year.
ROOKIE CAMP NAMES
We often get a first blush of invites when viewing the Orientation Camp (this year's list) so let's quickly post these names and remind ourselves about them.
G Tomas Kral. Czech goalie (like Svoboda) he is a little older (23). Unlikely to be back this fall because the Euro league seasons start early.
LD Shane Hanna. He is a 22-year old college man, and has completed three seasons with Michigan Tech in the NCAA. Undersized, can move the puck.
LD Mark Auk. Another Michigan Tech LHD, he is 21.
RD Jason Fram. Offensive defenseman and graduating junior from Spokane. Boxcars look good, he is 21.
RD Nick DeSimone. Another college player (Union College), he is a little bigger (6.01, 190) than the other college invites.
C Zach Aston-Reese. Playmaking center has been in NCAA (Northeastern) for three years, 21.
C John Stevens. Bigger center from Northeastern, he is 6.02 and was close to a point-per-game.
C Tomas Soustal. One of the most talented invites, he is 19 and has two-way skills. 6.03, RHC, Kelowna Rockets.
L Jake Lucchini. Impossibly small winger from Michigan Tech.
L Brandon Biro. Fabulous resume from Spruce Grove Saint, on his way to Penn State fall 2017. Offensive player.
L Peter Zhong.  Small scoring winger with speed and hands, he played at lower levels last year.
R Josh Melnick. Playmaking forward from Miami of Ohio, he totaled 48 assists in his final USHL season.
R Dominik Shine. Scoring college winger for Northern Michigan, he is one of the older prospects at the camp (23).
R Luke Esposito. His uncle is Mark Messier, Esposito is a Harvard man and he was at the same camp one year ago.
No idea if any or all of these fellows will attend, but a good rule of thumb is that Euros and college men are extremely unlikely to be there (for different reasons). Biro and Soustal are the most interesting to me.
AHL CONTRACTS
These are men who have signed with Bakersfield and should be included in the Mark Arcobello, Andrew Miller, Josh Winquist, Marco Roy category.
L Scott Allen—A giant (6.03, 198) who came out of college (Alaska-Anchorage) and scored some with two ECHL teams last season. A former Spruce Grove Saints forward, he is on an AHL deal.
C-L Joey Benik—Another AHL contract, Benik is a small (5.10, 174) and quite skilled—his St. Cloud State career totals (126 points in 137 games) are impressive. Interesting addition to the team, suspect ECHL time is likely.
RD Frank Simonelli—He is a righty blue from the Boston Bruins system, I would suggest he is the new CJ Ludwig.
R Jaedon Descheneau—St. Louis Blues (unsigned) pick in 2014, he finishes a fine junior career with the Kootenay Ice. Small and skilled, on an AHL contract with Bakersfield.
L Ryan Hamilton—No longer on an NHL contract, he will pull major minutes away from the kids—but is regarded as a solid veteran and mentor.
Current AHL roster
STRAGGLERS
L Kale Kessy. Not qualified, destination unknown.
D Adam Pardy. UFA, destination unknown.
D Eric Gryba. UFA, destination unknown.
D Nikita Nikitin. UFA, rumored to be heading to Omsk (KHL).
C Marco Roy. minor league UFA, destination unknown.
CURRENT 50-MAN LIST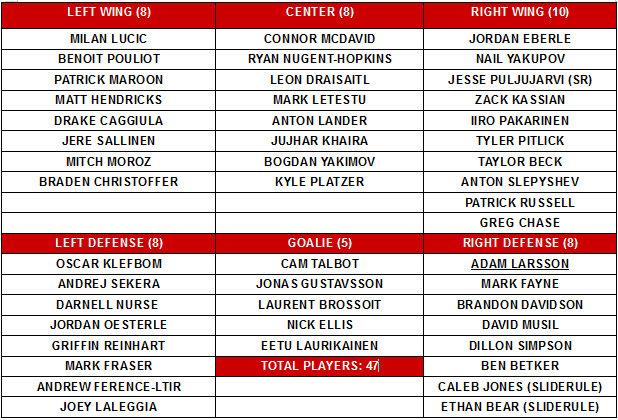 The Oilers are now at 47, with three slide rules. Now, two of those (Jones and Bear) are likely to slide, Puljujarvi less so. I remain convinced Peter Chiarelli has three roster pressure points:
Substantial RHD to fill out the RH side (Larsson, Fayne, ?????). Brandon Davidson may ease that pain if he delivers as he did a year ago (he can play RH side, has done it before, and was splendid on both sides last season).
C-W who can play 3C or 3W when Leon slides up to 2R. This is an important depth conversation, because Mark Letestu—who I like—does not have the offensive talent to help deliver enough 5×5 offense on the 3line.
A more substantial backup goalie. I think maybe Peter Chiarelli got caught listening to the smooth delivery of former management (who are still in management) about the readiness of Laurent Brossoit.
As of now, the Oilers appear willing to enter their eleventh season in a row out of balance and lacking depth in important areas.