Among the least predictable careers in recent memory, Anton Lander surely must rank high. Rushed to the NHL for no good reason after coming over from Sweden, he didn't put the puck in the ocean for (basically) an entire year. Lander scored two NHL goals in 2011-12, and would not score another until 2014-15. Last season, he scored just one goal in 61 games and that might have sealed his fate as an Edmonton Oilers center. (Oblivion)
ANTON LANDER 15-16
5×5 points per 60: 0.33 (15th among regular forwards)
5×4 points per 60: nil (in 49 minutes and 51 seconds)
Corsi for 5×5 %: 47.3
Qual Comp: 4th line competition
Qual Team: 4th line teammates
Corsi for 5×5 % REL: -8.1
Shots on goal/percentage: 54 shots/1.9%
Boxcars: 61, 1-2-3 .049
VOLLMAN SLEDGEHAMMER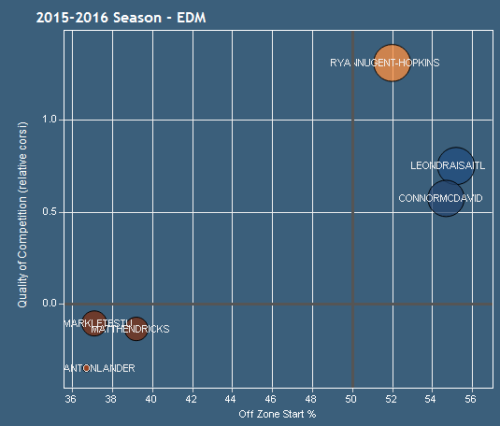 RE 16-17: 50GP, 2-5-7 .140
How bad was it? Last season, the NHL employed 378 forwards who played more than 400 minutes. Lander's 0.33 points-per-60 at 5×5 ranked him No. 375 overall—ahead of only Boyd Gordon, Paul Gaustad and Jacob Josefsen.
And he did it against the soft parade? He played soft opposition, but did have 62.5 percent of his zone starts in the defensive end, according to hockey-reference.
There should have been more offense, though. Yes. Much more. Lander had a reasonable half season under Todd Nelson (38gp, 6-14-20 in 2014-15) and had a hat trick in pre-season. He looked good, but when the regular season began he was snake bitten, could not find the ocean again.
Is it over? It might be. You could make the case that Lander is hanging by a thread on this roster.
Does he have a job right now? Unsure. Edmonton ended up using Matt Hendricks a bunch at center last season, because the back end of the center position fell flat. Bad, bad sign.
Chiarelli hasn't replaced Lander though. Tough for Lander to be in the opening night lineup as things stand. If you look at the depth chart (McDavid, Nuge, Leon, Letestu) the 5C job is open, and if the club is going to add another pivot I imagine it would be 3C for those times when Draisaitl plays RW.
Lander can't play 3C? Anton Lander's NHL offense per 82 games is 4-9-13.
You are being pretty negative here. This is a terrible result for the organization. Lander had talent (and issues, speed being the biggest) but as happens so often with this team, the development did not follow any rational plan and we are here.
He isn't that bad. Lordy. Anton Lander and his lack of offense had an impact on the Oilers last season, don't kid yourself. It reminds me of the olden days when the Expos had guys like Tim Raines lapping the field of NL outfielders while Doug Flynn gave it all back at second base.
What in hell does that even mean? Connor McDavid makes the Oilers very good when he is on the ice, but Lander could not deliver much at all in his time on ice. The net benefit of both men's performance is far lower, because Edmonton gave much of their advantage back when Lander was on the ice.
Lander doesn't even play that much! In 550 even-strength minutes last season, he posted 1-2-3. In the same amount of time, Tanner Glass went 3-3-6. Tanner Glass!
He was playing in bad luck! I think he was, and there is some evidence. His shooting percentage was 1.9 (54 shots). That is damned near impossible for a forward.
Maybe cut him some slack. I don't know if he has any slack left. Seriously.
Who did he play with? Iiro Pakarinen (50.8 Corsi for 5×5 percentage in 152 minutes); Lauri Korpikoski (41.6 in 148) and Teddy Purcell (47.8 in 125 minutes).
That Korpikoski number is awful. Honestly, LK was a drag on everyone.
Can Lander save his career? Yes. I think so. He will need to be damned handy from the moment he checks in during training camp, though.
Who is his competition? At center, the top four (McDavid, Nuge, Leon, Letestu) are set. After that, I would put Lander and Matt Hendricks about even. Next would be Jujhar Khaira, Drake Caggiula, Jere Sallinen.
What about overall? I would suggest the likely 14Fs (could be 13) would be McDavid, Eberle, Lucic, Nuge, Draisaitl, Pouliot, Puljujarvi, Maroon, Yakupov, Kassian, Letestu, Pakarinen, Hendricks, Lander.
Lander is 14F? Maybe. Khaira might win the day. Caggiula, Pitlick, Beck, Sallinen, there are lots of options and Lander's performance has opened the door.
What happens now? We will see. Lander got a bit of a break when Bogdan Yakimov was loaned to the KHL, and the Oilers have not added anyone at center. The problem really comes down to Lander's performance in training camp I believe. He needs to show very well, and outplay the contenders.
What about PK? Maybe. Letestu, Lander, Korpikoski and Hendricks all played more than 100 minutes on the PK a year ago, Oilers giving up 46 goals on the 4×5. Edmonton may be able to afford using Nuge more in that area, he was the best at Corsi Rel to team a year ago.
Are you seriously preparing me for Lander to be waived? It could happen.
Would you prefer Khaira? At this point, I think the smart play would be to give Lander one more season to see if he can right the ship. Probably just my remembering his performance under Todd Nelson and that pre-season hat trick.
What do you think happens? No idea. Lander is 193 games into his NHL career and is still not established. He has chosen the Marc Pouliot path, it is a road less traveled for good reason.
Why this song? The title fits and this is a wonderful, wonderful song. Heartbreaking lyric, awful awful that anyone would ever have to worry this much about going out at night alone. Finally, as someone who worked Top 40 radio for a decade (the 80s), this song has more hooks than anything I ever played. Fabulous song. Also, the video is filmed at Olympic Stadium in Montreal, the scene of multiple heartbreaks.