One can never be sure—the language barrier is real and it is spectacular—but it appears Filip Berglund is playing a little for Skelleftea of the SHL (the big pro league in Sweden) in exhibition games. What's more, he picked up an assist:
27.06 : Goal ! Henrik Hetta can put your disc into the empty net . The situation is now 0-1 Skellefteå . The feed points for Filip Berglund Oscar Möller . Source

That source has a video in it of the goal, but I cannot get the blasted thing to work. Either way, Berglund is probably headed back to junior, but it is nice to see him hanging with Oscar Moller and the pro group in the early days. Also, hockey blogger Johan Karlsson quoted the player (thanks, google translate and Swedish Poster!) about the young blueliner:
Oscar Moller: And such as Filip Berglund. He is already good, but I think he will be really good. Source
Berglund is going to be a fascinating player to follow this season, and we hope our friend Swedish Poster (and others) drop by often to update. I will google search and google translate like a demon from this day forward in search of news, promise.
TYLER BENSON!
His .700 even-strength points-per-game ranks him No. 2 among (first time) 2016 draft-eligible WHL forwards (Dillon Dube, .707—he was chosen No. 56 overall by Calgary).
His .567 primary even-strength points-per-game ranks him No. 2 among (first time) 2016 draft-eligible WHL forwards (Dillon Dube, .585—he was chosen No. 56 overall by Calgary).
He did this on a team that won 23 games, and the Giants were one of five teams in the league to score fewer than 200 goals.
The Vancouver Giants training camp begins this week (August 26) and the junior clubs get back at it across Canada this week. I will have Corey Graham on the Lowdown Friday morning to discuss the Oil Kings and their coming season.
ROOM FOR MORE!
Normally this is the time of year I am yelling for a three-for-one deal, but the Oilers lack creativity at this time of year and it does not appear to be even an unlikely possibility. So, we are left with the idea of nibbling around the edges of the roster. What can be done? Well, let's go back to the Chiarelli to-do list (I know you are excited!):
CHIARELLI'S MAIN LIST
Top-pairing RHD (Two-way skills—Adam Larsson)
Find a replacement for Taylor Hall once they traded him (Milan Lucic)
Backup goalie (Jonas Gustavsson)
Second-pairing RHD (Offensive defenseman)
Acquire RHC with some skill
We have chatted for two months now about the additions and the draft, but if we return to Chiarelli's list, there are two items still on the docket: RHD who can help on the power play and a righty center to play 3C. There are still a few smaller avenues to success (small s) and one of them is the waiver wire:
RD Ryan Sproul, Detroit Red Wings. The young man has been in the AHL for three years and is NHL-ready. I think he makes the big club based on numbers, but it is not a slam dunk and the Oilers should leap at the chance to add the puck mover.

R Josh Leivo, Toronto Maple Leafs. This is an excellent young player who shoots right and has shown excellent AHL progress. If Toronto attempts to slide him through, Edmonton should grab him.
L Teemu Pulkkinen, Detroit Red Wings. They will deal him long before he hits the waiver wire, but someone is heading out of Detroit based on their having 17 signed forwards at this time. A dandy young player.

C Mark McNeill, Chicago Blackhawks. There are things about him (RH, two-way center, better speed than Lander) that would make him an attractive addition. I wonder if the Oilers end up trading for him if he doesn't make the Hawks this fall. Bob Stauffer has mentioned him many times.

L Kenny Agostino, St. Louis Blues. The Oilers don't specifically need a LW, but this guy is 24, scored 57 points in 65 AHL games and is 6.01, 200. I think Edmonton might look at him in an effort to shore up the depth forward spots.
C Derek Grant, Buffalo Sabres. I didn't understand why he hadn't received a long NHL look—apparently Buffalo agreed. Grant went 27-18-45 in 36 AHL games last season, followed by 15 games where he averaged 11 minutes a night. I hope he hangs around for expansion. Make sure you are UFA next summer, young man.
RD Connor Carrick, Toronto Maple Leafs. An interesting young player, I don't think the Leafs have room for him. Has scored 45 points per 82 AHL games and may have enough to help an NHL team.
RD Stefan Elliott, Nashville Predators. He posted 24 points in 84 games and is a righty—a player who could help the Oilers organization.
Edmonton has 47 names on the 50-man list, but two potential slide rules. Peter Chiarelli could add two of these men and safely be under the line general managers like to land for the season (waivers, etc).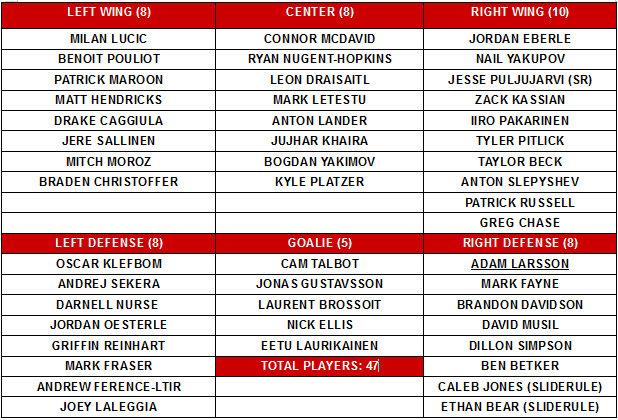 THE LOWETIDE PLAN
Universally despised, ripped thoroughly by onlookers and casual fans, once again I would like to lay out the Lowetide Plan. I have published this before, so apologies for repeating:
Find balance. Peter Chiarelli is getting closer, but for some reason decided to stop short this summer—and I do not buy that the prices were too high because you lose that argument once pulling the trigger on the Larsson deal.
Add two defensemen who are actual NHL players. We are not yet at opening night so there is still time, but short of a Leddy-Boychuk weekend Edmonton got one and did not add the other. This is not a cardinal sin, but does speak to management's leisurely pace during the McDavid entry-level deal. THAT qualifies as a cardinal sin.

Re-stock the system. The 2016 college signing period and 2016 draft looks damn good from here. Adding Puljujarvi and Caggiula gives the team help at the pro level, and Benson is a helluva addition if completely healthy. I am also bullish on the blue, especially Berglund.
Keep the centers three. Done. Good job.
Light a candle. I don't believe in voodoo or witchcraft or the power of a seance, so will go with a simple lighting of a candle. The Oilers have very little depth, so staying healthy will be vital to any success we see this  season.