Peter Chiarelli must have known this job could be his Everest. Any man gifted with the power of reason and a reasonable calculator would know the dangers of racing the roaring Fraser to the sea. Just as those brave men who blazed a trail through the beautiful wilderness we call home, Chiarelli must have known there would be no middle ground, no turning back, no quarter given, no way out. Make it to the sea—riches untold await you. Fail—and no glory, not even a marker on the plains to mark the spot. Godspeed, Peter Chiarelli. Having fun yet? (Northwest Passage)
CHIARELLI TRADES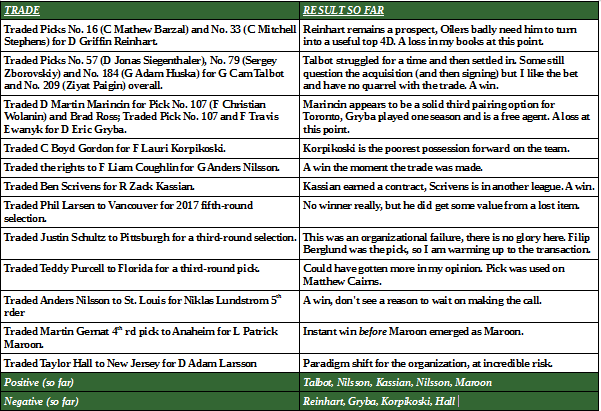 Are you ready for this? Sure. You are in a better mood than in the spring (here).
What was I mad about then? You didn't like the Reinhart trade and wanted him to accomplish more in year one.
I miss those days. Haha. Hey, there are positives.
Seriously? Didn't expect that from you. Hey, as I mentioned yesterday in the comments section, I didn't like the Hall trade in terms of value, but it is a paradigm shift for an organization that couldn't spell defense even with the fence already completed.
I don't read the comments section. Ironic.
Did you think PC would trade Hall? I thought it was possible. In that item linked to above, I mentioned Chiarelli had no fear in the trade market and we could expect another major one.
You hate the trade. Why? I think it was an overpay and the team dealt an impact offensive player—one of the best in the league who was attached to a value deal through the end of the decade.
You would have been happier to stay the course? Great question. The problem is that we have no idea what else was out there. Plenty of rumors about the Habs and Subban, but that depended on Dubois being at No. 4—or that is from what I can gather.
You would have been happier to stay the course? No, I think Chiarelli needed to drill into the needs and address some or all.
Why did he trade Hall? I think he was willing to trade any of the Steve Austins, but Hall had the most value. Chiarelli probably had a list of defenders he would sacrifice Hall for, and Larsson was on that list.
Was it a wise move in terms of positional depth? Once Milan Lucic was secured in the free agent window, I would say PC had cover at the position. Lucic, Benoit Pouliot, Patrick Maroon and Matt Hendricks (or other) is a pretty strong depth chart. I think you can make the playoffs if those LWs stay healthy and the rest of the roster can bring that kind of quality.
Did Chiarelli protect the quality and depth of the roster? Once Jesse Puljujarvi fell to Edmonton, I think he could be somewhat comfortable he was close. JP is not a proven NHL player, but he is a terrific prospect. If he can play in the NHL and score well, then keeping the pick and trading Hall made sense. I am not saying it was a no-brainer, but I can see the logic.
So, Lucic—Larsson—Puljujarvi is close enough to Hall—Subban—no pick? I think Subban would have required more than the pick, possibly Leon—but the Oilers would have kept Hall—and of course Subban is a very dynamic player. He would have been my target and may have been Chiarelli's, but it sounds like (based on what I have read) Dubois was a key for Montreal. The other thing is cap, Subban costs a pretty penny and that would have been a concern. The Subban deal, rumored to be Leon, the pick and Klefbom, was no bargain.
So, and with respect, what the hell is wrong with the Hall-Larsson deal? It is an overpay and that will have its own cost. Lucic is older and more likely to be a drag on the roster in terms of price v performance earlier than Subban would have been. That is a factor. This summer may have moved the window of opportunity from (say) seven to five years, or from five to three. It has real risks.
What about Larsson? He is a good addition, I think he could play well with Oscar Klefbom or Andrej Sekera or Brandon Davidson. I am excited to see him as an Oiler and my only issue is asset cost.
Would a second round pick have done it? Nah, I think PC is too smart to look for futures like that in a deal of this kind. Hall was no deadline dump, this is a player. Although NJ does have Boston's second-round pick (thanks to Bruce McCurdy for the info), and Edmonton will be on the hunt for one (the Oilers pick belongs to Boston this coming season unless Edmonton goes offer sheet).
What would have done it? What would what now?
Listen, I am asking to name your price, bridge the damned gap! I think a player who could also help and on a value deal. Or a prospect who would not need to be protected in the expansion draft but is close enough to maybe help this year in a pinch.
Do you have a name? New Jersey doesn't have a guy, but someone like Nikolay Goldobin. A player who the Oilers could keep outside the expansion draft and be reasonably sure of him helping in 2016-17 and 2017-18.
So, Adam Larsson and Nikolay Goldobin for Taylor Hall and you are happy? Happier, yes. It is still a trade I would have preferred he not make, but we talked about Milan Lucic coming here long before free agency—and the impact of that signing were predictable.
That isn't a giant gap (Goldobin) you know. The actual trade ($6M Hall through 2019-20 for Larsson $4.167M through 2020-21) gives extra value to Larsson's contract. Both are damned good, Larsson's is for longer and Edmonton was hungrier to deal.
The key to a negotiation? Yes. Indifference about the outcome. Blasted New Jersey.
Can you see why he made this deal? Yes.
Can the Oilers make the playoffs? Yes.
What is the worst thing about this deal? The price was too high.
Will Oilers fans ever settle down about the Hall trade? No. We are still not over the Bill Guerin trade.
What about PC in Free agency? Great. I liked Andrej Sekera and Mark Letestu a year ago.

And this year? I am a fan of Lucic, so that was a deal that—although it was longer than I thought it would be—pleases me.
You like the deal? Yes. Said so at the time.
You like Lucic and Larsson? Yes.
Good lord you are stubborn! You have interacted with the Dutch, yes?
The rest of the signings? Completely flummoxed by the Gustavsson signing. Honestly.
Maybe they like Brossoit? I suspect that is it.
What else? I liked the Beck signing at the time, even more now that I have had time to review.
What is Chiarelli good at? I like his free-agent signings and his smaller deals (Maroon, Kassian) are rock solid in my opinion (not all, but most). Among the bigger deals, Cam Talbot was a good one, you know my opinion about the Reinhart and Hall trades.
Why this song? I am saving Wreck of the Edmund Fitzgerald for the gales November.
People want Chiarelli fired you know. Tough job. High stress. Damned if you do, damned if you don't.
Do you think he likes the improvements? God I hope so. He made them.
What is the best thing you can say about this roster? After 10 damned years they finally have some balance on defense—and experience. It isn't perfect, but the Edmonton Oilers are going to be able to shutdown some sorties this fall and winter. It has been a long time.
Ten years! One percent of my life!
Is he done? No. The Oilers will tweak either before the season or early days.
What position? Defense, forward, maybe goal if the backups fail.
So, all the positions? I think Peter Chiarelli has to see progress with this team. If the goaltending falters in October—and it could—I expect him to step in and attempt a fix on the fly.
Where do the Oilers finish? Without changes? Fifth in the division, 10th in the conference and 21st in the nhl.