Yesterday the NHL saw a fascinating bit of team building from the Florida Panthers and Arizona Coyotes. Basically, the Panthers made cap room for themselves and the Coyotes added the modern Ethan Moreau. I get the Arizona side—that club is collecting prospects the way I did with my Roto team 20 years ago (I had Vlad Guerrero and Andruw Jones when they were kids). The Florida side is the unusual item, and I want to explore that a little today.
Panthers GM Tom Rowe on Bolland trade: "We plan to use this cap space to continue to aggressively build on the steps we took this summer."

— James Mirtle (@mirtle) August 25, 2016
Interesting. Let's have a look at Rowe's roster and see where he might want to spend some of that walking around money earned for him by trading Crouse.
PANTHERS CURRENT PROJECTED LINEUP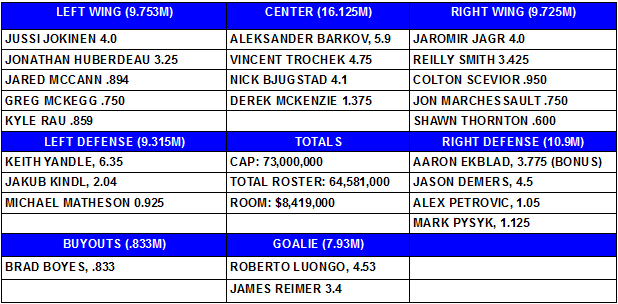 I like the Florida roster, but there are some weak points. I have posted these depth charts on the fly, but a 2LD, a 2RW and maybe an extra center would be on the shopping list. In terms of depth? Probably have room to move a RHD (Mark Pysyk?) or a prospect, but there is room for improvement in areas of this roster.
OILERS CURRENT PROJECTED LINEUP

What is PC building in there? For me, areas of need include RHD and center (depending on how the team handles Leon and RW). Question: Is there a deal to be made between these two teams? Mark Pysyk? Derek McKenzie?
By the way, a lot of Edmonton's depth problems up front go away in two simple moves: Keep Leon at center, play Yakupov on the McDavid line. It's the right thing to do for this roster. I doubt it happens.
Ziyat Paigin on the first pairing for Ak Bars, led team in shifts in the first period. Tiny sample etc., but good early sign. #Oilers #KHL

— Patrick C (@ChunkletsHockey) August 23, 2016
The giant blue has now played two KHL games (averaging 17:58 a night) and had three shots in yesterday's game. No points for the big man yet, I would be interested to see if he is getting any power-play time. Early days, good to see him playing a regular shift.
WHO IN THE WORLD OF SPORTS IS MATT BENNING? – @Lowetide https://t.co/hHHcgfCmgK #yeg #nhl #oilers https://t.co/fE91P32gjy

— Oilersnation.com (@OilersNation) August 20, 2016
We should find out soon where Matt Benning is going to sign and the Oilers are apparently in the mix for the young defender. If he does sign, Benning would represent the fourth college player signed by Chiarelli this summer (Drake Caggiula, Nick Ellis and Patrick Russell). That would represent almost 10 percent of the active pro rosters (Oilers and Condors) this coming season, and give credit to Chiarelli for overcoming a ghastly 2014 draft (in part) through these signings. There was a hole, but this trio (and Benning) would represent a pretty nice recovery.
Next summer, the Oilers will have a better graduating class. Connor McDavid is already in the NHL, and the team has signed Caleb Jones plus Ethan Bear already. Ziyat Paigin may come over a year from now and John Marino is developing well. As of this morning, Edmonton has signed one player from their 2014 draft (Leon) and have another (Lagesson) tracking well.
LOWDOWN WITH LOWETIDE
A busy Friday show, 10 this morning on TSN1260. Scheduled to appear:
Steve Lansky, BigMouthSports. How much do we miss the Olympics?
Corey Graham, TSN1260. Oil Kings camp gets underway!
Matt Iwanyk, TSN1260. Eskimos enter a vital month, and where will the Oilers finish?
Brian Saipe, Racecar driver. Brian has been going out to the track forever, we will preview his weekend.
10-1260 text, @Lowetide on twitter. See you on the radio!