For the fourth time this offseason, the Edmonton Oilers have signed a college player. Along with Drake Caggiula, Nick Ellis and Patrick Russell, Benning will play somewhere in the pro chain that makes up Edmonton's system. There is a lot of disagreement about this player, so let's begin with the math and then get to the scouting reports.
OILERS MINOR LEAGUE BLUE AND CURRENT NHLE

There is no exact science to this, but I generally see defensemen who score 20 or more points NHLE as offensive defensemen (or in some cases complete defensemen), two-way guys land in the teens or slightly above, and David Musil is a defensive defenseman. Benning lands at around Dillon Simpson, and that is a pretty good spot. There is no guarantee with this player, but we were blessed with the brains God gave us and this is a player who has been selected twice (draft and today's signing) by general manager Peter Chiarelli. Clearly there is a connection between manager and player.
LEFTORIUM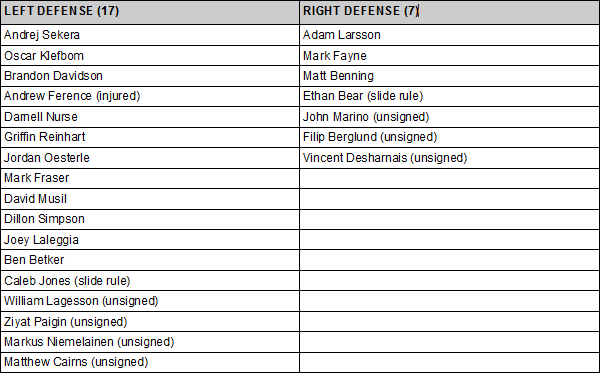 Among the righties, all but Mark Fayne arrived under the Peter Chiarelli regime. Jesus Murphy. Benning should not be considered a realistic option for the 2016-17 Oilers, although a strong showing in the minors might see him climb the pro depth chart during the year.
SCOUTING REPORTS
Kirk Luedeke, The Scouting Post: A defense-first guy who plays bigger and with an impressive physical edge for possessing pretty average size at 6-foot, 200+ pounds. Benning isn't going to wow you- he's a consistent presence if nothing else. He's not flashy or dynamic but is smart and rugged. He fills lanes quickly, gaps up well, and will pop you good if there are any thoughts of trying to cut to the middle- keep the head on a swivel when Benning is out there for the Huskies. His father, Brian, played more than 500 NHL games as a defenseman and tallied nearly 300 career points, so while his career wasn't all that long (he retired at age 29), he was an impact two-way threat/effective puck-mover who was at his best in the late 1980s with the St. Louis Blues and Los Angeles Kings. Matt Benning is a chip off the old block- he's got nice vision, the ability to make an effective first pass and a willingness to join the rush, not to mention the little bit of nasty he brings to bear during the trench battles along the walls and in front of the net. Source
Jeff Cox, SB Nation: Boston Bruins prospect Matt Benning has really stepped up his game. He's logging a lot of minutes for Jim Madigan's team and has improved drastically from the player fans saw when he first took the Matthews Arena ice. He'll never be the prettiest of skaters, but he's improved in that category and has really learned to make the most of his game. He's got a good stick, he's smart out there and he does fairly well with one-on-one battles. Source