Matt Hendricks arrived as a rugged two-way winger and has answered every call—moving to center, moving up and down the depth chart—with workmanlike efficiency and a great deal of enthusiasm. He is a black and white (and blue) player, pretty simple game but very effective when the boots are moving. History tells us Hendricks is nearing the end of his NHL time, as age and erosion have worn away the banks along the shore. I am pleased we got to see him in Edmonton, he is a perfect fit for a working class city. (Run Runaway).
MATT HENDRICKS 15-16
5×5 points per 60: 0.76 (13th among regular forwards)
5×4 points per 60: 0.00
Corsi for 5×5 %: 45.6
Qual Comp: 11th toughest competition among regulars (fourth line)
Qual Team: 15th best competition among regulars (fourth line)
Corsi for 5×5 % REL: -9.2
Shots on goal/percentage: 62/8.1%
Boxcars: 68GP, 5-7-12 (.176)
VOLLMAN SLEDGEHAMMER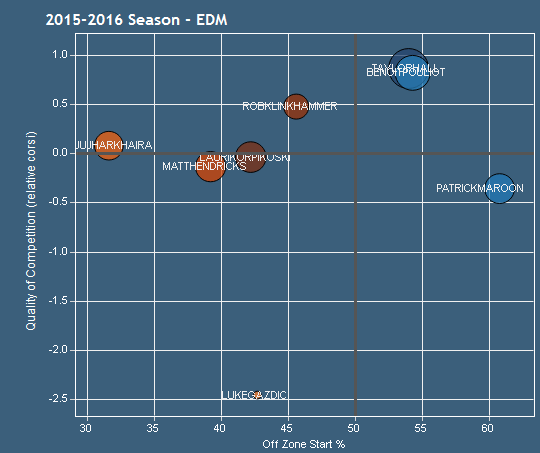 RE 16-17: 30GP, 1-3-4 .133
What the actual hell is this? I think Hendricks probably sees spot duty in the second half of the year, possibly traded depending on how he is playing.
Too old? He turned 35 in June, and that is certainly a point where the red light appears on the dashboard, but I think the reason he gets replaced is overall team speed.
Oilers are slow on LW? The team's top three left wingers (Milan Lucic, Benoit Pouliot and Patrick Maroon) are all going to play a lot, and there is a lack of speed merchants in the group. Suspect the Oilers ideally would want to run a less expensive 4line LW who can help with overall team speed.
Drake Caggiula? Maybe, or it could be Jujhar Khaira although he is somewhat similar to the others. Either way, I think Hendricks is in a risky spot on the roster, could get traded well before the deadline—and I do think he will be in play at the deadline if he is having a productive year.
What about center? That could keep Hendricks aloft this year—he was 55 percent on the dot and that was in over 450 faceoffs. He did well, and might be a nice match with Letestu on the 4line (Letestu taking RH side FOs, Hendricks on the other side).
Why so little offense? He scored 10 even-strength points a year ago in 68 games, my estimate is a little shy but in the range. I do not think the Oilers will have a strong offensive 4line—pretty sure that is true.
Is 35 really too old? He was 34 last season, posted 68, 5-7-12 for Edmonton. The most similar veterans in terms of boxcars a year ago were Kyle Chipchura, Kyle Brodziak and Jay McClement. I would suggest all of these men are near the end—although Chipchura is a younger man so could hang around a while longer.
Who was a role-playing veteran with those numbers two years ago? Scott Gomez, Jeff Halpern, Patrick Moen, Patrick Bordeleau. This is the period where players fade away, it just is.
But you think Hendricks has another year? I think he could have two or three more, just pointing out this is the period where the forces of age begin to pull these role-playing veterans out to sea.
Did Todd McLellan use him in an usual way? A little, but not often. Hendricks played on a skill line for a brief period (52 minutes with Nuge, 47 minutes with Hall) but that was about seven percent of his total 5×5 icetime.
What is the best thing you can say about him? He played with Letestu and Korpikoski on a line for 214 minutes and they posted a 45.60 Corsi for percentage at 5×5.
That is good? Yes, considering the situation. He was 47.7 without Korpikoski, he and Letestu 47.7 together. I think the Oilers—based on how the 4line was used—may feel Hendricks and Letestu can be an effective foundation for a fourth line.
And yet you have him playing 30 games? And then getting traded.
Why? He is a free agent, the Oilers are extremely unlikely to add, and there are a plethora of kids to look at this season—heading into the expansion draft.
Like? On left wing, I think Jujhar Khara and Drake Caggiula will get time, maybe Jere Sallinen. Anton Lander will play some there too.
What about center? I think the 4Cs are known (McD, Nuge, Leon, Letestu) and Lander plus Hendricks may end up being the extra's/wingers. This is our final player RE, so I will post the forwards at the end of the discussion if you like.
Mighty kind. You bet.
Will you do an overall RE summary? Yes. The plan this week is to run the McLellan tomorrow morning, and then discuss the overall Monday night. Now, things can change and the Oilers could have some kind of breaking news, but that is the plan.
RE got us through August! Yes!
Although you are miserably wrong on everything and the entire enterprise is ridiculous. Always a kind word.
How far away are they? One of the curious things I have noticed about opinions is that everyone seems to sure of the outcome of 2016-17. Some say playoffs, others say another awful year and management is stupid stupid stupid. I think we would do well to remember that injuries and a ghastly schedule contributed mightily to this poor season.
Meaning? Meaning they would have been better in 2016-17 witout any changes.
And? And so, if Larsson can block out the sun enough and the goaltending stays together with Wrigley's gum and binder twine wrapped around an old rubber glove, maybe this team pushes enough steam through the pipe to be a contender at the deadline.
Contender?? You are picking them to finish 10th! Yes. Oilers could change that by tweaking the roster, we will see how things go. That said, 10th would represent an improvement.