The Edmonton Oilers continued an aggressive procurement summer yesterday, adding righty blue Matt Benning to the pro roster. In what has become a far more active offseason than his first, Peter Chiarelli's footprint is all over the 2016 50-man list.
CURRENT 50-MAN LIST (48)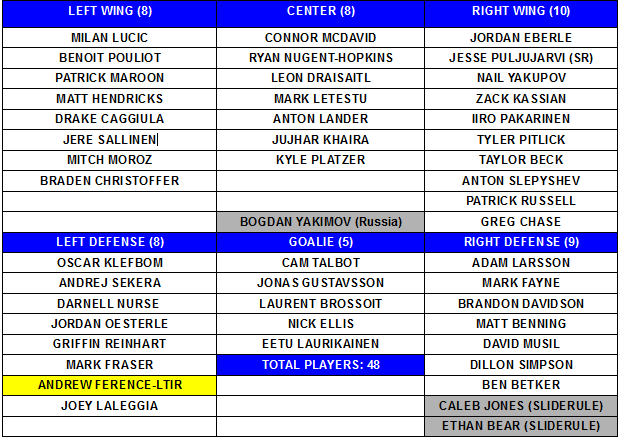 Of the 48 names you see here, 21 (or 44 percent) have a direct tie to the general manager—who has been on the job for 18 months. Important to note that despite the 48 contracts, two are slide rule so there is still room to add a veteran blue or center. I think it more likely now that a trade would include a body (as in, 'Edmonton trades Bogdan Yakimov for Dennis Wideman') than it might have been before this point in time. The building up of the middle continues, center looks solid if Leon stays at pivot and the defense—despite not having a hammer for the power play—has improved quality and depth.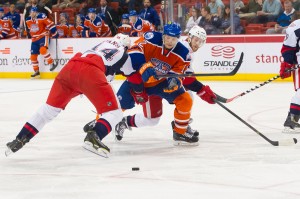 Ryan Hamilton photo by Rob Ferguson. All rights reserved.
AHL CONTRACTS
These are men who have signed with Bakersfield and should be included in the Mark Arcobello, Andrew Miller, Josh Winquist, Marco Roy category.
L Scott Allen—A giant (6.03, 198) who came out of college (Alaska-Anchorage) and scored some with two ECHL teams last season. A former Spruce Grove Saints forward, he is on an AHL deal. You may look at him as a fringe player, but he is exactly the kind of prospect who routinely gets playing time ahead of Edmonton's prospects. Keith Gretzky will be a hero for our times if he can stop that kind of behavior.
C-L Joey Benik—Another AHL contract, Benik is small (5.10, 174) and quite skilled—his St. Cloud State career totals (126 points in 137 games) are impressive. Interesting addition to the team, suspect ECHL time is likely.
RD Frank Simonelli—He is a righty blue from the Boston Bruins system, I would suggest he is the new CJ Ludwig.
LC Josh Currie—Effective AHL player, outperformed several prospects one year ago—and played more than those prospects.
R Jaedon Descheneau—St. Louis Blues (unsigned) pick in 2014, he finishes a fine junior career with the Kootenay Ice. Small and skilled, on an AHL contract with Bakersfield.
L Ryan Hamilton—No longer on an NHL contract, he will pull major minutes away from the kids—but is regarded as a solid veteran and mentor.
LD Mikael Tam—Seems a depth defender, could end up staying the entire winter in Norfolk.
Current AHL roster
STRAGGLERS
L Kale Kessy. Not qualified, destination unknown.
D Adam Pardy. UFA, destination unknown.
D Eric Gryba. UFA, destination unknown.
D Nikita Nikitin. UFA, rumored to be heading to Omsk (KHL).
C Marco Roy. minor league UFA, destination unknown.

Photo by Mark Williams
DEFENSE OPTIONS (that remain)
Jacob Trouba, Winnipeg Jets. Expensive and compelling option. He would cost a major piece or more, but would be an outstanding addition this late in the game. What would Edmonton have to add to the 2017 first-round pick to get this done?
Brandon Montour, Anaheim Ducks. This could be a special player. I like his even strength and power-play offense and he is young enough to cost very little. Anaheim has blue to the sky, maybe Chiarelli can pry him loose.
Cody Franson, Buffalo Sabres. That hammer from the point would come in handy and he fits a real need. I don't know about the cost, but would guess it would not be dear.
Eric Gryba, Edmonton Oilers. I think management likes him. Do not see him signing unless Mark Fayne can be offloaded and Gryba does not address need in any way.
Ryan Sproul, Detroit Red Wings. Puck-moving defender in the AHL. He is waiver eligible and a solid match for Edmonton's needs.
Dennis Wideman, Calgary Flames. A year removed from a fantastic offensive season.
Dan Boyle, New York Rangers. Retiring, but if he has anything left I think he could help based on last year's numbers.
WHERE WOULD BENNING RANK ON THE PROSPECT LIST?
I posted my top 20 late in June and there have been several defections and additions. So, I decided to add Benning to the list, delete the players who are no longer with the team, and add in the additions. This won't have any impact on the winter list but is a fun thing to do late summer.
OILERS TOP 20 PROSPECTS, AUGUST 2016
(1) C Connor McDavid, Edmonton Oilers (45, 16-32-48).
(NR) R Jesse Puljujarvi, Karpat (50, 13-15-28).
(15) LD Ziyat Paigin, Kazan Ak Bars and Sochi HC (45, 9-19-28).

(NR) L Tyler Benson, Vancouver Giants (30, 9-19-28).

(NR) L Drake Cagguila, North Dakota (39, 25-26-51).

(9) RD Ethan Bear, Seattle Thunderbirds (69, 19-46-65).

(13) LD Caleb Jones, Portland Winterhawks (72, 10-45-55).

(12) C Jujhar Khaira, Edmonton Oilers (15, 0-2-2) and Bakersfield Condors (49, 10-17-27).
(NR) RD Filip Berglund, Skelleftea AIK (43, 19-22-41) (SuperElite).
(5) LD Griffin Reinhart, Edmonton Oilers (29, 0-1-1) and Bakersfield Condors (30, 2-8-10).
(NR) R Matt Benning, Northeastern (41, 6-13-19).
(NR) RC Aapeli Rasanen, Tappara U20 (50, 19-19-38) (Jr. Sm-Liiga).
(6) G Laurent Brossoit, Edmonton Oilers (5, 3.61 .873) and Bakersfield Condors (31, 2.66 .920).
(23) LD Jordan Oesterle, Edmonton Oilers (17, 0-5-5) and Bakersfield Condors (44, 4-21-25).

(NR) LD Markus Niemelainen, Saginaw Spirit (65, 1-26-27).

(4) R Anton Slepyshev, Edmonton Oilers (11, 0-1-1) and Bakersfield Condors (49, 13-8-21).
(NR) L Graham McPhee, U.S. National Development Team (20, 5-0-5).
(18) LD Dillon Simpson, Bakersfield Condors (57, 4-16-20).
(NR) LD Matthew Cairns, Georgetown Raiders (46, 9-24-33) (OJHL).
(17) LD Joey Laleggia, Bakersfield Condors (63, 8-19-27).
(20) RD John Marino, Tri-City Storm (56, 5-25-30).
(25) R Tyler Pitlick, Bakersfield Condors (37, 7-14-21).
(16) LD William Lagesson, UMass-Amherst (27, 2-5-7).
(NR) R Patrick Russell, St. Cloud State (41, 20-21-41).
(11) C Bogdan Yakimov, Bakersfield Condors (36, 5-10-15) and Nizhnekamsk Neftekhimik (11, 3-1-4).

(14) RC Kyle Platzer, Bakersfield Condors (48, 6-11-17).
(19) R Greg Chase, Bakersfield Condors (19, 1-6-7) and Norfolk Admirals (43, 18-19-37).
(NR) L Jere Salinen, Jokerit (50, 8-11-19).
(NR) G Nick Ellis, Providence (36, 1.80 .936).
(21) D David Musil, Bakersfield Condors (67, 3-11-14).
(32) G Miroslav Svoboda, Havirov (8, 4.51 .867) and HC Sumperk (21, 3.05 .924).
(NR) G Dylan Wells, Peterborough Petes (27, 4.59 .871) (OHL).
(35) G Zach Nagelvoort, Michigan (11, 2.99 .893).
(NR) RD Vincent DeSharnais, Providence College (19, 1-1-2) (Hockey East).

(NR) W Joey Benik, St. Cloud State (41, 23-25-48).
(27) L Mitch Moroz, Bakersfield Condors (40, 5-5-10).
(22) G Eetu Laurikainen, Bakersfield Condors (18, 3.42 .907).
(28) F Tyler Vesel, Nebraska-Omaha (35, 6-12-18).
(31) D Ben Betker, Bakersfield Condors (14, 0-2-2) and Norfolk Admirals (49, 3-14-17).
(39) L Evan Campbell, U Mass-Lowell (28, 5-7-12).
(34) L Braden Christoffer, Bakersfield Condors (33, 1-4-5) and Norfolk Admirals (24, 13-5-18).
(37) L Aidan Muir, Western Michigan (35, 2-6-8).