The Edmonton Oilers remain a marriage of clusters, with the Connor McDavid cluster gaining in size and momentum with each passing month. The cluster with players in their prime is about the same as a year ago, but there has been a tremendous shakeup in its style and form—one of the key changes over the summer. Finally, the team remains incomplete but is maddeningly close—only a Chad Johnson, a Cody Franson and a Jonathan Marchessault away from the balance photo. It may happen during the season, but does not look like it will come by mid-October. Let's look under the hood.
YEAR OVER YEAR

I have the Oilers improving significantly—this will be a better team—with about 63 percent of the overall progress being offensive. I think the power play will make up a big portion of the GF improvement, and coverage defensively will be the reason for the GA going down. The major reasons for optimism:
Connor McDavid should be healthy
There have been improvements up the middle
Cam Talbot is a good starting goalie—55 or so starts should be substantial
The schedule is more inviting
Injuries across the board should have less of an impact
THE MCDAVID CLUSTER

This is all players in the 5-year window 18-22, with McDavid, Draisaitl and Puljujarvi representing a tremendous future. It would be fabulous to see Yakupov, Nurse and Reinhart step forward as actual NHL players this coming season—and I hold out hope for all three men. It is a tough damn league to survive in, let alone progress. I think all of them have the talent to make it. Each of Khaira, Caggiula and Slepyshev may be able to solidify jobs in a support role and for Slepyshev this is probably a damned important year. This is the future—and the present.
THE PRIME CLUSTER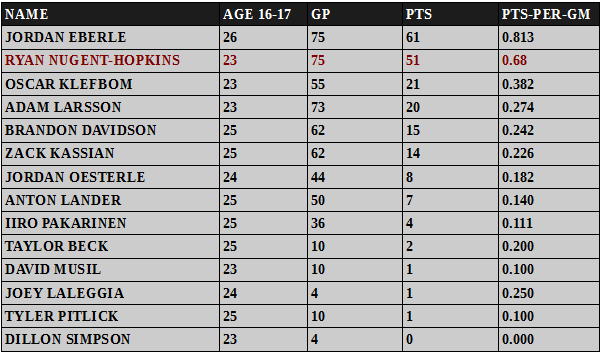 This is a fascinating part of the roster, and an area of real change by Peter Chiarelli. The prime players in this cluster a year ago were Taylor Hall, Jordan Eberle, Ryan Nugent-Hopkins, Oscar Klefbom and Justin Schultz. Hall and Schultz are gone from this cluster, with Adam Larsson added. Brandon Davidson has emerged year over year and looks like he could be a big part of the future. Several of these names are looking at vital seasons in their respective careers: If a player is 23-25 and not yet established, time is running out.
THE VETERAN CLUSTER

This is an increasingly important group under Peter Chiarelli and Todd McLellan. If we can agree that the most important positions (skaters) are the top two lines, 3C, and the top two pairings—then this cluster will account for as much as 44 percent of the overall roster. Chiarelli has added all but Pouliot, Fayne and Hendricks—and suspect he recognizes their importance. Gone from last year's veteran cluster are Teddy Purcell, Nikita Nikitin, Lauri Korpikoski and Eric Gryba. Andrew Ference remains on the roster but it is unlikely we see him in a game this year.
GOALIE CLUSTER

I am onside with Talbot, but remain perplexed by the free-agent addition. I suspect the Oilers have plans for Laurent Brossoit that involve playing much of the 2016-17 season in the NHL.
THE 2016-17 OILERS
Final record: 82GP, 38-36-8 84PTS
Finish: No. 5 in the Pacific Division, No. 10 in the Western Conference, No. 21 overall
All-Star Team: Connor McDavid
Traded by deadline: Matt Hendricks, Jonas Gustavsson
I hope you enjoyed the RE series, thanks for reading. Straight ahead: The work that needs to be done between now and opening night.