The RE series (just completed) suggests we are about to see a drastic downturn in rookie Oilers this coming season. That is generally a good thing, although impact rookies are always in season.
2015-16 ACTUAL ROOKIE TOTALS, EDMONTON OILERS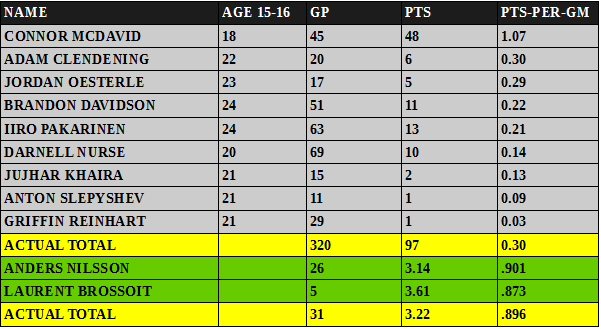 Connor McDavid made last year's rookie crop the best for Edmonton since the boys on the bus—no matter who else joined him as part of the rookie class.
Brandon Davidson, Darnell Nurse, Griffin Reinhart, Jordan Oesterle. Jujhar Khaira and Laurent Brossoit have a chance to have NHL careers.
For the coming year, Edmonton will rely on McDavid and men like Nurse, Davidson, Reinhart and Brossoit could play substantial roles.
2016-17 RE ROOKIE PROJECTIONS, EDMONTON OILERS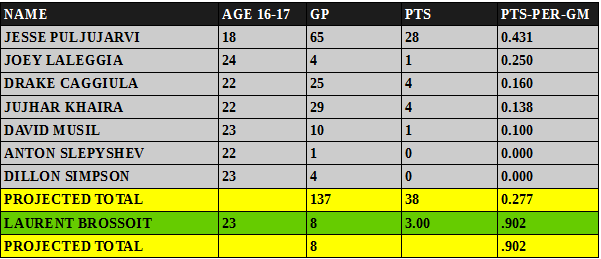 The RE projection has Jesse Puljujarvi as the only substantial rookie, but guys like Khaira, Caggiula and Brossoit have a chance to play larger roles.
Joey Laleggia, David Musil and Dillon Simpson all have a chance to get some NHL time this year, should be interesting to see if any emerge.
I completed the RE projections long before Matt Benning arrived on the scene, but there is a good chance he makes his NHL debut this season.
#KHL: Ziyat Paigin, incidentally, not in the lineup for Ak Bars today, although he is with the team on this road trip. #Oilers

— Patrick C (@ChunkletsHockey) August 30, 2016
Paigin has now missed two games in a row after playing the first two games of the year. This is disappointing, and resembles his handling a year ago (before Paigin was traded to Sochi and blossomed). It could be injury—Russian information on this kind of thing is often slow—but the start of Paigin's season is not going well. Playing time is important for a young player, this is the kind of thing that can happen to young players in those European leagues. Long season, plenty of track to go.
MINOR LEAGUE DEALS
The Bakersfield Condors have quite a few AHL contracts at this point, and most of them have been spent on physical players. Let's have a quick look at the group:
L Scott Allen, 26. He played for Norfolk a year ago and my guess is that he plays a major role in 2016-17 Bakersfield.
C Joey Benik, 24. Small, nifty offensive player who will need to push his way into the lineup.
C Josh Currie, 23. Effective forward a year ago returns on a one-year deal.
R Jaedon Descheneau, 21. Highly skilled junior winger turning pro. Scored over 100 goals in his final three WHL seasons.
L Ryan Hamilton, 31. Veteran leader will play major minutes and fill a mentor role.
R Joel Rechlicz, 29. Enforcer will no doubt be a popular player in Bakersfield.
RD Frank Simonelli, 23. Minor league option, he is righthanded and has pro experience.
LD Mikael Tam, 25. A bit of a wild card, suspect he may see Norfolk in the fall.
A year ago, Bakersfield had AHL contracts like Josh Winquist and Marco Roy, this year (I feel) there are fewer skill players and more beef. The players I am most interested in following in this group? Benik Currie, Descheneau.
HE HAS TO EARN IT!
I had another exchange—it is now over 30, I am sure—about deploying Nail Yakupov on the top line with Connor McDavid. I have suggested for some time that this is a wise idea for multiple reasons—chief among them is that it spreads the wealth over three lines and makes Edmonton more dangerous 5×5. The other major reason I have Yakupov on the top line? He is ill-suited for the Nuge line and I refuse to believe Yakupov need to go on a soft minutes line ahead of Puljujarvi.
OILERS PROJECTED OPENING NIGHT LINEUP

NAIL YAKUPOV 15-16
5×5 points per 60: 1.35 (8th among regular forwards)

5×4 points per 60: 3.46 (7th among regular forwards)

Corsi for % 5×5: 49.2

Qual Comp: 10th toughest among regular forwards (4line opp)

Qual Team: 8th best teammates among regular forwards (fourth-line teammates)

Corsi for % Rel 5×5: 2.3

Shots on goal/percentage: 127/6.3

Boxcars: 60GP, 8-15-23 .383
VOLLMAN SLEDGEHAMMER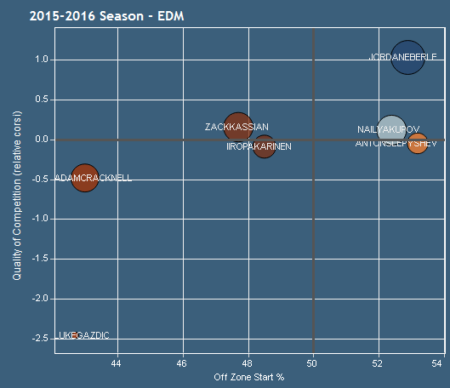 Yakupov is in an area of the graph where we would want to see more production, but remember he was also hurt so part of last season was spent at less than 100 percent. Yakupov playing with McDavid makes so much sense, and the only argument against it is 'he hasn't earned it' and that isn't really an argument that holds water. If the Oilers are determined to win as many games as possible, then spreading the wealth over the entire roster makes sense. Nail is a divisive figure, I get that, so let's frame the issue a different way. Let's ask ourselves all the ways we can find three somewhat equal lines on this team? Nail on Connor's wing: It's the right thing to do.
LOWDOWN WITH LOWETIDE
A fun, busy show with a universal theme. 10 this morning, TSN1260 and scheduled to appear:
Bruce McCurdy, Cult of Hockey. Where to play Yak and is there something out there?
Derek Taylor, TSN. CFL stats fetishist is compelling and interesting.
Don Landry, CFL.ca. Massive weekend, probably the biggest of the regular season, straight ahead.
Jeff Krushell, Krush Performance. The man who has you sleeping 8 hours a night and drinking coffee guilt free now has amazing evidence about sugar. A must listen.
10-1260 text, @Lowetide on twitter.