Speculation today that Mike Richards is the target of the PTO offer from Peter Chiarelli and the Edmonton Oilers. Since we have some time, I thought we might break this down a little more. I will say at the outset that this kind of move doesn't appear to offer a lot of hope in terms of improvement over what is currently available. Let's have a look.
ANTON LANDER 15-16
5×5 points per 60: 0.33 (15th among regular forwards)
5×4 points per 60: nil (in 49 minutes and 51 seconds)
Corsi for 5×5 %: 47.3
Qual Comp: 4th line competition
Qual Team: 4th line teammates
Corsi for 5×5 % REL: -8.1
Shots on goal/percentage: 54 shots/1.9%
Boxcars: 61, 1-2-3 .049
MIKE RICHARDS 15-16
5×5 points per 60: 0.83
5×4 points per 60: nil (in one minute, 24 seconds)
Corsi for 5×5 %: 51.9
Qual Comp: 4th line competition
Qual Team: 4th line teammates
Corsi for 5×5 % REL: -3.3
Shots on goal/percentage: 46 shots/4.3%
Boxcars: 39, 2-3-5 .128
Who is better in the faceoff circle? Richards had a 49.5 percentage in 475 faceoffs with Washington a year ago, Lander was 54.5 in almost 700 sorties. Edge: Lander.
What about possession? The Capitals (as a team) posted a 51 percent Corsi, Edmonton 48.8 at 5×5. That isn't a major difference, so I will give Richards the edge here.
Is either man any good offensively? Let's take them one at a time. Richards last season did not post much offense, but had some interesting things in his story. A very low shooting percentage skewed his offense, but even if we have him 5 goals (10 percent shooting percentage) his 5×5 60 comes out around 1.28. Edmonton will not be bringing him in for his offense.
What about Lander? Much the same. His shooting percentage was insane, so giving him normal would put his offense around 5-2-7 and 0.76. I would give the edge a year ago to Richards, maybe this coming season.
Is the age gap worth noting? I think it is the biggest item on the page. Lander is 25 and a young player, Richards is an old 31. That is the biggest takeaway from any conversation involving these two players.
What about the Vollman? Sledgehammers are below, and both men are batting near the end of the order. Richards is the better man by the bubble, but again you would like your fourth line man to post some offense when facing the soft parade.
What is the most negative thing about Lander? Last season, the NHL employed 378 forwards who played more than 400 minutes. Lander's 0.33 points-per-60 at 5×5 ranked him No. 375 overall—ahead of only Boyd Gordon, Paul Gaustad and Jacob Josefsen. Richards, certainly no screaming hell, ranks No. 330—still fourth line, but a better number for sure.
What is the most negative thing about about Richards? Lisa Dillman of the LA Times wrote some pretty painful words a few miles back.
Does this feel like a Peter Chiarelli move? Yes. I bet you money the general manager would like to see Richards in camp, and would consider him as high as 3C if the player shows well.
Why? Richards is a veteran who has been to war, and won some plus lost a few. I imagine the appeal of redemption plays a part, that is true in all of us. The offense may be gone forever, and that would require a lesser role. Still, opportunity here.
Did Chiarelli bring in older players in Boston? Oh yes. Beginning in 2006, Chiarelli added a plethora of older players, many looking to make a comeback. Jason York, Aaron Ward (acquired mid-season age 33), Shean Donovan, Manny Fernandez, Glen Metropolit, Shane Hnidy, Shawn Thornton, Mark Recchi, Stephane Yelle, Miro Satan, Trent Whitfield, Tomas Kaberle. That takes us to 2011 spring and the Bruins' Stanley Cup victory.
What about after that? Brian Rolston, Marty Turco, Joe Corvo, Jaromir Jagr, Jay Pandalfo, Wade Redden, Jarome Iginla, Simon Gagne. It's a thing. Chiarelli likes veteran NHL players. Note: Clearly men like Jagr and Iginla were more substantial but the point about aging veterans remains.
Some of those players are kind of fringe, too. Yes. There are fringe players sprinkled through the entire time, I think PC likes a veteran bench, as they say in baseball.
If the Oilers invite him, will you be shocked? No.
If he makes the team, would it surprise you? Yes. A little.
Would you cheer for him? Of course. Redemption is a powerful thing.
Will you consider it wise for Edmonton to waive Lander and run with Richards? Probably not, but an invite followed by a strong performance could change minds.
LANDER VOLLMAN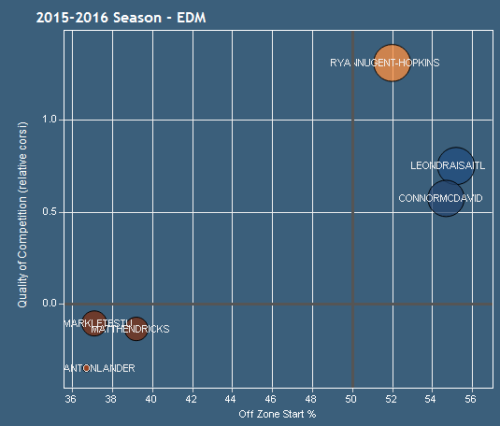 RICHARDS VOLLMAN