The Edmonton Oilers have a bushel and a peck of defensemen across the hockey universe and surely some of these fellows will make it to the NHL. We have some news on prospects, and here we go!
ZIYAT PAIGIN
He played another game yesterday, after having missed a few. His line now runs 3gp, 0-0-0 (with an explanation) and he is running 17:08 a night for Ak Bars Kazan. We received a fabulous update yesterday in the comments section, and here it is:
Pink Socks—Ziyat Paigin update. Watched all of the Ak-Bars game this morning minus the last 10 minutes or so, Paigin was wearing a full face shield which he does not normally wear so without understanding the announcers in the pregame talking about him, I'm assuming it was injury that kept him out the past two games. That being said, guy QB's a powerplay like a champ. Both (Kazan) goals on the PP, both times Paigin was on the ice, he got one assist on a 5 on 3 (Note: later taken away, or not rewarded). Guys don't want to block his shot. Probably a combination of how heavy the shot is, and also the fact that it is Yakupov-esque in its accuracy. He set up a teammate on a beauty of a steal at the O blue, keeping it in the zone and gave him a mini-break but couldn't cash. Threw a few big hits and looked more than competent in D zone. Really active stick breaking up passes, defended reasonably well on one 2 on 1. He skates surprisingly strong. In the few games I have caught last year and this one from the new season, he looks bonafide to my eye.
The start has been a little slow offensively, but Pink Socks telling us about the power-play time is encouraging. This is an interesting player, hopefully we get to see him next fall. Thanks, Pink Socks!
TYLER BENSON
Benson: "I'm back on the ice now practicing with the team (Vancouver Giants). I am feeling well, had a good summer of training and just excited for the season."
Benson on getting drafted by the Oilers: 'A very special moment, growing up an Oiler fan. It was a pretty special moment being able to put that jersey on.'
A full, healthy season is all I ask. Important year for this young man, the second round is where Edmonton's draft picks go to die.
KEVEN BOUCHARD
Former Oilers draft pick Keven Bouchard—who is not signed and is a free agent—will apparently attend Oilers training camp before returning to the QMJHL for his 20-year old season. The exhibition season is underway, and Bouchard is among three Moncton goalies who have seen action:
Dominik Tmej .914
Matthew Waite .882
Keven Bouchard .846
Bouchard's body of work since draft day has been poor, but there were some interesting signs last year. He ran a .909 playoff save percentage this spring (17 games) and that is the first SP over .900 I recall for this player.
AAPELI RASANEN
Rasanen: ' I'm a 200-ft player. I can contribute on both ends. I'm good at face-offs and am an all-around center. I'm more of a playmaker, but I am a bigger guy and should play more physical.'Source
I love this scouting report! Not many kids would throw in the downside, good for him. I love this pick, not just because this is my favorite player type—but because Edmonton simply doesn't have many of these 'range of skill' skaters. Excellent choice if the club had made it in the third round, stellar pick from the sixth round.
50-MAN LIST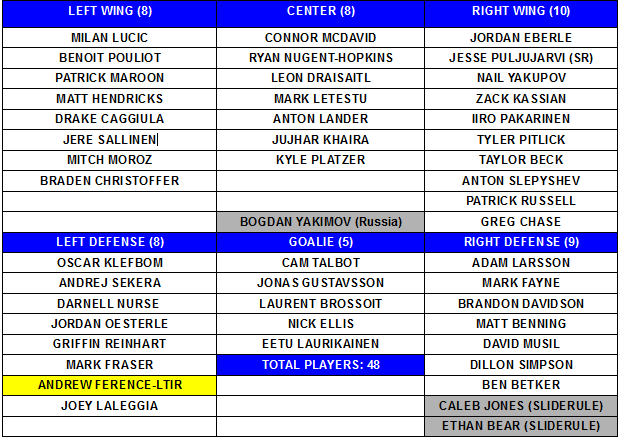 We arrive at the Labor Day weekend with this roster, friends. After a turbulent summer and a monster trade, Peter Chiarelli is both the least popular general manager since the last guy and the first one to address balance since Kevin Lowe. I gave him an incomplete grade earlier this week, and believe it is fair. The summer you trade Taylor Hall is the summer you also give yourself (and your coach and team) their best chance to make the playoffs. PC isn't there yet, and we know he feels the same way.
"It would not surprise me in the least if the #Oilers make a trade & add a right-shot D between Sept 25th & Oct 10th" – Stauffer

— SHoKTee (@akaRCN) September 1, 2016
Tyler (who is a must-follow on twitter) also pointed out that Bob mentioned Cody Franson and Dennis Wideman as having been discussed. Both men have been talked about on this blog and elsewhere over the piece, I would prefer Franson but either man offers the Oilers a chance to address a need. I think Franson would be able to handle third pairing and be able to help on the power play, Wideman (to me) is a bit of a wildcard based on his most recent season.
MAKING THE OILERS GREAT AGAIN
A two-way center like Mikael Backlund
A power-play defender who can play top 6D like Sami Vatanen
A stronger backup goalie option
Peter Chiarelli has cut down the shopping list and given balance and structure to the roster. You may not like the summer trade (I did not and expressed it) but there is no denying that he tackled some of the heavy work of finding a balanced roster. After these chores are done? Depth. PC has worked long and hard on improving that area too, especially in the area of college procurement. The four horseman may do a fine job of covering for that wobbly 2014 draft.
LOWDOWN WITH LOWETIDE
Steve Lansky, BigMouth Sports. Northlands Coliseum is no longer part of the fall and winter schedule, Steve spent a lot of time there. We will reminisce about the olden days.
Kent Wilson, Flames Nation. Calgary had a helluva summer, but still have work to do. Are they good enough to get back to the playoffs?
Matt Iwanyk, TSN1260. The Eskimos enter the Labor Day classic with an uneven back story in 2016. Are they heading in a good direction?
TSN1260 at 10, @lowetide on twitter or 10-1260 text. Long weekend straight ahead!