We should hear about the full rookie invite list in the next few days and of course the training camp roster will follow. Just as we know 20 (or so) of the 23 Oilers rosters spots, the Condors opening night roster should be fairly easy to figure out.
PROJECTED LINES AND PAIRINGS
L1: Ryan Hamilton—Jere Sallinen—Taylor Beck
L2: Drake Caggiula—Josh Currie—Anton Slepyshev
L3: Scott Allen—Jujhar Khaira—Tyler Pitlick
L4: Mitch Moroz—Kyle Platzer—Patrick Russell
Extras: R Joel Rechlicz, R Greg Chase
D1: Griffin Reinhart—Matt Benning
D2: David Musil—Dillon Simpson
D3: Mark Fraser—Joey Laleggia
D4: Frank Simonelli
Goal: Laurent Brossoit, Nick Ellis
That would leave Eetu Laurikainen, Ben Bekter, Mikael Tam, Joey Benik, Braden Christoffer and Jaedon Descheneau as the Norfolk Admirals.
We can hope that Scott Allen plays less than Mitchell Moroz, Kyle Platzer and Greg Chase, but Edmonton's AHL team usually plays their older players more. We should look for Ryan Hamilton, Taylor Beck and Tyler Pitlick to play heavy minutes if tradition holds.
ROOKIE STRAIGHT SHOOTERS (shots per game)
Anton Slepyshev 2.31
Joey Laleggia 1.92
Kyle Platzer 1.69
Darnell Nurse 1.67
Marco Roy 1.62
Braden Christoffer 1.03
Alexis Loiseau 1.00
Greg Chase 0.89
Ben Betker 0.79
Anton Slepyshev is such an interesting player, I keep coming back to him as a wildcard option on RW this season. Todd McLellan liked him last year, and despite not getting much done offensively that SOG number is good. Joey Laleggia also posted an interesting total, he remains a longshot but this is a nice total. Platzer and the rest of the forwards? Time on ice impacts the totals.
WHO WILL LEAD THE CONDORS IN SCORING IN 2016-17?
This is easy to answer: Look for an AHL veteran. Here are the leading scorers over the last five AHL seasons for Edmonton farm teams:
2015-16: Matt Ford (30) 64, 27-24-51
2014-15: Andrew Miller (25) 63, 27-33-60
2013-14: Anton Lander (22) 46, 18-34-52
2012-13: Mark Arcobello (24) 74, 22-46-68
2011-12: Ryan Keller (27) 71, 21-28-49
If I had to choose an Oilers prospect (ala Lander) to win the Condors scoring crown? Anton Slepyshev. I say that because the most promising offensive forward (Drake Caggiula) is a lock for the NHL if he can score at the AHL level.
CONDORS OPENING NIGHT ROSTER 2015-16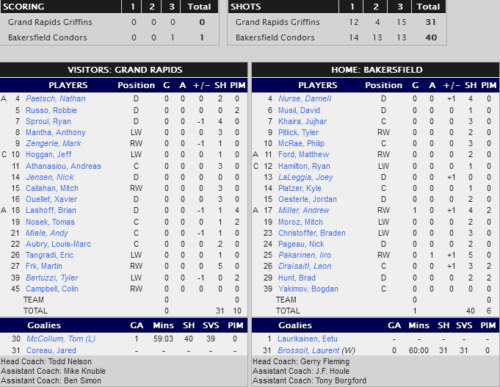 Last year, the roster opening night boasted Leon Draisaitl, Darnell Nurse, Laurent Brossoit, Jordan Oesterle, Iiro Pakarinen and Jujhar Khaira. I don't think the Condors will have as many top end prospects opening night this season, could be wrong.
McDavid named captain of Team North America.

— James Mirtle (@mirtle) September 8, 2016
No surprise. Expect an announcement confirming McDavid as Oilers captain by month's end.