Drake Caggiula is 22, Matt Benning is 22. Nail Yakupov is 22. We think of Nail as a veteran and the two college men as kids just getting started, but in actual age we are dealing with two prospects whose time is now. Can these two men make the opening night lineup? I have Caggiula's chances of doing that at 10 percent, Benning at 15 percent (here). Both men have things that will make them legit roster options (Caggiula: speed, skill; Benning: right handed, range of skills) and we should be prepared for deep training camp runs from both men.
It might work if we imagine both were drafted in 2012—maybe in the second and third rounds, in the same area as Mitch Moroz and Jujhar Khaira—and if we (in our minds) speed up their clock and act as though their window of opportunity to make the NHL begins now. I don't believe either man will break camp with the big team, but do believe both players will make their NHL debuts in 2016-17.
NAIL YAKUPOV
I wrote an article last night at ON that received some fairly quick and spirited reaction about its main point (play Yak with McDavid means three scoring lines). In reality, I have been writing that same article all summer (I would estimate 20 times) because for me it is a very important subject.
My email was fairly full this morning with comments pro and no in regard to the article. I feel as though we are at a point where it is almost impossible to have a nuanced conversation about any Oilers subject. When we choose sides and remain firm on opinions there is very little to talk about, which is a shame. Why? The subject of Nail Yakupov has all sides and your opinions matter. That said, we can listen as well as we hear, and for me there seems a real disconnect about this player.
So, allow me to make a few statements that I believe to be true:
Three scoring lines is improbable, but not impossible with this roster. Nail Yakupov played well with Connor McDavid, but not as well with other centers. There is a window of opportunity here, but—and I have no favorite in this race, the numbers dictate my stance—the only spot where three scoring lines seem reasonable is Nail with McDavid. The one other possibility—not as strong—is rookie Puljujarvi with McDavid and Nail with Leon.
I received a lot of reaction talking about Nail not deserving the opportunity. I think we need to get away from this kind of thinking, it is old school. Who cares if he deserves it? I don't. I do care about using the lineup in the most effective way.
Also included in the words sent to me is a frustration over my approach to Nail, specifically his flaws. One email was quite aggressive in tone, suggesting my view of Nail is skewed, that I do not see his flaws. I would like to remind you that we just went through the RE process and in Nail's RE there was acknowledgement of his flaws. The idea of the RE is to take bias out and deliver the actual news:
What is the best thing about him? He is a talented skill player. Yak can stick handle, pass, shoot and has reasonable speed. There is an NHL player there, I believe that to be true.
What is the worst thing about him? He is making the same mistakes now as he did as a rookie. Whatever instruction he has received, it is either too much, not enough or delivered in a way he cannot understand or is beyond his aptitude.
Example? Late in the season against St. Louis, Darnell Nurse labored for 20 seconds to fend off a big Blues forward, finally getting the puck out past the blue line and to Yakupov. Nail took the puck, stickhandled back into the zone, passed the puck to Nurse (with the same St. Louis forward now bearing down on him) and skated off the ice. Nurse iced the puck, and Yak's shift continued.
Folks, I understand the idea of having an opinion and getting our points across. In hockey, as in life, things are rarely black and white—in fact, most often we are discussing shades of grey—and when we reduce a conversation to a single line we are limiting logic and reason while also increasing the emotion. The subject of Nail Yakupov is a complicated one, and there are passions on both sides. Let us spend just a moment pondering facts:
Jordan Eberle—8-8-16 (2.63) with McDavid; 7-6-13 (2.24) with Nuge; 0-1-1 (0.47) with Draisaitl
Nail Yakupov—2-7-9 (2.63) with McDavid; 1-1-2 (1.45) with Nuge; 1-1-2 (1.52) with Draisaitl
Huh. Folks, at the very least, the Oilers have to consider using Nail with 97. Not only does it spread out the offense and make defending the team more difficult, it also allows Peter Chiarelli to Sam Pollock the player—increasing value, perhaps getting a better return in trade (no one should have reached the conclusion Nail is a long-term player here).
This is a complicated issue. This is also an important one. I think it requires more than 'he hasn't earned it' as a response. I am also fairly certain Todd McLellan will attempt to find an effective place for Nail as long as he is on the roster. I believe that to be true, and with that stated the idea of McDavid with Nail is at least worth discussion. I hope we can have that discussion today, while also taking the time to listen to each other.
CURRENT 50-MAN LIST (48)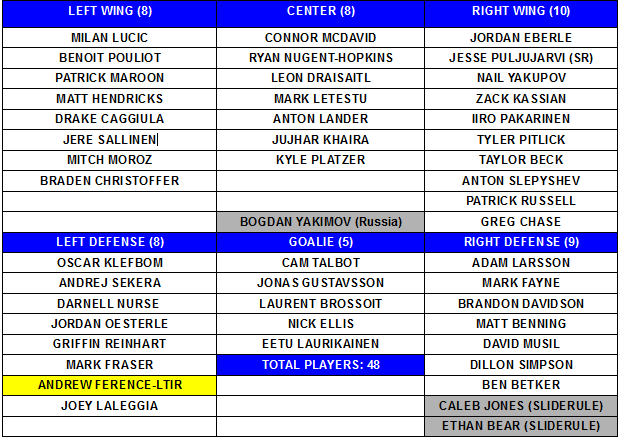 AHL CONTRACTS
These are men who have signed with Bakersfield and should be included in the Mark Arcobello, Andrew Miller, Josh Winquist, Marco Roy category.
L Scott Allen—A giant (6.03, 198) who came out of college (Alaska-Anchorage) and scored some with two ECHL teams last season. A former Spruce Grove Saints forward, he is on an AHL deal. You may look at him as a fringe player, but he is exactly the kind of prospect who routinely gets playing time ahead of Edmonton's prospects. Keith Gretzky will be a hero for our times if he can stop that kind of behavior.
C-L Joey Benik—Another AHL contract, Benik is small (5.10, 174) and quite skilled—his St. Cloud State career totals (126 points in 137 games) are impressive. Interesting addition to the team, suspect ECHL time is likely.
RD Frank Simonelli—He is a righty blue from the Boston Bruins system, I would suggest he is the new CJ Ludwig.
LC Josh Currie—Effective AHL player, outperformed several prospects one year ago—and played more than those prospects.
R Jaedon Descheneau—St. Louis Blues (unsigned) pick in 2014, he finishes a fine junior career with the Kootenay Ice. Small and skilled, on an AHL contract with Bakersfield.
L Ryan Hamilton—No longer on an NHL contract, he will pull major minutes away from the kids—but is regarded as a solid veteran and mentor.
LD Mikael Tam—Seems a depth defender, could end up staying the entire winter in Norfolk.
Current AHL roster
STRAGGLERS
L Kale Kessy. Not qualified, destination unknown.
D Adam Pardy. UFA, destination unknown. Pardy has signed a PTO with the Florida Panthers.

D Eric Gryba. UFA, destination unknown.
D Nikita Nikitin. UFA, rumored to be heading to Omsk (KHL).
C Marco Roy. minor league UFA, destination unknown.
Pardy was a good option for Edmonton later in the year (remember the Adam-12 waiver run?) but the Oilers have 1,000 lefties and Pardy is another. Sail on, Adam Pardy, I think you can play in this league.
LOWDOWN WITH LOWETIDE
At 10 this morning, TSN1260. Scheduled to appear:
Darcy McLeod, Because Oilers. Best spot for Nail? Brossoit v. Gustavsson? Richards vs. Lander? More.
Jesse Spector, The Sporting News. Jays enjoyed three nights of Damn Yankees, now what?
Jeff Krushell, Krush Performance. Jays, safety in sports, training camp physicals.
Jeff Hauser, Radio Hauser. NFL regular season starts tonight!
10-1260 text, @Lowetide on twitter. Talk soon!