In 2005 October, the Edmonton Oilers entered opening night with a (mostly) balanced roster. Their 4C was Marty Reasoner—completely capable of doing the job assigned, while also mentoring the team's youths and moving up in the order as required. The defense was a veteran group with one of the best and most complete blue in the game. Now, the goaltending was still wobbly, but the fix was obvious and eventually addressed.
 Opening Night Fall 2005
L1: Horcoff-Smyth-Dvorak
L2: Peca-Torres-Hemsky
L3: Stoll-Moreau-Pisani
L4: Reasoner-Harvey-Laraque
D1: Pronger-Staios
D2: Ulanov-Smith
D3: Cross-Bergeron
G1: Ty Conklin (Jussi Markkanen)
I have sourced this from an old post so you are going to have to live with C-L-R. What a lineup! Impressive depth at center, defense and we won't worry about the goalie until the deadline. I loved this team then, loved them now. If you transported that third line and top pairing (at their 2005 age) onto the current team, the world would be a much better place.
Opening Night Fall 2006
L1: Horcoff-Smyth-Lupul
L2: Sykora-Torres-Hemsky
L3: Stoll-Moreau-Pisani
L4: Reasoner-Thoresen-Winchester
D1: Tjarnqvist-Smith
D2: Smid-Staios
D3: Bergeron-Greene
G1: Roloson (Markkanen)
The goaltending is better and I still love the forwards, but the defense is trashed and remains so one decade later. Seriously. The biggest error in these dozen years is here: Sending away Chris Pronger with no veteran to replace his minutes. No Jaroslav Spacek, no Eric Brewer, no Jay Bouwmeester.
Opening Night Fall 2007
L1: Horcoff-Penner-Hemsky
L2: Stoll-Torres-Nilsson
L3: Reasoner-Sanderson-Brodziak
L4: Cogliano-Jacques-Gagner
D1: Pitkanen-Staios
D2: Souray-Greene
D3: Tarnstrom-Gilbert
G1: Roloson-Garon
Bah, this looks like those Dan Driessen Expos rosters of the 1980s: You recognize Geoff Sanderson, but it was ten years after he mattered. Good lord the Oilers ended a lot of NHL careers. One area that does look improved: Defense. Pitkanen was a dandy two-way guy, Souray could hammer it and Tom Gilbert had some productive seasons. Also liked the goaltending this season.
Opening Night 2008
L1: Horcoff-Cole-Hemsky
L2: Gagner-Cogliano-Nilsson
L3: Pisani-Moreau-Penner
L4: Brodziak-Pouliot-Stortini
D1: Visnovsky-Souray
D2: Grebeskhov-Gilbert
D3: Strudwick-Staios
G1: Garon, Roloson, Deslauriers
Addition of Eric Cole gives this period a 'Sleeping with the Enemy' feel, and I will love Lubo until the day I day. Nicely done on the goaling decision, men. This team won 38 games, and you can see some nice things here. There is reasonable depth on defense, and even though Pisani is out of position at center there are good young players pushing. This was MacT's last team, although the team would employ wingers at center in the future.
Jean-Francois Jacques
Opening Night 2009
L1: Horcoff-Jacques-Hemsky
L2: Cogliano-Penner-Brule
L3: Comrie-O'Sullivan-Stone
L4: Gagner-Moreau-Stortini
D1: Grebeshkov-Gilbert
D2: Souray-Staios
D3: Visnovsky-Smid
G1: Khabibulin, Deslauriers
This is Pat Quinn's architecture, and there is a Coke Machine in every room. Gagner-Moreau on the 4line and JF Jacques on the 1line is like a brilliant Marx Brothers scene where they bring in all the props and end up in a tower of flour. Like going to war with guns that have corks in every barrel.
Opening Night 2010
L1: Gagner-Penner-Hemsky
L2: Horcoff-Hall-Eberle
L3: Cogliano-Paajarvi-Brule
L4: Fraser-Jones-MacIntyre
D1: Whitney-Foster
D2: Smid-Gilbert
D3: Peckham-Vandermeer
G1: Khabibulin, Dubnyk
This was the first Tom Renney team, and there were things to like about the group. Horcoff with the kids, Penner-Hemsky could do some things (Gagner never did develop as hoped) and that third line had some interesting talents. Bad fourth line, defense is still shy by miles and the goaltending is good not great—and NK had some health issues and a poor season.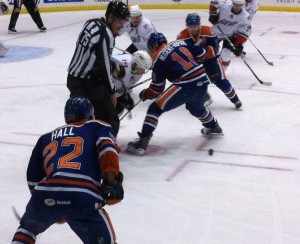 Photo by Rob Ferguson, all rights reserved.
Opening Night 2011
L1: Belanger-Smyth-Eberle
L2: Nuge-Hall-Hemsky
L3: Horcoff-Omark-Paajarvi
L4: Lander-Hordichuk-Jones
D1: Sutton-Gilbert
D2: Barker-Petry
D3: Smid-Peckham
G1: Dubnyk, Khabibulin
This is an interesting group, and more interesting still Renney had this bunch going in a reasonable direction. Tambellini should have kept him around, truth to tell. Horcoff gets two more kids on his wing, Nuge-Hall works and the Oilers needed two older gents to turn back time. The defense had some interesting names but overall was at least two blue shy of a quorum. Goaling remains the same.
Opening Night 2012
L1: RNH-Hall-Eberle
L2: Gagner-Yakupov-Hemsky
L3: Horcoff-Smyth-Hartikainen
L4: Belanger-Eager-Petrell
D1: Smid-Petry
D2: Schultz-Schultz
D3: Whitney-Fistric
G1: Dubnyk, Khabibulin
The '22 and younger' group include the top line, Yakupov, Gagner, Justin Schultz.  There was a lot of potential and promise, but success would not reach this cluster. The 'Ron Low-Stan Weir' veterans are Horcoff and Smyth, both men struggling to keep up with a league that was getting faster by the minute. I'm always going to hold that 2006 spring team in my heart, and watching those two warriors fade is a little bit heartbreaking. Night, Ralph.
Opening Night 2013 (L-C-R)
L1: Smyth—Hall—Hemsky
L2: Perron—Arcobello—Eberle
L3: Joensuu—Gordon—Yakupov
L4: Gazdic—Acton—Mike Brown
D1: Ference—J. Schultz
D2: Smid—Petry
D3: N. Schultz—Belov
G1: Dubnyk (LaBarbera)
Lots of talent, lots of problems. Hall is at center, Nuge is hurt, Nail is with Boyd Gordon and that fourth line might be the poorest trio Edmonton has iced. Ever. Smid-Petry was nice, Belov made me so mad one night against the Coyotes I ruined a dinner party at our house with unforgivable behavior (the couple in question has never been back, I assume they haven't driven within 50 miles of the house since that night). God Almighty.
Opening Night 2014
L1: Hall—Nuge—Eberle
L2: Pouliot—Draisaitl—Yakupov
L3: Perron—Arcobello—Purcell
L4: Hendricks—Gordon—Joensuu
D1: Nikitin—Fayne
D2: Ference—Petry
D3: Hunt—J. Schultz
G1: Scrivens (Fasth)
Okay. There are some things here. Top line is brilliant and the LWs on this team are pretty damn good. Plus Purcell and Nail should have been helping by this point. I like Fayne and Petry amongst the blue, but nine years after 2005 opening night the defense remains a complete train wreck. Oy.
Opening Night 2015
L1: Pouliot—Nuge—Purcell
L2: Hall—McDavid—Slepyshev
L3: Korpikoski—Lander —Yakupov
L4: Klinkhammer—Letestu—Hendricks
D1: Sekera—Fayne
D2: Klefbom—J. Schultz
D3: Reinhart—Gryba
G1: Talbot (Nilsson)
Extras: Luke Gazdic, Andrew Ference, Brandon Davidson
Injured: Jordan Eberle, Dillon Simpson
I like the top two lines (if Eberle were healthy) but the third and fourth lines—sometimes a strength during these 10 years—looks bad from any angle. Sekera, Fayne, Klefbom and Davidson (although we didn't know he was Davidson) are all here, and I do like the goalie. There is some hope here, and this is Todd McLellan's first team. Still lots of chaos, but the hint of structure all the same. Injuries sewered this team, and the schedule didn't help.
Photo by Mark Williams, all rights reserved
PROJECTED OPENING NIGHT 2016
L1: Lucic—McDavid—Eberle
L2: Pouliot—Nuge—Jesse Puljujarvi
L3: Maroon—Draisaitl—Yakupov
L4: Hendricks—Letestu—Kassian
D1: Klefbom—Larsson
D2: Sekera—Fayne
D3: Nurse—Davidson
G1: Talbot (Gustavsson)
Extras: Anton Lander, Iiro Pakarinen, Jordan Oesterle
Injured: Andrew Ference
McLellan's second team has more balance and structure, also seem to fit his 'place and chase' style better. Connor McDavid looks bigger, stronger and faster (I am not even kidding) based on last night's WCH exhibition game, so look out world! I really like the centers three, hope the club can use them and give McLellan a chance to move up Leon to RW as required. That is the kind of depth and quality required to make the playoffs.
This roster has far better balance, and I think we can point to hopeful signs at pretty much all of the positions. They will leave the starting gate with questions in goal (backup), defense (righty puck mover and PP shooter) and forward (RHC two-way type) but there is improvement in this roster. Health remains a concern.
LOWDOWN WITH LOWETIDE
Brad Gagnon, Bleacher Report. NFL season got off to a concussed start last night, and the Blue Jays need a big weekend.
Steve Lansky, Big Mouth Sports. Connor McDavid as Oilers captain, WCH, Jays.
Matt Iwanyk, TSN1260. Do the Eskimos make the playoffs, how many points for McDavid this year?
Paul Almeida, SSE. We will chat about McDavid as captain and Edmonton's chances of making the playoffs.
10-1260 text, @Lowetide on twitter. Weekend is here!