I have long railed against the idea of Edmonton's AHL team and their tendency to give feature roles and handsome minutes to older (non-prospect) players. Today, I got a little help.
Why would I do that? Well, from an @Lowetide post, I was curious how Bakersfield used their forwards. pic.twitter.com/NaLNdgVoZA

— WheatNOil (@WheatNOil) September 12, 2016
Fascinating. The blue bars are AHL, the Barons line is Edmonton's kids and their usage in terms of age. Two things stand out:
Bakersfield is playing 30-year olds a lot compared to the rest of the league.
Bakersfield is playing 20-21 year olds way more than the rest of the league.
The first portion of that graph is long established, only teams who are clearly looking to contend and have no reasonable prospect options give that much playing time to the 30+ set. The second part adds to the mystery, as the heart of the current Condors club is in the 21-24 age group. In all sincerity the Oilers should be giving extended play to the Khaira's and the Chase's, and not the Matt Ford's and Ryan Hamilton's of the world. And you know what else? It is probably a bad idea to give playing time to Marco Roy and Josh Winquist—at the expense of your own prospects—if there is no plan to sign them. Thoughts?
SAY IT WITH ME: TIME ON ICE!
Here is a list of AHL prospects who were 20 last season, playing in their first AHL seasons and who played 38 or more games:
20-YEAR OLD AHL PLAYERS RANKED BY ESTIMATED TOI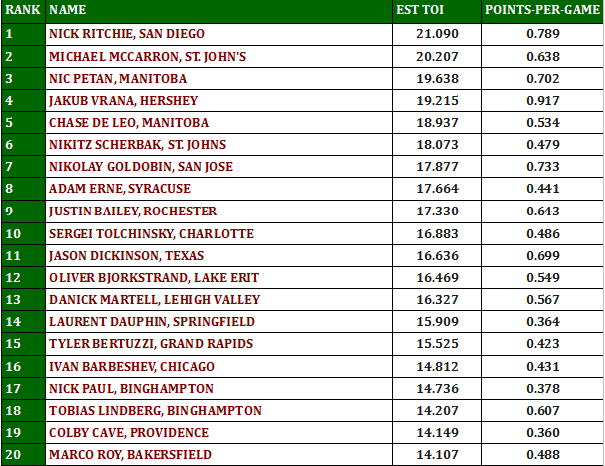 In terms of TOI, Roy ranks No. 20 among AHL prospects who were 20-year olds and playing in their first NA pro season (I may have missed one or two, apologies if that is the case). Here is the rest of the group of 34: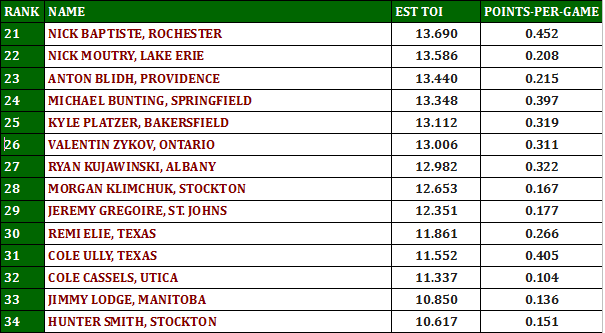 So. The Oilers have two of the 34 players who are 20 and playing in their first AHL season (Roy, Platzer) and one of them has no NHL contract. The other guy, who is under contract and the best 20-year old prospect in the organization at the AHL level, played an estimated 13 minutes a night. Seriously.
However, let's ask this question: Was Platzer overwhelmed? Would Edmonton be wasting TOI by giving more minutes to Platzer? The best way (imo) to grind down on these numbers is estimated prime points-per-60:
ESTIMATED PRIME POINTS-PER-60
Jakub Vrana 2.168
Tobias Lindberg 2.036
Nikolay Goldobin 2.014
Jason Dickinson 1.927
Danick Martel 1.81
Nick Ritchie 1.797
Justin Bailey 1.731
Oliver Bjorkstrand 1.643
Nic Petan 1.56
Michael McCarron 1.382
Adam Erne 1.382
Cole Ully 1.360
Colby Cave 1.357
Michael Bunting 1.356
Nick Baptiste 1.343
Tyler Bertuzzi 1.306
Chase de Leo 1.259
Nikita Scherbak 1.245
Adam Tambellini 1.212
Sergey Tolchinsky 1.185
Laurent Dauphin 1.143
Marco Roy 1.141
Ivan Barbashev 1.059
Remi Ellie 1.028
Anton Blidh 0.962
Ryan Kujawinski 0.940
Valentin Zykov 0.923
Nick Paul 0.905
Kyle Platzer 0.876
Jimmy Lodge 0.754
Nick Moutrey 0.750
Morgan Klimchuk 0.702
Hunter Smith 0.640
Jeremy Gregoire 0.627
WHAT DOES IT ALL MEAN?
I want to examine the 21-24 year old group from last season's Condors in the coming days to find out if the imbalance showed by WheatnOil above impacted specific players. I also want to find out of Roy/Winquist and other AHL-only prospects are robbing legit Oilers prospect of earned at-bats.
In the case of Kyle Platzer—based on this quick look—I don't think we can clearly say he made a strong case for additional playing time.

I won't say it again after this, but for me there is real evidence the Oilers should have signed Marco Roy. Parkatti's draft model identified a pretty good hockey player.