Scott Cullen released his Top 300 scorers list yesterday for 2016-17, it is always a fun time for me to review the RE. Cullen is a bright guy who has a very good knowledge of analytics, and applies the same logic and reason to sussing out offense across the NHL each season. Here are Scott's Oilers, their rank on his list, and my RE for each in brackets:
No. 2 Connor McDavid 78gp, 28-58-86 1.10 (72gp, 87 pts, 1.208)
No. 40 Jordan Eberle 75gp, 29-31-60 0.80 (75gp, 61 pts, 0.813)
No. 74 Milan Lucic 74gp, 80gp, 20-33-53 0.663 (80gp, 61 pts 0.763)
No. 111 Leon Draisaitl 76gp, 17-31-48 0.632 (75gp, 40 pts 0.533)
No. 135 Ryan Nugent-Hopkins 67gp, 17-28-45 0.672 (75gp, 51 pts 0.680)
No. 196 Benoit Pouliot 68gp, 16-22-38 0.559 (62gp, 39 pts 0.629)
No. 217 Jesse Puljujarvi 75gp, 12-24-36 0.480 (65gp, 28 pts 0.431)
No. 241 Kris Versteeg 74gp, 13-20-33 0.446 (NA)
No. 250 Patrick Maroon 70gp, 12-20-32 0.457 (72gp, 27 pts 0.375)
No. 253 Andrej Sekera 77gp, 7-25-32 0.416 (76gp, 35 pts 0.461)
No. 267 Nail Yakupov 66gp, 12-18-30 0.454 (70gp, 24 pts 0.343)
No. 295 Oscar Klefbom 75gp, 5-23-28 0.373 (55gp, 21 pts 0.382)
I spend a long damn time (too long) estimating these numbers, to the point where PP time and EV time are sussed out. So, when a guy like Cullen posts his numbers and they are in the range, you are damned right I take some pride in my RE. I will have Scott on the Lowdown today to discuss his numbers and several other items.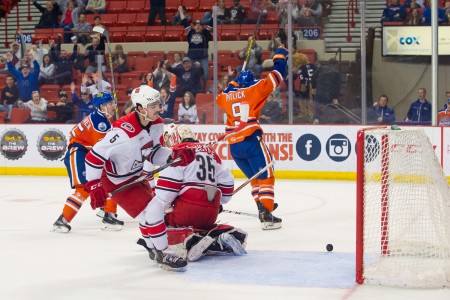 Photo by Rob Ferguson, all rights reserved
MANY ARE CALLED, FEW ARE CHOSEN
I hope to have the second installment of the WheatnOil-inspired item of last evening (forwards 21-24) tonight, but that could be aggressive. I wanted to mention something that I see as a positive in Peter Chiarelli's team building. The Bakersfield Condors are about to get a very strong group of offensive forwards based on NHLE's:
Drake Caggiula 2015-16 Age 21 (UND NCAA) 39, 25-26-51 (NHLE: 44)
Joey Benik 2015-16 Age 23 (St. Cloud State NCAA) 41, 23-25-48 (NHLE: 39)
Patrick Russell 2015-16 Age 22 (St. Cloud State NCAA) 41, 20-21-41 (NHLE: 34)
Jere Sallinen 2015-16 Age 25 (Jokerit Helskinki KHL) 50, 8-11-19 (NHLE: 25)
These are good numbers and we should view these prospects as legit NHL possibilities—especially considering the AHL forwards (and their NHLE totals) from one year ago:
R Tyler Pitlick RE 7-15-22
C Jujhar Khaira RE 8-13-21
R Anton Slepyshev RE 10-7-17
C Bogdan Yakimov RE 5-11-15
C Kyle Platzer RE 5-9-14
R Greg Chase RE 2-12-14
And oh by the way, in case you are thinking Tyler Pitlick is too old for consideration, think about this: On the day he played his first NHL game, Fernando Pisani was 26 years and 12 days old. Tyler Pitlick turns 25 on November 1. You never know.
SEIDENBERG?
Mike Halford, NBC Sports: It's tough to see where Seidenberg would fit. One would have to think Edmonton could be in the mix, given the Oilers' general lack of depth on defense, and Seidenberg's relationship with former B's GM Peter Chiarelli. But the Oilers might not be ready to offer up a contract, especially with another veteran — Kris Vetsteeg — already coming to camp on a PTO. Source
I don't see it, honestly. We know the Oilers value the ol' lefty-righty and one would imagine the next addition to the roster is in fact a RHD—unlikely to happen before the season, but could happen before the trade deadline.
Domenic Galamini: "It turns out that an unsuitably handed defenseman must have a CorsiRel that is greater than or equal to 6.2 Corsi events / 60 better than a suitably handed alternative in order to be the better option to pair with a partner-less defenseman on the roster." Source

MOOD INDIGO
For a long time this spring and summer, we talked about a long list of possibles for RHD. Although I didn't list Adam Larsson, the group was fairly thorough and several names did find themselves on the move:
Jason Demers, Dallas Stars. The book end for Andrej Sekera?
Tyson Barrie, Colorado Avalanche. Quality option for puck mover.
Justin Faulk, Carolina Hurricanes. Would be higher, question availability.
Travis Hamonic, NY Islanders. This is a solid player and a great option for Edmonton.
Sami Vatanen, Anaheim Ducks. Solid offense, not completely proven.
Radko Gudas, Philadelphia Flyers. Strong, effective defender.
Michael Stone, Arizona Coyotes. Major knee surgery.
David Savard, Columbus Blue Jackets. Range of skills.
Jacob Trouba, Winnipeg Jets. Strange year for a talented young player.
Damon Severson, New Jersey Devils. The more I look at his career, the better the fit.
Mark Pysyk, Buffalo Sabres. The numbers imply there is a player here.
Ryan Pulock, New York Islanders. Big shot from the point has high value. Very young.
Ryan Murphy, Carolina Hurricanes. Some chaos, but good speed and puck-moving ability.
Brandon Montour, Anaheim Ducks. This could be a special player.
Cody Franson, Buffalo Sabres. That hammer from the point would come in handy and he fits a real need.
Jordan Schmaultz, St. Louis Blues. Puck-moving prospect.
Anthony DeAngelo, Tampa Bay Lightning. Another player with a puck-moving element to his game.
Colin Miller, Boston Bruins. With the other Miller signing, maybe he is available.
Eric Gryba, Edmonton Oilers. I think management likes him.
Ville Pokka, Chicago Blackhawks. Young defender in the Chicago system.
Frank Corrado, Toronto Maple Leafs. Very little evidence but he showed up in some good places.
Ryan Sproul, Detroit Red Wings. Puck-moving defender in the AHL.
Dennis Wideman, Calgary Flames. A year removed from a fantastic offensive season.
Taylor Aronson, Nashville Predators. Minor-league defender.
Matt Irwin, Boston Bruins. Depth defender.
There are some names still out there, ranging from Jacob Trouba to Dennis Wideman. Will Peter Chiarelli make a move? I believe the answer is yes, but increasingly it looks like the move will be made after training camp and into the season.
LOWDOWN WITH LOWETIDE
I am very much looking forward to the show today, 10 this morning TSN1260. Scheduled to appear:
Jonathan Willis, The World. Jon will join me to talk Versteeg deployment, McDavid expectation and where to play Brandon Davidson in the lineup.
Simon Boisvert, Hockey Analyst. Former QMJHL scout has an interesting take on a lot of the things we discuss here, and an uncanny knowledge of Oilers prospects. Questions welcome!
Scott Cullen, TSN. Projected NHL numbers and insight from recent analytics conference.
10-1260 text, @Lowetide on twitter. Talk soon!