Our man WheatnOil moved the conversation forward this week in regard to the Oilers usage of prospects. We discussed the 20-year olds a day ago, let's drill down on the 21-24 group today.
Why would I do that? Well, from an @Lowetide post, I was curious how Bakersfield used their forwards. pic.twitter.com/NaLNdgVoZA

— WheatNOil (@WheatNOil) September 12, 2016
WheatnOil's graph shows the Condors exceeded normal when deploying the 20-21 year old kids (there were a lot on the roster, that probably explains some of it) and then shows Bakersfield on with lower than average totals through the late 20s. This is a strange graph, leading to the question: Who among Edmonton's 21-24 year old forward prospects is not receiving their due?
CONDORS' FORWARDS RANKED BY ESTIMATED TOI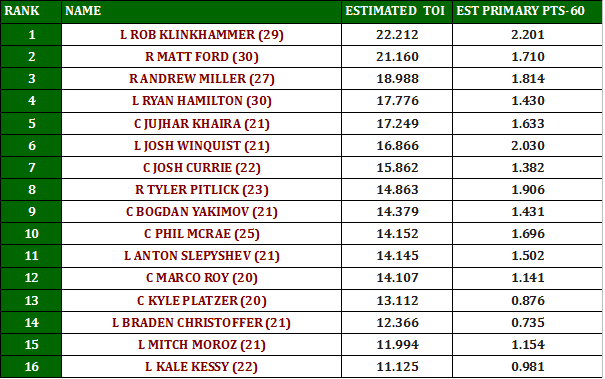 All of this information is via Prospect-Stats, a truly brilliant site. The top four Condors forwards are older players, no longer prospects. I object to this, believe it is a very poor idea and honestly represents truly bad decision making. That's not what we are looking for today, my opinion is established. What we are looking for today is evidence that the coaching staff is pushing veteran forwards ahead of prospects who could become productive NHL players.
I decided that in order for us to reasonably consider someone 'robbed' of playing time, we would need to find someone who played less than 18 minutes a night and showed an ability to score well (I am using Primary points-per-estimated-60).
RANKED BY ESTIMATED PRIMARY POINTS PER 60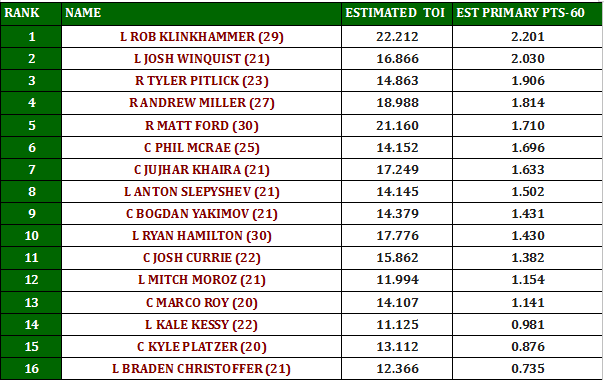 I think there is some evidence here, allow me to explain. The weakest link among veterans in the primary points-per-60 category is Ryan Hamilton, who clocks in at 1.430 primary points-per-60. That is No. 10 among 16 forwards, and there are a whack of prospects who performed better than the veteran LW at this discipline. I would also point to Matt Ford, who played an estimated four minutes more per night than Jujhar Khaira with similar production.
PLAYERS WHO SHOULD HAVE RECEIVED MORE OPPORTUNITY
L Josh Winquist. The Oilers should have signed him and they should have played him more.
R Tyler Pitlick. I think we overlook him because he has been around so long, kind of like an old brown shoe. The only view that matters is the fresh one—Peter Chiarelli—and I remain (Stone alone now, mind) convinced that he can in fact identify useful talent. Pitlick has developed by sundial, and the offense once promised is a distant bell, but they signed him and that may mean they see a player here.
C Jujhar Khaira. I spoke to former QMJHL scout Simon Boisvert today and he mentioned Khaira as someone who has a chance at an NHL career (Simon mentioned eight years, that represents a pretty solid career in my opinion). Khaira probably shows poorly here offensively due to lack of power play time. He scored 21 even-strength points in 49 games (.429) whereas Matt Ford scored 28 in 64 games (.438). I think the Oilers would have been better off with Khaira taking Ford's extra minutes. Fair?
L Anton Slepyshev. The argument is weaker here—what in bloody blue blazes was the Russian doing down there in California?—but I would argue that Slepyshev should have been gifted more than an estimated 14 minutes a night. His shots-per-game numbers are good, really good if we believe the estimated icetime. I think Keith Gretzky could look the AHL staff in the eye and ask why Slepyshev didn't get more playing time.
C Bogdan Yakimov. This is a prickly situation, because there could be all kinds of issues surrounding this player. That said, he is a big man with some skill, and playing Andrew Miller in his walk season did not benefit the Oilers at all.
Final note: I have listed five players here and that is a pretty significant number. Let's not get ahead of ourselves, though. As much as I believe absolutely that the Oilers have been poor in development, it is also wildly unfair to suggest there are five sure things in the AHL that Gerry Fleming refused to play. Somewhere in the middle there is the sweet spot. There is a story here that someone needs to tell Keith Gretzky. Who will it be?
One final final: If I knew Bob Green, I would tell him that he was right about Winquist, and the analytics was right about Roy. Not signing them may not bite the team in the ass, but signing them would have been justifiable in my opinion.