I believe Jesse Puljuarvi will be in the Oilers lineup by Christmas, and that he could break with the big club in time for opening night with a brilliant training camp. The journey begins tomorrow.
YOUNG STARS 2016 (PROJECTED)
G Nick Ellis—We don't know what we don't know, but .936 is a fantastic SP in any league.
G Dylan Wells—1gp, 4.00, .892 in his pre-season appearance for the Peterborough Petes.
G Keven Bouchard—3gp, 5.08 .814 in pre-season for Moncton Wildcats.
RD Matt Benning—One of the players to watch. How close is he to NHL-ready?
LD Ben Betker—Giant defender is 22 in two weeks, a big season ahead.
LD Caleb Jones—2gp, 1-0-1 in pre-season with Portland Winterhawks. He could be the real deal.
RD Ethan Bear—3gp, 2-1-3 in pre-season with Seattle Thunderbirds. An impressive 12 months.
LD Markus Niemelainen—3gp, 0-0-0 in pre-season with Saginaw Spirit.
LD Kyle Jenkins—Apparently an invite, 20-year old with average size and some skill.
RD Aaron Irving—TC invite, 1gp, 1-0-1 with Oil  Kings in pre-season.
RD Dallas Valentine—Big (6.04, 205) defender has been invited to camp. 2gp, 0-0-0 with Kamloops.
RC Kyle Platzer—We will know much more about him this time next summer.
C-L Joey Benik—AHL contract, Benik is a small (5.10, 174) and quite skilled. Should rock Penticton.
LC Thomas Foster—4gp, 2-1-3 with Vancouver Giants. Teammate of Tyler Benson, he is an invite.
LC Lane Bauer—2gp, 0-1-1 with Oil Kings in pre-season. Invite, two-way C, kind of player I like.
RC Tomas Soustal—4gp, 0-1-1 with Kelowna in pre-season. Unsure of attendance, invite.
L Drake Caggiula—Excited to see his impact this year. Can also play center.
L Braden Christoffer—He will need to fight back the college kids for AHL playing time.
L Scott Allen—A giant (6.03, 198) who came out of college (Alaska-Anchorage). I bet they like him a lot.
L Tyler Benson—He is 4, 1-2-3 in pre-season. Early word positive on his level of play.
L Collin Shirley—Two-way winger is 2gp, 1-0-1 with Kamloops in pre-season.
R Jesse Puljujarvi—Every one of these camps has a superstar. Puljujarvi is manna from heaven.
R Patrick Russell—We don't know him, but he is aggressive and can score.
R Greg Chase—He has a ticket to camp, plays with an edge and can post offense.
R Jaedon Descheneau—Small skill winger, AHL deal and a wildcard entering camp.
I had 27 on my guess list a year ago, including all 26 who were on the actual list (I had Brossoit mistakenly going to camp). The first Oilers Young Stars roster boasted seven legit NHL players—that is a strong total. As for the list above, Scott Allen is 26 so may not appear (despite having just one pro season). I think there are three men who have a real chance to play in the NHL this year: Jesse Puljujuarvi, Drake Caggiula and Matt Benning.
CHIARELLI DRAFT CLUSTER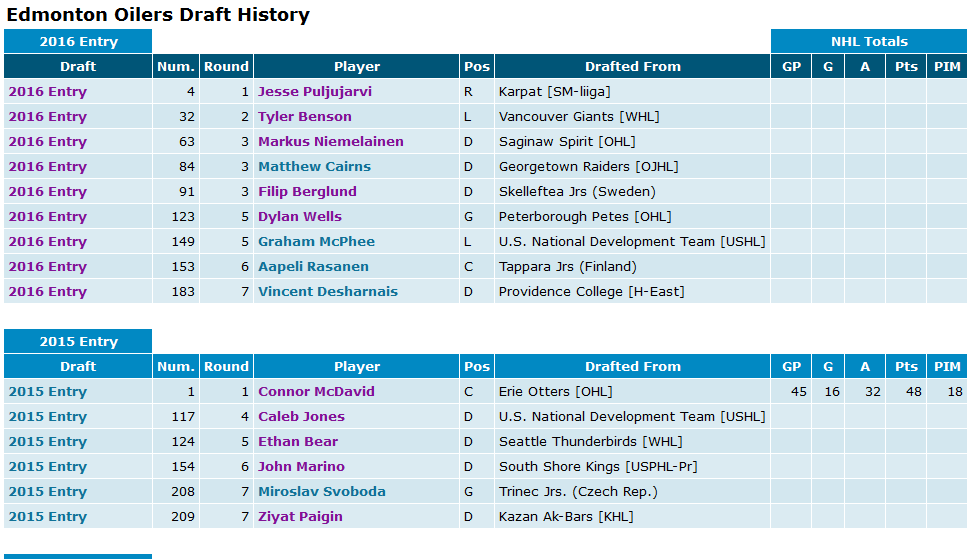 Craig Button has his 2017 first round out and it is worth the read. The No. 2 ranked player is a righty Swede blue, but the Oilers should be nowhere near that pick if things go according to Hoyle. We are NOT going to discuss the draft this fall and early winter, because the Oilers are going to be somewhere near the pennant race. Right?
One thing that we should begin talking about—especially if the Oilers can grab a second-round pick and have another strong draft in 2017—is the Chiarelli/Green draft cluster. Absolutely fell into Connor McDavid and Jesse Puljujarvi, but the arrows on the later picks looks good so far and that is an interesting trend. We can't assume all of Jones, Bear and Paigin make it to the NHL and have productive careers, but even if one makes it that should be considered a win.
KIDS, DON'T LISTEN TO OLD PEOPLE
Bobby Clarke: "I think these guys are too young to be captains of hockey teams. They don't even know themselves as players yet, and their positions in the league and everything else. Give them four or five years to just play and become the players they are and want to be and stuff before they're expected to lead others." Source

I have deliberately stayed out of the conversation about McDavid as captain, mostly because there is simply no way to know the dynamic inside the Oilers room. One thing I will say: Old people are often helpful, as experience can represent wisdom—but that is not always the case. When Bobby Clarke says players need four or five years, that may be exactly right, but I always raise an eyebrow when someone from a long distant era talks about what players are all about today. I am not saying don't trust anyone over 30, but certainly a good idea to be aware that bias exists in all people.
LOWDOWN WITH LOWETIDE
10 this morning, TSN1260. A crazy morning in sports, scheduled to appear:
Bruce McCurdy, Cult of Hockey. CoH almost through the prospect series, we will discuss the top name and the quality of this year's group.
Dan Ralph, Canadian Press. What is going on with the Als? Also, Jays.
Joey Alfieri, TSN690 Montreal. The exit of Marc Trestman and retirement of Anthony Calvillo has had an enormous and lasting impact on the Alouettes.