We are camping! The post at 5pm today will have a family story from Penticton, maybe 1968. I have to wrap this blog up in the next 80 years or I am going to run out of stories! We know the roster, here are their NHLE's (with two exceptions).
YOUNG STARS NHLE'S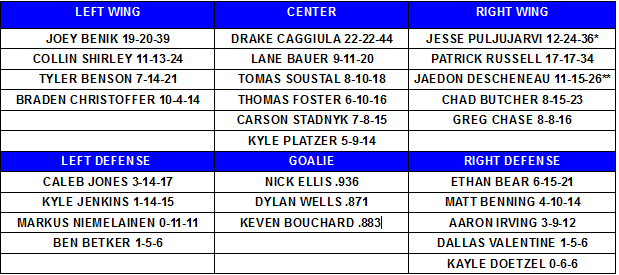 *For Puljujarvi, I used Scott Cullen's estimate. I don't think Puljujarvi's equivalencies are believable.
**For Descheneau, I used 2014-15, as he was hurt last year.
This is a very good list, Oilers always have fantastic talent going to the Okanagan—drafting high guarantees it. Among the players who (imo) have a good chance to play in the NHL someday? Puljujarvi, Benning, Jones, Bear, Calliuga, Benson and Niemelainen. Is this group the best ever? I will put the McDavid cluster of a year ago ahead, and the best ever might be 2010, with Taylor Hall, Jordan Eberle, Magnus Paajarvi, Brandon Davidson, Martin Marincin and Jeff Petry. As with most teams that lose for a generation, the Oilers have very little left from a substantial prospect group just six years later.
UFA Nikita Nikitin (#Oilers) has signed a 1 year deal with Avangard Omsk of #KHL. https://t.co/fHjZCH2dL1

— General Fanager (@generalfanager) September 16, 2016
It took some time, but it was always rumored to be Omsk and NN is back in the city. We are now mostly done with last year's roster and their new cities:
STRAGGLERS
L Kale Kessy. Not qualified, destination unknown.
D Adam Pardy. UFA, destination unknown. Pardy has signed a PTO with the Florida Panthers.

D Eric Gryba. UFA, destination unknown.
D Nikita Nikitin. UFA. Omsk (KHL) where we hope he flourishes and has a healthy year.
C Marco Roy. Rookie camp with the Canucks, suspect he gets at least an AHL deal.
I still think Eric Gryba could be a part of the 2016-17 Oilers, but the train has left the station for Kessy (unless we see a TC invite). I think we are probably at a point where we can guess all three pro rosters and where these players land on opening night.
McKenzie on Caggiula: "I know the #Oilers are expecting him to contend for one of the 13 forward spots on their team." Not 100% lock. 1260

— Chris Nichols (@NicholsOnHockey) September 16, 2016
McKenzie/Caggiula: "I think they think highly of him and they want to give him every opportunity to try and make the team." #Oilers

— Chris Nichols (@NicholsOnHockey) September 16, 2016
Peter Chiarelli's teams in Boston did have smaller skill forwards, and there is an opening—especially at center (if Leon spends some time on the wing). Caggiula's NHLE (82gp, 22-22-44) implies he can play with skill and get results, so this is something to watch for at main camp. He is small, but the Chiarelli Oilers have bigger wingers who can play on skill lines in complementary roles. It is also interesting that BM said 13 forwards, leaving room for an extra blue (or goalie). Maybe David Musil is in the plans.
PROJECTED 2016-17 OILERS  
I don't think Caggiula makes the team, but I also wonder if Anton Lander arrives at training camp on the outside looking in. This roster also pulls Iiro Pakarinen out of the 23, and places Matt Benning there. Interesting comments from McKenzie, and it does (imo) increase the chances of some kind of movement during pre-season. If Drake Caggiula makes the team, less likely Jesse Puljujarvi also breaks camp with Edmonton.
LOWDOWN WITH LOWETIDE
Friday show and it is a fun one, 10 this morning on TSN1260. Scheduled to appear:
Steve Lansky, Big Mouth Sports. World Cup of Hockey, Changes at HNIC, Jays.
Rob Reeves, Castrol Raceway. Annihilation Night Replay goes tomorrow night. This is a smash 'em, crash 'em, burn 'em Saturday night at a great race track.
Matt Iwanyk, TSN1260. The Blue Jays are going to win the pennant. Book it!
Frank Seravalli, TSN. World Cup, free agents out there and any trade chatter—specifically involving the Oilers—that may be out there.
10-1260 text, @Lowetide on twitter.