I was watching Connor McDavid play for Team NA last night, and it struck me that Oilers fans like me are extremely fortunate. This guy has speed no one has seen in a hockey player—hell, when he hits overdrive, 97 passes opponents like a house on the side of the road. Connor McDavid is breathtaking, and he is coming to a rink near you.
McDavid picked up an assist last night, played 14:44, three shots, 57 percent on the dot. RNH was 0-1-1, 16:04 and also 57 percent on the dot. Both play for the most exciting team in the World Cup of Hockey, and that team (coached by Todd McLellan) won a game against Finland last night. Tonight? The Russians!
Oilers reached out to Kris Russell a couple of days ago. Expect the two sides to start talking numbers/term etc as early as tomorrow.

— Dustin Nielson (@nielsonTSN1260) September 19, 2016
Well. This is interesting. Russell is a veteran defensive defenseman who was once traded for Nikita Nikitin (seriously). He was drafted by Columbus in 2005 (the Oilers selected Taylor Chorney one round earlier, and Danny Syvret in the same round as Russell—he would have been a player known to them).
I will tell you that the numbers I value do not place Russell in a good light. He does not get good marks in possession and his offensive ability is not the kind you pay real money for in this era. That said, there are metrics that show Russell has value (h/t Fr. JohnK):
Elliotte Friedman: According to sportlogiq data, Russell is excellent at getting out of his own zone. If you count all of his outlet passes, stretch passes and carry-outs from there, he's in the top 30 of all NHL defenders. His issues are offensive. He's nowhere near as involved in that zone. Since TJ Brodie and Mark Giordano faced the toughest competition, that makes Russell's numbers look worse. An offensively potent club could be a great fit. Source
VOLLMAN SLEDGEHAMMER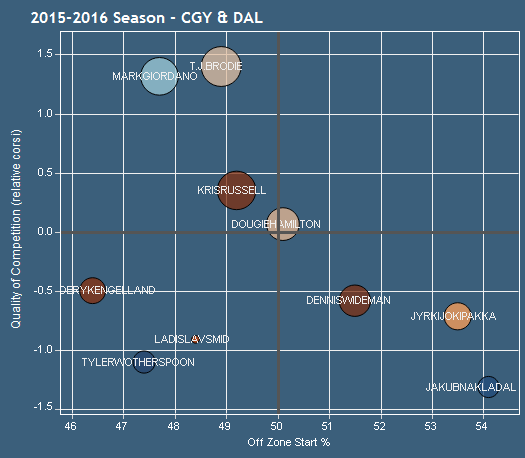 I brought Russell back from Dallas for this, so some Stars games are included here. You can see Russell played top 4D last season, and that the possession results were less than fabulous. We don't know what metrics the Oilers value anymore (the Gustavsson signing suggests home plate SP is now in vogue) but—no matter what metrics we value most—we can agree that Russell is not the strongest option based on team needs.
WHAT DOES IT ALL MEAN?
There are two major issues with signing Russell as I see it.
The Oilers don't need another LHD. Russell didn't play RH side in Calgary (I reached out to Kent Wilson last night for confirmation, he will be a guest on the Lowdown this morning).
The Oilers do need a RHD.
I don't know if this rumor is true, it runs counter to the roster and current needs. Peter Chiarelli may have a deal in place to trade a LHD (say, Brandon Davidson) for a RHD (I made a long list this summer, it is here) and there is one guy I think they may have looked at earlier this summer.
I am going to suggest the Oilers will trade a current LHD for a RHD if they sign Russell. It is the only way to make sense of the situation. I would also remind you that rumors are just that—this signing makes sense only if another shoe drops. There is enough quality and depth at the position in question, so it is reasonable to believe there is someone heading out if this should come to pass.
YOUNG STARS!
Joey Benik 2gp, 3-1-4
Jesse Puljujarvi 1gp, 2-1-3
Jaedon Descheneau 1gp, 1-1-2
Kyle Platzer 2gp, 0-2-2
Collin Shirley 2gp, 1-0-1
Markus Niemelainen 1gp, 1-0-1
Chad Butcher 2gp, 0-1-1
Ben Betker 2gp, 0-1-1
Drake Caggiula 1gp, 0-1-1
Dallas Valentine 1gp, 0-1-1
Aaron Irving 1gp, 0-1-1
Nick Ellis 1gp, 1.00 .967
Dylan Wells 1gp, 2.87 .921
Through two games, the players who have most impressed me are Jesse Puljujarvi, Matt Benning, Nick Ellis, Caleb Jones and Markus Niemelainen. The Oilers panel had a similar take after the first two games, perhaps we will add more names after the game this afternoon (my 5pm post will focus on this unless we have a Russell story).
LOWDOWN WITH LOWETIDE
At 10 this morning, TSN1260. Scheduled to appear:
Scott Burnside, ESPN. The World Cup of Hockey has its first games in the books, and the story lines are myriad.
Kent Wilson, Flames Nation. Kris Russell explained, and an update from the Young Stars tournament.
Jason Gregor, TSN1260. Russell, Puljujarvi, Yakupov, WCOH.
Andy McNamara, TSN4Downs. Crazy NFL weekend, including a wild game in Cleveland.
10-1260 text, @Lowetide on twitter.