The Edmonton Oilers received word today that Eric Gryba will attend camp on a PTO. You will read all kinds of numbers in regard to this player, but the one I like is 218. Eric Gryba has 218 NHL games on his resume, plus 10 more in the playoffs. I have always held that actual NHL players have value and he is one, along with Mark Fayne (409 NHL games, including playoffs).
Eric Gryba is a third-pairing option for sure, but he did post some solid numbers last season—especially with Brandon Davidson.
ERIC GRYBA 2015-16
5×5 points per 60: 0.44 (3rd among regular D)
5×4 points per 60: nil (in 2 minutes and 33 seconds)
Corsi for 5×5 %: 49.5
Corsi for 5×5 % REL: 1.4
Qual Comp: third pairing
Qual Team: third pairing
Shots on goal/percentage: 65 shots
Boxcars: 54, 1-5-6 .107
VOLLMAN SLEDGEHAMMER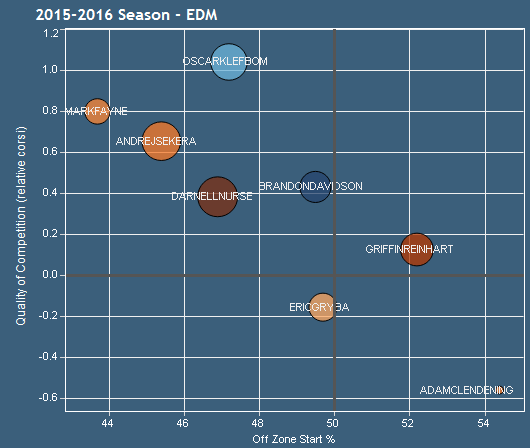 He was third pairing at evens, 15:32 per night. He played a lot on the PK—2:17 a night—and was one of the more successful defenders based on corsi rel 4×5. The Vollman shows he was definitely third pairing and he was close to 50 percent in possession 5×5, so that is where he is at this time. You may argue the Oilers should be able to post a stronger number from the third pairing, and that is a fine point. My counter is this: Who is better than Gryba among those applying for 7D?
Klefbom—Larsson
Sekera—Fayne
Nurse—Davidson
Gryba
The competition will be Jordan Oesterle (another lefty), Matt Benning (new pro), Griffin Reinhart—who may in fact win the day—and David Musil. All of Oesterle, Benning and Reinhart can be sent down without worry of waivers, Musil has to clear. I wrote about Gryba in the RE series, you may be interested in reading it again. I will linger just a moment longer to say that Chiarelli played the situation rather well (cue the retort involving the Hall trade).
POSSIBLE OPENING NIGHT ROSTER

It might be difficult to get both contracts onto the books, but this is what it might look like if that happens. If the Oilers are forced to decide between Versteeg and Gryba, who would you choose? For me, if Versteeg can help he would potentially play a more significant role.
PROJECTED 50-MAN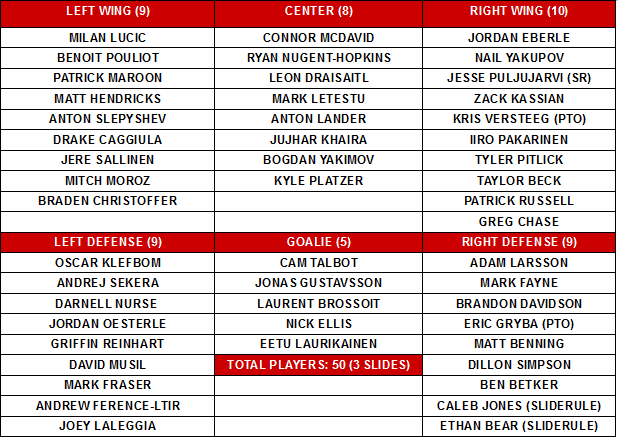 Oilers have two fairly certain slide rules (Jones and Bear) and one other possible slide (Puljujarvi). They would be at 50 contracts if signing both PTOs and claiming a player on waivers might be compromised. Suspect we see either a trade or a decision to sign one of Gryba or Versteeg (or none).