I have maintained all summer that the wise thing to do is send Jesse Puljujarvi to Bakersfield for at least 20 games. The script is already written: Place Kris Versteeg on RW along with Jordan Eberle, Nail Yakupov and Zack Kassian, run those four (and others) whilst the Jolly Finn Giant announces his presence with authority to dazed and confused AHL goalies. That is my position.
In reality, I don't think he gets 20 games in the AHL, nor 15, nor 10, nor 5. Jesse Puljujarvi is on this train, and this train is bound for glory. That last guy Edmonton drafted in the top 10 overall who was slow played? Steve Kelly.
PROJECTED LINES FOR 2016-17
Milan Lucic 74gp, 80gp, 20-33-53 0.663; Connor McDavid 78gp, 28-58-86 1.10;  Jordan Eberle 75gp, 29-31-60 0.80.
Benoit Pouliot 68gp, 16-22-38 0.559; Ryan Nugent-Hopkins 67gp, 17-28-45 0.672; Jesse Puljujarvi 75gp, 12-24-36 0.480.
Patrick Maroon 70gp, 12-20-32 0.457; Leon Draisaitl 76gp, 17-31-48 0.632; Nail Yakupov 66gp, 12-18-30 0.454.
This is using Scott Cullen's fantasy numbers. He also included Kris Versteeg on his list, suspect that RW battle is going to be interesting in training camp and we may not see the winner crowned until Christmas or later. We do know the winner's name, though. It's just a matter of time.
CULT OF HOCKEY VERSUS LOWETIDE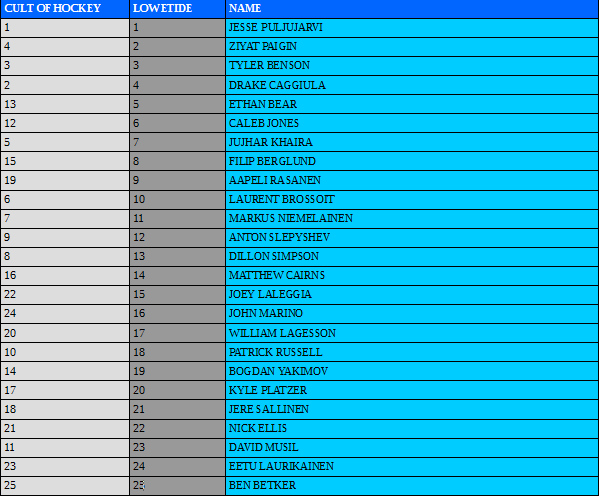 My list includes all kinds of players the CofH list does not (my list is here), to the point where it becomes difficult to really see the uniqueness of each list. What I have done here is take the 25 names from the Cult and then ranked those names based on my original list. Some notes:
As is always the case, the Cult list reflects players closest to being NHL ready, my list tends to reward offense and players with a range of skill—even if they are fresh draft picks.
Cult loves the college kids this year (would have been interesting to see Matt Benning's ranking). My list really likes Caggiula, but is less bullish on Patrick Russell.
My list really liked some later 2016 picks and remains devoted to the 2015 blue taken later (Jones, Bear, Paigin, Marino).
Only one of us is right about David Musil, there is no middle ground.
Filip Berglund appears to be on the SHL team, although there are nine defenders listed. It will be interesting to see how many games he gets in the highest Swedish league this year (5gp one year ago).
This is a fun exercise, Bruce will pop in this morning on the Lowdown and we will discuss the list and other items (like Puljujarvi and his possible role on the Oilers this year).
MACT'S FREE AGENTS
July 5, 2013—Andrew Ference
July 5, 2013—Boyd Gordon
July 5, 2013—Jesse Joensuu
July 5, 2013—Jason LaBarbera
July 5, 2013—Ryan Hamilton
July 6, 2013—Richard Bachman
July 8, 2013—Denis Grebeshkov
July 1, 2014—Benoit Pouliot
July 1, 2014—Mark Fayne
July 1, 2014—Keith Aulie
How many of these free-agent signings were useful? I think we can all agree that the Benoit Pouliot signing was very astute, and I would argue that Boyd Gordon and Mark Fayne have had their uses while also offering challenges in term and ability to move the contract. I would suggest, respectively, this reflects an inexperienced general manager who was not able to secure acceptable value on investment in the free agent market.
CHIARELLI'S FREE AGENTS
July 1, 2015—Andrej Sekera
July 1, 2015—Mark Letestu
July 1, 2016—Milan Lucic
July 1, 2016—Mark Fraser
July 1, 2016—Jonas Gustavsson
July 3, 2016—Taylor Beck
September 9, 2016—Kris Versteeg (PTO)
We have less track than the Mact signings, but the big money additions (Sekera, Lucic) are batting higher in the order and were acquired at a younger age than the MacT group. Now, Connor McDavid arrived before any of these signings and that changed everything (I know you will agree). As for the rest, I liked (and like) the Letestu addition and am interested in Beck as an option. As I have mentioned more than once, Gustavsson and Fraser were curious choices to my eye but neither man came at a high cost.
LOWDOWN WITH LOWETIDE
At 10 this morning, a fun group! Scheduled to appear, TSN1260:
Bruce McCurdy, Cult of Hockey. Where does Jesse Puljujarvi fit, Young Stars, CofH top 20, Gryba, Leon.
Jeff Krushell, Krush Performance. The Jays are in a sprint and the manager trusts one arm in middle relief. What could go wrong?
Brad Gagnon, Bleacher Report. Injuries have impacted the NFL in a big way, and the rookie QB crop impresses early.
Marc Majeau, TSN1260. He was at Rogers last night, saw Drake and the building. We will chat about it, along with the Yankees and Jets.
10-1260 text, @Lowetide on twitter. See you on the radio!