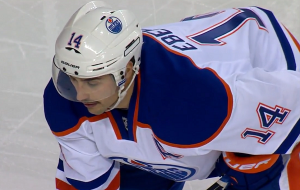 Training camp 2016 is underway, so the stories are going to roll from now on. Early items of interest have Milan Lucic changing the culture, Oscar Klefbom being thrilled with his healthy foot and some genuinely positive vibes early at training camp. There are reasons to be optimistic about this team's chances of improvement, although the playoffs seem a distant bell this morning.
RE 16-17 FORWARDS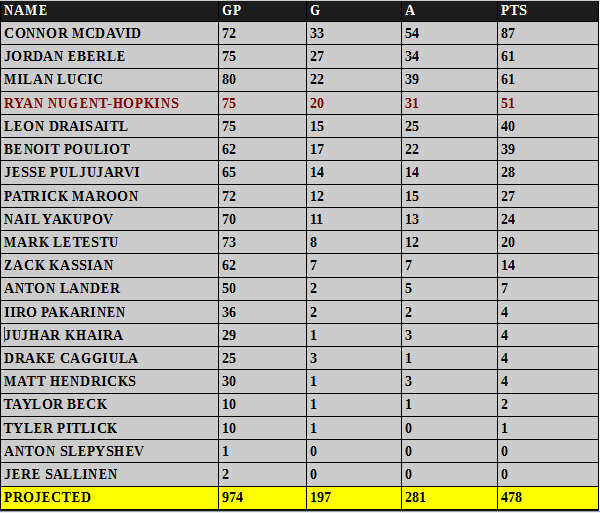 I have the forwards scoring a lot more this year—about what the entire team scored one year ago. Reasons for the spike are Connor McDavid healthy (that is the big one), the possibility of three scoring lines and more TOI devoted to the top group. I do not have Kris Versteeg on the list, so that should be factored in to the conversation.
RE 16-17 DEFENSE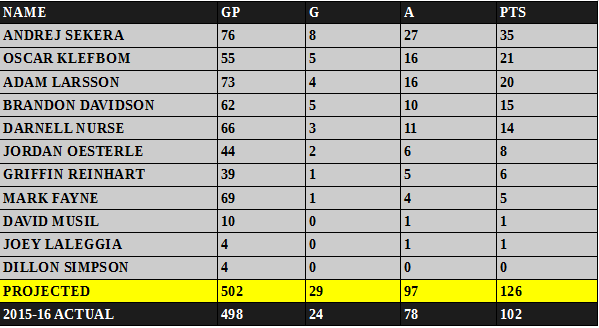 I have the offense increasing a little from the blue line, with Andrej Sekera getting most of the power-play minutes again. Edmonton may add another defender (Frank Seravalli mentioned Dennis Wideman again in our conversation yesterday) and that could impact the overall offense from the blue.
RE 16-17 GOALIES

I have Talbot playing 55 games, but it could be more and that is probably wise if he can handle the work load. I looked high and low for the reasoning behind the Gustavsson hire, and home plate save percentage is the only good arrow I could find. Brossoit should get some playing time too, and since the backup job is wide open don't discount a trade (or even Nick Ellis) at some point this season. A lot of repair work has been done, strange the goaltending has been addressed this way.
WE ARE UNDERWAY!
Bogdan Yakimov, Neftekkhimik (KHL) 7, 1-0-1
Ziyat Paigin, Ak-Bars Kazan (KHL) 4, 0-0-0
Matthew Cairns, Muskegon (USHL) 3, 0-0-0
Miroslav Svoboda, Dukla Jihlava (Cze 2) 1, 1.00 .969
Not a lot of activity so far (Cairns numbers are pre-season) but we are off and running. Yakimov isn't scoring much and his playing time is down (10:33, he was at 11:57 during the regular-season one year ago), but early days. Paigin should be getting back into the lineup soon, and Svoboda was dandy in his first game this year.
Yakimov is an interesting player, in fact the entire Russian contingent (Yak, Yak 2, Slepyshev, Paigin) rank as a bona fide curio for Oilers fans moving forward. If the club can get one or two of these men into the NHL as productive players, we can see a way to quality and depth. That's why Yakupov is such an important player for the organization, or one of them. I don't have the answer about any of these Russian kids, but do know successful organizations are able to optimize their Russian investments.
I used to rail against the Oilers' indifference toward Russian kids at the draft, and was happy to see a flurry of activity during the Tambellini and MacTavish regimes. However, there seems to be some kind of fracture in getting these players into suitable situations—whether it be Nail at the NHL level or Yak 2/Slepyshev on the AHL-to-NHL shuttle. Credit to Slepyshev for staying, cannot help but think this is a big year for all of these four men. I hope the club and players can find a way to make this work.
LOWDOWN WITH LOWETIDE
10 this morning, TSN1260. Scheduled to appear:
Steve Lansky, BigMouth Sports. World Cup of Hockey, NHL training camps, Ron is back in the chair and Bob Cole receives a big honor.
Guy Flaming, The Pipeline Show. Oil Kings season gets underway tonight, and Guy will be part of the first radio broadcast team in Rogers Place tomorrow night.
Matt Iwanyk, TSN1260. Oilers are improved, but by how much? Also, Jays and Eskimos.
10-1260 text, @Lowetide on twitter. Friday!