The Edmonton Oilers are getting after it at this year's training camp, cutting three men and getting the roster down below 60. The three men are:
G Dylan Wells (sent back to junior Peterborough Petes)
G Keven Bouchard (released)
D Kayle Doetzel (released)
I thought there was a whisper about Doetzel possibly getting an AHL deal (more Norfolk) but that appears to be a sailed ship with today's news. These cuts are early, which is likely painful for the players, but gets the organization down to a better number (especially in goal) during the early days. Distant bells? Down to 22.
THE DISTANT BELLS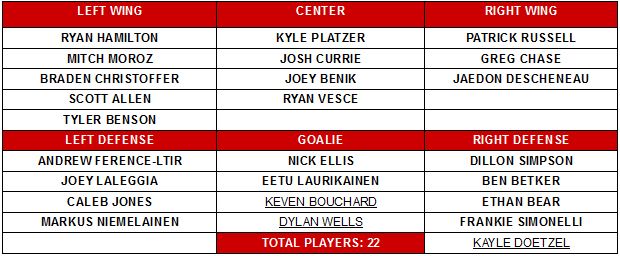 There are now four junior kids remaining on this list (Benson, Bear, Jones, Niemelainen) and I imagine the defensemen will get at least two pre-season games before being sent down. Benson? We can hope he is healthy enough to get a game but he has missed quite a bit of time already.
We won't know the rosters for tomorrow's game until late tonight or sometime tomorrow, but if you can play center there is probably a good chance of getting into a game—possibly in a feature role. Kyle Platzer might get a little push here tomorrow night.
UNCERTAIN OILERS

Todd McLellan says he wants to see another 43 goals shaved from the goal differential again this season, and part of that will have to come from one of the two goalies mentioned here.
McLellan also talked about the lack of centers with McDavid, Nuge and Draisaitl unavailable for the early strains of camp. He suggested the club would like to see if they can find a third center in this group (allowing Leon to move over to RW at times) and for me that may involve Caggiula, Sallinen and others in this uncertain group.
From the names mentioned here, I think Hendricks, Fayne and Gustavsson have the best chance to be part of the team opening night.
Right wing looks wide open from here, performances in the exhibition season may be the difference.
CERTAIN OILERS

The strengths are at center and the club looks good to me at LW and LD, your mileage may vary.
RW could be a strength if Versteeg's wheels will turn, but the only two sure R's are above.
Nurse—Davidson looks like a thing in camp, and if this is the case then maybe Sekera—Fayne is also a thing. I have no objections.
One thing to watch for tomorrow night is the power play. If Eberle and Puljujarvi are on the same team, and play on the power play, that could be a clue for the season ahead.
Todd McLellan had good things to say about Versteeg and his ability to be a Swiss Army knife. 'He is comfortable to do it, and willing to do it' was a direct quote today, suspect the team will have a long look at him.
McLellan also had kind early words for Adam Larsson (strong defender) but nothing major, early days.
McLellan on the defense: 'We know we have to get better on the blue line, we know we have a lot of work to do there.'