The Edmonton Oilers moved seven players from the roster today, and in doing so freed up more space on the 50-man list. Although we are some time from the interesting cuts in camp, it is worth noting the quick dispatch for these youngsters at Oilers camp this year.
THE DISTANT BELLS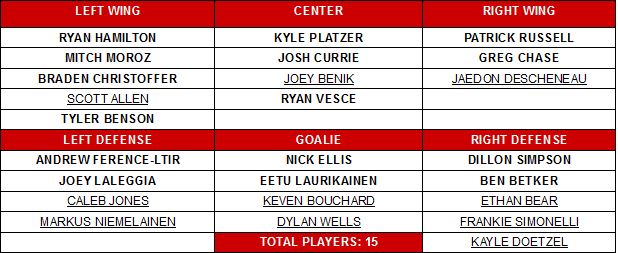 The most impressive names from this group are (imo) Ryan Vesce, Kyle Platzer and Ben Betker, but we haven't seen all of these men in games yet.
On a lesser level, Mitch Moroz has shown a pulse. It could be nothing but is worth noting.
I will have an update tomorrow morning on the chances of making the roster (by player), but Ryan Vesce has an outside outside outside shot.
Caleb Jones and Ethan Bear showed well, Markus Niemelainen too. This is terrific news for Oilers fans—not because they are all going to be 20-minutes a night blue in the NHL one day, but because one of them could end up being that player. Remember when we discussed Taylor Chorney, Jeff Petry and Cody Wild were all pushing up at the same time? Ended up being one in three, and probably a good starting point for conversation surrounding the three current youngsters.
THE UNCERTAIN OILERS

Kris Versteeg has pushed to the front of the line already and I would not be surprised to hear about contract negotiations soon. How many games do you need to see before confirming he still has NHL speed?
Jere Sallinen was apparently quite strong in Calgary (I could not find the game online to view) and that could be significant—Edmonton may want Leon on RW to start the season and that means a center is required for 3C. Jujhar Khaira looked good at Rogers, so he has moved the needle and Caggiula had four shots and one PS last night. This area of the roster has some fascinating stories.
Both goalies hit solid doubles first time out—maybe better than that. Oilers need stellar goaltending, all days.
CERTAIN OILERS

McDavid—Lucic is going to get a push based on camp verbal today. I hope the Oilers keep Pouliot in mind if the chemistry isn't as hoped, the Oilers have a real asset in Pouliot.
Klefbom—Larsson, Sekera—Fayne and Nurse—Davidson seems to be a thing early in camp. I am pleased.
Pouliot—Nuge will probably get Yakupov or Puljujarvi tomorrow or Friday night, my guess is the Finn (he lined up there today).
OILERS CURRENT 50-MAN (SLIDE RULE CONTRACTS NO LONGER COUNT)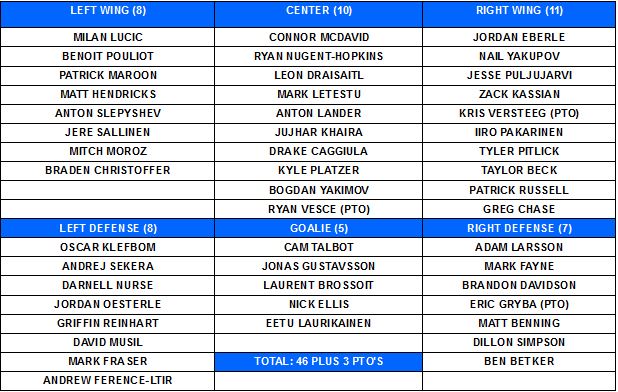 Caleb Jones and Ethan Bear now slide, as they are back in junior.
There are three PTO's of note—Kris Versteeg, Ryan Vesce and Eric Gryba. I doubt all three men make the team, but two could make the club.
If the Oilers make a trade before opening night, don't be surprised if Bogdan Yakimov or Eetu Laurikainen (or other) are part of the deal. Peter Chiarelli moved Travis Ewanyk a year ago in a similar deal, basically offloading an entry-level deal that wasn't working out in order to keep some breathing room for the 50-man.
VERBAL
McDavid talks Lucic:  "He's almost a perfect winger for myself. Just the way he plays I think it's going to work well. He opens up so much room. He wins battles, he keeps a ton of pucks alive."
Lucic talks McDavid: "You have to be ready no matter where you are on the ice because he (McDavid) is really good at getting guys the puck. That's one thing that I've definitely got to get used to, just being ready for pucks at all times in scoring positions. When you get those chances you've got to make sure you score.

It's a big reason I chose to come to Edmonton was to play with him."
I cannot tell you the number of Oilers fans who have told me they are looking forward to Lucic beating the hell out of this or that guy. Have said this before, but the thing about Lucic is that he can actually play. Really good passer, has a good sense of the game and where the puck is headed and he can separate player from puck and make an effective pass in real time. Important to remember that when discussing Lucic and what he brings.
IS A CENTER EMERGING?
One of the things the Oilers are looking for is a useful center who can slide into 3C when Leon is needed to load up the top two lines. I think Drake Caggiula has a chance to be that player. He looked good in a feature role last night and he can also play wing—meaning there are more roles he could play on the team. Anton Lander, Jujhar Khaira, Ryan Vesce and Jere Sallinen appear to be in the picture and it is a crowded house as we speak. Miles to go, but Caggiula had some good looks last night for sure.