As it stands now, the Edmonton Oil Kings 2010-14 have not exactly set the pro hockey world on fire. Curtis Lazar, Mark Pysyk, Griffin Reinhart, Laurent Brossoit, Henrik Samuelsson, Mitchell Moroz and many more have stopped short of making an NHL impact. It is fairly stark considering how famous these teams became leading up to the 2014 Memorial Cup victory. Here are the current NHL games played for Oil Kings grads:
Curtis Lazar 143
Mark Pysyk 125
Tomas Vincour 95
Griffin Reinhart 37
Laurent Brossoit 6
David Musil 4
Henrik Samuelsson 3
Keegan Lowe 2
Definitely an Oilers theme there, and that doesn't include Mitchell Moroz, Travis Ewanyk and various other draft picks who ended up in one of the Oil organizations (or both). Could you stand another?
MARK PYSYK!

Whenever I am looked for a quick and dirty (stop it) way of assessing NHL defenders, I go to Stats.HockeyAnalysis.com and run the CF% RelTM chart for 500+ minutes. Pysyk, a year ago, had a fine number and hung around in a good good range. Where was he playing those minutes? Let's head for the Sledgehammer.
VOLLMAN SLEDGEHAMMER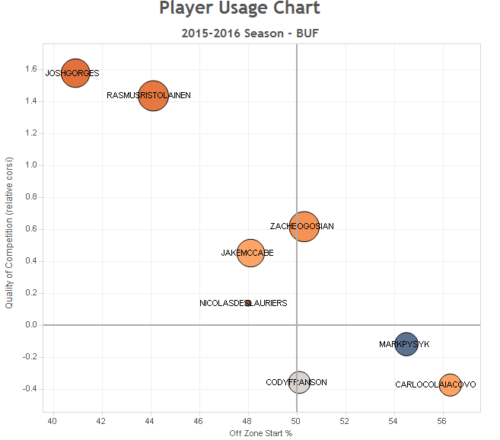 There we are, Pysyk performing well in the soft minutes portion of the Vollman. If a player is getting those minutes, you would like to see some good numbers are Pysyk does very well in the possession stats. His offense at even strength (0.61 5×5 points-per-60) is no screaming hell—a little better than Brandon Davidson managed a year ago.
I was talking to Darcy McLeod today and Pysyk came up as a possible acquisition. He was traded to Florida earlier this summer (I wrote about acquiring him here, he was traded a week later) and we are here. Question: If the acquisition cost for Pysyk (Panthers gave up Dmitri Kulikov to get him) isn't excruciating, are you interested?
Oscar Klefbom—Adam Larsson
Andrej Sekera—Mark Fayne
Brandon Davidson/Darnell Nurse—Mark Pysyk
Now. The ask might be a LHD, and the follow up question is this: Would you trade one of the LHD listed here in a bigger deal for Pysyk? If so, which one? What about Reinhart? (What about Reinhart)?
BERGLUND, SHL
Filip Berglund got into some SHL action in Sweden yesterday, and we received an update from our friend Swedish Poster:
After sitting out the first two games Filip Berglund got his first few minutes of the season when Skellefteå won 3-2 tonight. He was the 7th D and only got 7:30ish of TOI so he didn't have time to put much of a mark on the game.
I wouldn't worry too much about his early lack of ice time. This is usually the road for young D in the SHL, especially more offensively gifted ones. They have to earn their trust over the vets and really take the chance when given, and Skellefteå do have a solid group of vets on and they won't be easy to leapfrog.
If he still struggles with ice time in 1-2 months they usually loan them to an Allsvenskan team if they feel he needs more regular ice time. It's not a bad route at all.
A lot of the time the player is much improved and gets much more ice time as the year rolls along in either allsvenskan or the SHL. I'm personally encouraged that he gets an early taste., despite only one injured D (former NHL tweener Kyle Cumiskey btw).
As always, thanks so much to Swedish Poster. I will have some information on tomorrow morning's post on some of the junior and Euro kids, but it is worth nothing that Dylan Wells had a nice debut.