The Edmonton Oilers hit the left coast with their top line and the Leftorium last night, with a pile of at-bats for hopefuls and a few veterans along to get in some work. Losses are not a big deal in pre-season, even though the Oilers losing seems normal in any season. What is a big deal is the prospects are already separating themselves from the pack. Drake Caggiula is gaining a hold on one of the 14 forward spots, and Griffin Reinhart could be sent to Bakersfield today based on merit. The pressure is on, and some of these prospects are not doing well.
LAST NIGHT, DEFENSIVE NUMBERS

Edmonton dressed two sure things (Brandon Davidson, Darnell Nurse) and they played well, for the most part. I think Darnell Nurse played a fairly calm game compared to previous viewings, and I did see some nice passes from the big defender. Defensively, felt he battled well and his coverage was solid overall.
Brandon Davidson looked (to me) the confident veteran, making good choices and finding the range with his passes (not a lot of success from the rest of this group in that area). You know he would play better LH side, but even with the RH chores I think we can give him a positive grade.
Edmonton dressed two distant bells (Dillon Simpson, Joey Laleggia) and I thought both men played well enough to possibly get another game. Simpson had some difficulty with the bigger Canuck forwards and his passing was not as sharp as you would like, but he also had some good moments defending. Laleggia had a great night in the Corgi's and I love his skating and passing, but the defensive side of the game is going to be an issue in my opinion. Hit the net young man!
Edmonton dressed two uncertain Oilers, Griffin Reinhart had a poor outing. He scored a goal, but was caught flat-footed several times, made some decisions you should not see from a player with his experience and generally looked unready. Reinhart always looks (to me) as though he is playing himself into shape, while all these other fellows are already there. David Musil on the other hand came as (always) advertised, the intelligent defender, positioning in order and angles well judged. His issue is speed and it remains, damnable genes sure do stick like glue. These two players are applying for some of the same real estate, tough to imagine GR helped his cause last night and Musil just gives up so much mobility. Neither man made crisp passes.
Reinhart scored a goal, Davidson had the apple.
I think Davidson and Nurse are the only two defenders who played last night who will be on the opening night roster. No surprise, but it is a little bewildering to know the gap remains so large between Reinhart and the NHL men. It may seem as though I am giving Musil a pass, but his limitations are built-in and other than speed Musil had a good game in my opinion.
GOALIES LAST NIGHT
Jonas Gustavsson 14-17, .824
Nick Ellis 10-11, .909
I have watched a lot of Gustavsson over the years, and this is not a terribly unusual outing. Now, he is better than an .824 goalie, but I don't recall a brilliant save or a flurry where he saved the team's poor play in a sequence. Nick Ellis looked good, the goal was a beauty and he stood in well on the other 10 shots. We have no more information now than yesterday, beyond knowing the Oilers wasted a summer without finding a real solution.
FORWARDS LAST NIGHT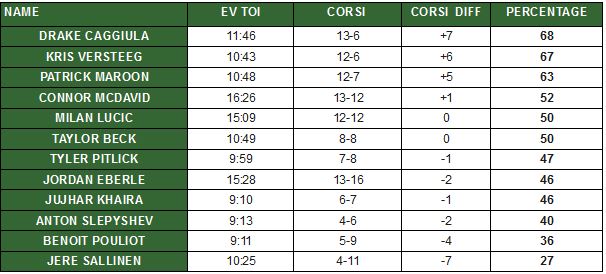 As was the case with Griffin Reinhart, there are some forwards who should be kicking themselves this morning.
Drake Caggiula had another good game, four shots and two goals, along with a nice possession number. He was also 50 percent on the dot. I don't know if he is the 3C or 3L or AHL forward, but he has talent and the arrows are all headed in a good direction.
Kris Versteeg had another good night, speed was there and he was back checking and trying to make plays. He made more plays in his Edmonton game, but this is a very strong audition so far.
Patrick Maroon did all the things we have come to expect (he makes astute little chip passes and uses his butt to get in the way a lot in the offensive and defensive zone) before scaring the hell out of us by getting hurt. Looked like leg or back and we wait. The big man grabbed an assist early.
Connor McDavid was flying, made about one dozen insane plays and did not catch a point—but I blame some sleepy teammates, bad luck and a power play that Craig MacTavish might find unimaginative. He was 52 percent on the dot and Vancouver was headhunting while Lucic was on the ice and I just wanted to point that out.
Milan Lucic made some nice plays, the chemistry didn't hit. He is not a strong power-play option, never has been, suspect the Oilers will figure that out. When Lucic is on, he is the master of the short pass, did see some signs of that last night.
Taylor Beck had some very good moments and did some checking too, but I think the problem is going to be the sheer number of players lined up for that narrow job opportunity on the roster. He shows well, but this is a tough damned group right now. Where the hell was this bunch in 2011 fall?
Tyler Pitlick had another great night, didn't score but was very good in battles down low and in finding his linemates with good passes. The first strong sequence of the game came from the 4line. Impressive.
Jordan Eberle did not have a good night.
Jujhar Khaira had a strong evening, including faceoffs, hits (hammered Gudbranson) and some nice exchanges with linemates in the offensive zone. He handled 1:12 of PK time too, that is the Lander spot.
Anton Slepyshev fell quite a bit but he had a lot of try and picked up an assist. He didn't get much done on the power play but then again no one did. At even strength, he looked good to me, driving to the net and making good passes. He is in the mix, but Caggiula and Versteeg are sucking all of the oxygen out of the roster race.
Benoit Pouliot is getting roasted for the late penalty, but those things happen. I did not think he had a good game overall, but he is one of the few Oilers forwards who checks in all three zones so ripping him for a penalty in pre-season seems a little cheap.
Jere Sallinen picked up an assist and was golden in the FO circle (63 percent). I don't know where he ranks in the race for the 5C job, but between Sallinen and Khaira, Lander has some pressure this fall.
DON'T PANIC!
The Oilers did not take their best puck passers with them to Vancouver, and as mentioned this was the Leftorium on full display. If anything, last night may put Matt Benning and Eric Gryba closer to the roster than we thought—having one RH side blue is likely enough, maybe too many. The Oilers need crisp passes and frankly five of the six defenders have issues in that area. That is a big damned deal, but Edmonton does have players who can pass back to front (Sekera, Klefbom, Larsson, Davidson) and I think Nurse can, although he needs to use the pass as a more prominent option.
ROSTER MAKEUP
Todd McLellan: "When your size can move, it can be very effective. If you're too slow, it makes everybody slow. Our biggest player (Lucic) was with our fastest player (McDavid) against Vancouver, and that combination should be fine. Some of our offensive players right now are very quick like Caggiula, who can dart in and out. Our role players have to be able to skate, but for me, skating is puck-movement. You can talk about size all you want, but it's the ability to get the puck from the D to the forwards at the right time, passes on the tape." Source
This has always been my preference, a roster with all kinds of different styles and uses. Drake Caggiula would be the only truly small player on the roster (should he make it), but would add to the skill on either wing and be a boon to the center group when Leon moves to wing (Note: My mentioning Leon on wing does not imply that is my preference. As I have stated many, many times, I see Leon as a center, a pivot, a man in the middle on a skill line. Leon=center. That is my wish. We are discussing options that have been mentioned by the coach. Any conclusion that this blog's author prefers Leon at RW should be viewed as incorrect).
THE DISTANT BELLS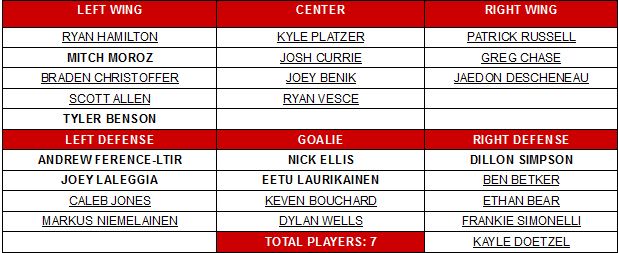 A bunch more distant bells packed away for the winter yesterday, we are now just seven names away from being through this list. Since Joey Laleggia, Dillon Simpson and Nick Ellis played last night, we could see some movement in this area by the weekend. It feels like Tyler Benson's chance to play in pre-season is now gone, wonder if Mitchell Moroz will be the last man standing from this list. That would be a nice arrow for the former Oil Kings winger.
THE UNCERTAIN OILERS

There are some gains being made by some of the men on this list.
Drake Caggiula has to be close to making this team, I cannot make a good case against him beyond early days. He looks dangerous on seemingly every shift, and can pass, shoot and score.
Anton Slepyshev, as he did last year, is hanging around doing enough good things to earn another start. What do the Oilers have here?
Tyler Pitlick has put himself in contention for 13-14F in my opinion, not sure who he would replace but another start is likely.
Jujhar Khaira looks good in most places and he brings a physical style the Oilers like to see.
Kris Versteeg is probably close to a lock for the roster at this point.
If I had to pick a defender from this list who has made the most positive impression so far, it would be Matt Benning.
THE CERTAIN OILERS

Some of the men on this list took (imo) the word coast a little too literally last night, disappointing but these are early days.
Patrick Maroon's injury is a real concern and will no doubt be a topic of discussion all day.
Leon and Andrej may be back by tomorrow and could see action next week, that is probably the time when we see the actual Oilers leave the station.
Overall, I think it is reasonable to suggest last night's effort reflects the difficulty Edmonton has had for a decade. The defense was not good enough to play an NHL team—even a Canucks team with the top line gone—and the men now occupying the top D jobs are here to make those memories fade. We hope.
LOWDOWN WITH LOWETIDE
A fun show with a lot of hockey talk. 10 this morning, TSN1260 and scheduled to appear:
Darcy McLeod, Because Oilers. What does his final roster look like? Lefty-righty, plus making those Corgi's dance while also not scoring.
Brad Gagnon, Bleacher Report. Another NFL week upon us, we will check in on Minnesota, New England, Buffalo and San Diego.
Frank Seravalli, TSN. Hot rumors, WCOH and early stories from training camps—including an All-Star team of unsigned RFA's.
10-1260 text, @Lowetide on twitter.