Tonight, RNH plays in Winnipeg and we will probably see Nail and Jesse again. Leon Draisaitl and Andrej Sekera will be back in camp after a little rest and by this time next week the band will be back together again. Training camp so far has felt incomplete, and not all of that feeling comes from the holes in the roster.
OILERS PRE-SEASON STATS
F Drake Caggiula 2gp, 2-0-2 (8 shots)
R Anton Slepyshev 2gp, 1-1-2 (3 shots)
R Tyler Pitlick 2gp, 1-1-2 (7 shots)
C Jere Sallinen 2gp, 1-1-2 (3 shots)
D Griffin Reinhart 1gp, 1-0-1 (2 shots)
R Iiro Pakarinen 1gp, 1-0-1 (1 shot)
C Ryan Vesce 1gp, 1-0-1 (3 shots)
R Kris Versteeg 2gp, 1-0-1 (4 shots)
C Mark Lestestu 1gp, 0-1-1 (0 shots)
L Benot Pouliot 1gp, 0-1-1 (0 shots)
C Kyle Platzer 1gp, 0-1-1 (0 shots)
D Oscar Klefbom 1gp, 0-1-1 (4 shots)
L Mitch Moroz 1gp, 0-1-1 (2 shots)
D Matt Benning 1gp, 0-1-1 (2 shots)
C Josh Currie 1gp, 0-1-1 (2 shots)
D Adam Larsson 1gp, 0-1-1 (1 shot)
C Anton Lander 1gp, 0-1-1 (0 shots)
D Darnell Nurse 2gp, 0-1-1 (3 shots)
D Brandon Davidson 2gp, 0-1-1 (1 shot)
R Taylor Beck 2gp, 0-1-1 (6 shots)
L Patrick Maroon 2gp, 0-1-1 (2 shots)
A bunch with no points, plus goalie stats, here
Drake Caggiula and his 8 shots stand out, and his two goals are also impressive. Oscar Klefbom has four shots to lead the blue and if you can identify the best goalie so far then you are a bloody genius.
DISTANT BELLS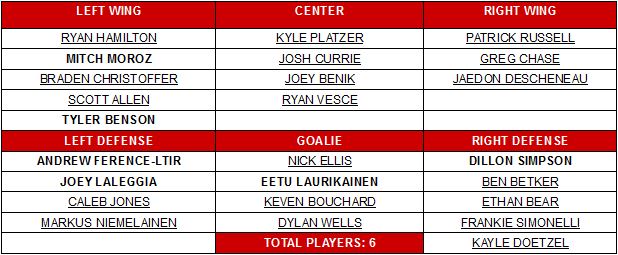 We will probably see a boatload more cuts in the next few days, Edmonton plays a game every two days for the next while, so four goalies, 10 defenders and (say) 20 forwards should do it. None of these men are going to be a substantial part of the Oilers this season (once Ference hits LTIR), although we could see a callup here or there.
Among this group, I think Kyle Platzer had the best showing among the pro players and all three of Jones, Bear and Niemelainen looked good from the defensive side.
SEASON UNDERWAY (PROSPECTS)
Dylan Wells, Peterborough Petes (OHL) 1gp, 1.00 .974
Miroslav Svoboda, HC Dukla Jihlava (Cze-2) 2gp, 2.40 .918
Filip Berglund, Skelleftea (SHL) 1gp, 0-0-0
Ziyat Paigin, Ak Bars Kazan (KHL) 4gp, 0-0-0
THE UNCERTAIN OILERS

Major Up arrows: Drake Caggiula, Kris Versteeg
Up arrows: Tyler Pitlick, Jujhar Khaira
Running in place arrows: Jesse Puljujarvi
I think the final 7 spots will go to Jonas Gustavsson, Mark Fayne, Eric Gryba, Drake Caggiula, Matt Hendricks, Kris Versteeg and one of Nail Yakupov or Jesse Puljujarvi.
THE CERTAIN OILERS

Do you think any of these men will be traded by opening night? Nor do I. The uncertain Oilers are a different conversation, and the stage is set for a trade (imo) or an unusual name in the pressbox.
CORSI FOR 5X5 PERCENTAGE (F)
Drake Caggiula 76.67
Milan Lucic 63.89
Jujhar Khaira 63.89
Tyler Pitlick 63.41
Taylor Beck 63.16
Kris Versteeg 60.00
Braden Christoffer 60.00
Jordan Eberle 58.97
Jesse Puljujarvi 58.33
Connor McDavid 52.00
Mitch Moroz 50.00
Kyle Platzer 50.00
Iiro Pakarinen 50.00
Ryan Vesce 50.00
That is most of the good vibrations group up front so far, I think Caggiula and Versteeg are the two men who have the best chance of making the club from the outside—and don't count out Jesse Puljujarvi. At the bottom end? Anton Lander, 18.52 percent and all of the names are here.
CORSI FOR 5X5 PERCENTAGE (D)
Mark Fayne 75.00
Ben Betker 72.73
Adam Larsson 70.83
Oscar Klefbom 70.00
Markus Niemelainen 69.57
Joey Laleggia 61.54
David Musil 57.14
Jordan Oesterle 47.62
Dillon Simpson 42.86
Eric Gryba 41.67
Brandon Davidson 40.00
Ethan Bear 39.13
Caleb Jones 39.13
Darnell Nurse 37.29
Griffin Reinhart 34.38
I think (if the season started tonight) the 7D would be Klefbom—Larsson, Sekera—Fayne, Nurse—Davidson and Eric Gryba, but there are miles to go. I want to linger just a little longer with NaturalStatTrick.com and list the most severe defensive zone starts on the team so far (among defensemen):
Darnell Nurse 14 (8 in the offensive zone)
Brandon Davidson 13 (8 in the offensive zone)
Eric Gryba 8 (4 in the offensive zone)
Jordan Oesterle 7 (3)
Griffin Reinhart 7 (9)
Dillon Simpson 6 (9)
David Musil 5 (4)
Joey Laleggia 4 (4)
Caleb Jones 4 (6)
Adam Larsson 3 (2)
Oscar Klefbom 3 (1)
Markus Niemelainen 3 (5)
Mark Fayne 2 (6)
Ben Betker 2 (4)
Interesting, despite being too early to draw any conclusions. Adam Larsson had 682 defensive-zone faceoffs and just 308 offensive zone faceoffs a year ago, it will be interesting to see those numbers over the entire Edmonton season. The next cuts are probably Joey Laleggia, Dillon Simpson and David Musil, but Musil could hang around until later in camp if the team is worried about losing him to waivers.
TONIGHT'S LINEUP (AN ESTIMATE)
Pouliot—Nuge—Puljujarvi
Slepyshev—Lander—Yakupov
Pakarinen—Letestu—Kassian
Moroz—Khaira—Beck
Klefbom—Larsson
Oesterle—Fayne
Fraser—Benning
Talbot (Laurikainen)
LOWDOWN WITH LOWETIDE
Friday edition of the Lowdown, 10 this morning TSN1260. Scheduled to appear:
Steve Lansky, Big Mouth Sports. WCOH is over, Matthews is gonna be a big star, McDavid captaincy and the Blue Jays.
Guy Flaming, Pipeline Show. Oil Kings season underway and there are some real positives. We will also discuss the strength of the WHL in this year's draft.
Matt Iwanyk, TSN1260. Did the Oilers make a mistake in firing Ralph Krueger, and are fans right to be angry that the management group with fired him remain with the team?
Paul Almeida, SSE. We chat about the Oilers, Jays and (gack) the Bengals, as Paul returns to the airwaves and we tee up tomorrow's show.
10-1260 text, @Lowetide on twitter. Friday!!!!