I love the fall, with the turning leaves (and lately, the falling leaves). When I was young, and lived in the lower mainland, fall would stretch out from September through October and deep into Novemeber—sometimes beyond, depending on where we were living. I remember days like this one (cold, rain) fondly, as I would stand in my slicker and gum boots—just inside my Dad's carport—and get chilled to the bones, watching the rain. I missed that feeling, caught it today and a rush of old memories flooded back to me. A good day.
PROSPECTS ARE WAIVING!
The Edmonton Oilers waived David Musil today, one of the decisions of training camp perhaps easier than many believed. I ranked him No. 30 on my summer list, feeling speed was going to be his issue. Cult of Hockey held out more hope, and they may well be right—today's move is a transaction, not an ending—and it will be interesting to see if there is any interest via waiver pickup or trade.
Taylor Beck was also waived, suspect he finds a spot in the Bakersfield lineup and he could get a recall at some point this season.
PROSPECTS ARE MOVING!
The Oilers also assigned Jujhar Khaira, Mitch Moroz, Eetu Laurikainen and Joey Laleggia to the Bakersfield Condors, as the AHL training camp prepares to rev up over the next few days. I think both Khaira and Moroz showed well, and Laleggia sure can skate well—he is pretty small to play defense, though.
THE DISTANT BELLS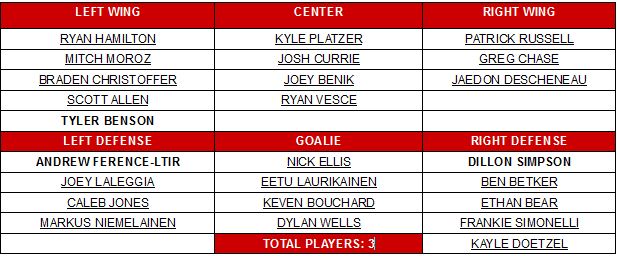 The winner of the coveted (this is a lie) Lowetide 'Last Distant Bell' Award is Dillon Simpson, who outlasts the entire group of long shots this fall.
Andrew Ference remains, but only for LTIR purposes.
Tyler Benson remains, but his injury put him in no man's land for this training camp.
I think Kyle Platzer, Mitch Moroz, Caleb Jones, Markus Niemelainen, Nick Ellis, Dillon Simpson, Ben Betker and Ethan Bear showed pretty well this fall.
THE UNCERTAIN OILERS

The first cuts from the uncertain group came today, the only surprise being Khaira (I think he has posted a strong TC overall, last night's PK aside). Suspect we will see him again this season.
Musil has to clear waivers, and maybe another team sees him as an option. If not, it is back to the AHL—a level of hockey he is perhaps overqualified for at this point in time.
Taylor Beck had a good-to-great training camp, but the jobs he might be applying for appear to have been grabbed by more qualified (and or promising) applicants.
There are now three centermen applying for two jobs.
The defensive depth chart is now officially interesting. Each of the men still alive in this camp could easily play 20 or more NHL games this season, depending on injury.
THE CERTAIN OILERS

The strong showing by Drake Caggiula may mean Leon is moved to RW at times (I suspect this would mostly be in-game decisions—meaning Leon would also play C) and crowds the right side even more.
Two injury worries early in camp—Maroon, Klefbom—highlight how little depth Edmonton has at this point in time. The rebuild continues, but these draft picks have to turn out. People have long forgotten the 2007 draft, but those misses fed the misery of 2010-16.
David Musil being waived today is the big story, but the 2011 draft gifted this team Nuge and Klefbom—and could have delivered Tobias Rieder.