Matt Benning is in Oilers camp and we are one week away from opening night. You can disregard it, or poo-poo it, but it is a fact. Matt Benning is not far from making the NHL Oilers on the first dice roll, and that has to be factored into the season. If Benning is one of the final cuts (he will be), it also follows he could and should be an early recall. No one still in camp is a fringe NHL player in the estimation of the management and coaching staff. I say that because there were comments online today about favors and making things look good and that is absolutely nuts. This ain't no party, this ain't no disco, this ain't no fooling around. This is the Oilers, in real time. Now.
DISTANT BELLS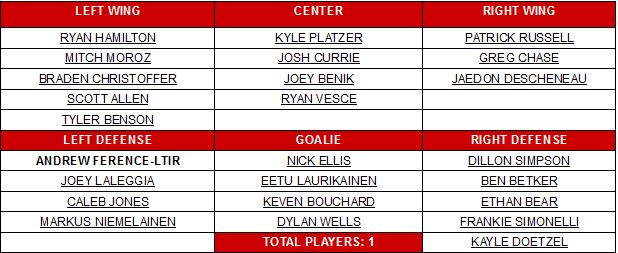 The distant bell list confirms our suspicions from pre-camp, Ference and his LTIR assignment is the last man standing. I was unfair to Dillon Simpson and for that he was the last actual player from this list to be sent down. Simpson passed a few more blue again this training camp, David Musil included. The young man reminds me of an old Night Gallery starring Ossie Davis called The Cemetery. Simpson is Portifoy.
THE UNCERTAIN OILERS

Some of these players (Matt Hendricks, Kris Versteeg, Iiro Pakarinen) detoured from uncertain Oilers to unhealthy Oilers—and it opens up all kinds of opportunities for the remaining healthy forwards (as shown below in the projected opening night roster).
I have nine sure things on my Certain Oilers list below, meaning that the healthy uncertain forwards (Anton Slepyshev, Tyler Pitlick, Anton Lander, Drake Caggiula, Nail Yakupov and Jesse Puljujarvi) are six men applying for (potentially) five forwards.
Defense is now pretty much decided, unless we see a waiver move or a trade. I have five sure things on the Certain Oilers list, meaning two or three blue spots left (and Reinhart, Fayne, Gryba and Benning in the running). I still think GR gets sent down, but felt Oesterle would be here today so there you go.
THE CERTAIN OILERS

Brandon Davidson's status is unknown, he may not be ready for opening night. Nuge had a day off today, we should monitor his status too (he had a weird exchange in the third period along the offensive boards against a Ducks blue last night).
The certain Oilers list is more than 15 now, Jonas Gustavsson, Mark Fayne, Kris Versteeg, Drake Caggiula probably inside (that is my opinion).
That means a lot of changes in the next few days. Signing Versteeg and possibly Gryba, deciding on Yak/Puljujarvi, adding a defender who can help on the power play, possibly adding a goalie (RETO BERRA IS ON WAIVERS!!!!!!!!!!!!!!!!!!!!!!!!!!!!!!!!!!!!!!!!!!!) mean these lists could be getting a major shakeup in the next seven days.
MCDAVID IS CAPTAIN!
I am fairly sure there is some percentage of daily readers to this blog who would like my opinion on Connor McDavid being named captain. I will tell you he seems absolutely qualified to do damn near anything in hockey, but the things one would need to know to have a reasonable opinion are not available to me. Ask the coach, or the Nuge, or the 23rd man on last year's team. I am in no way attempting to reduce the importance of the role, or hide some deep resentment or anger about this announcement. The things that would allow me to make an educated comment about this appointment are not available to me, so I will congratulate the young man and wish he and his teammates well this season. If this increases the chances of his signing an 8-year contract with the Oilers, it has my blessing.
WAIVERS
Get Reto Berra. Seriously. He is a $1.45 million cap hit and his SP last season was .922 in 14 games on a truly lost team in Denver. What part of haul ass can anyone fail to understand here? Manna from heaven! I bet you real money Peter Chiarelli is considering this heavily.
Ponder Mark Barberio. His possession numbers were strong a year ago, he is not expensive and he could certainly move back the LH depth chart behind Oscar Klefbom and Andrej Sekera (plus Davidson if he plays LH side). He would also be a solid pickup if the plan is to trade Davidson at some point this season.