The Edmonton Oilers ran their pre-season record to 4-2-0 with a solid victory over the Anaheim Ducks last night. There were good performances across all positions and for those of us worried about the goaltending Cam Talbot's .962 was a nice result. Let's dig a little deeper.
DEFENSE, LAST NIGHT

Important to remember the quality of the Anaheim group was less impressive (lots of Ducks stayed south). I counted three NHL defenders on each side, so in that area the two teams were similar in quality.
Klefbom—Larsson were very good to my eye, strong passes and good coverage. Larsson is more physical than I remember, and his speed is noticeably better than the other righties on this roster. Miles to go, but this pair looked solid. Klefbom is a shocking skater, he can close the gap in a heartbeat.
Reinhart—Fayne looked good too, Reinhart was physical, blocked shots and Fayne kept things (mostly) to the outside. I suspect we will see Reinhart get sent out soon, but he recovered nicely from a slow start to camp. Fayne is fyne, despite having to scramble a couple of times on shoot-ins.
Simpson—Gryba impressed me a lot. Simpson had a solid showing, consistent, reliable and safe—while showing nice outlet passing ability. I think he probably gets a callup at some point this season. Both men blocked shots and looked under control for most of the night. Gryba played a lot, kept the play in front of him and defended well, which has value. Honest.
Reinhart and Klefbom had one assist each.
I think Gryba gets a contract, with Reinhart and Simpson heading to Bakersfield.
FORWARDS, LAST NIGHT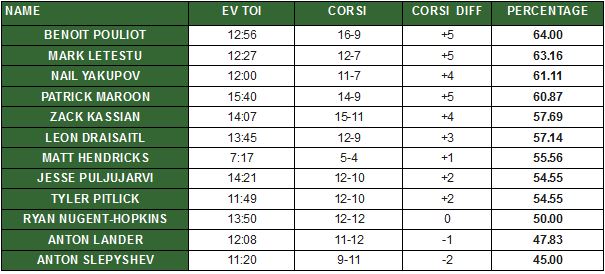 Benoit Pouliot led the team with four shots and forechecked like a demon—his signature. Someone should just count all the times he disrupts opposition sorties, he is so very good at it.
Mark Letestu scored a working man's goal and went 80 percent on the dot. He is useful player. Honest.
Nail Yakupov was opportunistic all night, had (I counted) three ridiculous chances and how he didn't pot a one of them is worth of a Law & Order episode. Did he do enough? He may have, and the line he played on (Leon and Maroon) is absolutely worthy of regular-season starts.
Patrick Maroon had a strong game, scoring a goal and an assist. He would have been my first star on the night, such a good passer for a big man. He was also physical and gave defenders a strong outlet option all night.
Zack Kassian had three shots on goal, one of them off a terrible pass by goalie Gibson. I thought he was faster than in the spring, and was impressed (again) by his passing ability. Kassian gets the puck to good spots with his passing, that is an important skill.
Leon Draisaitl skated miles at both ends of the ice. I am very impressed with his ability to play third defenseman down low and his passing remains a big part of his game. Had some nice looks, two shots, 55 percent on the dot. Solid first game back.
Matt Hendricks got hurt last night, played his usual game up until that time. I believe I saw the injury, he was forechecking with speed and seemed to twist his body as he made contact. The Oilers need veterans, so this is a blow. I will be interested to see who grabs this job for opening night.
Jesse Puljujarvi had a quiet game to my eye, two shots and one of them a fantastic chance on the power play. I am not disappointed in his performance, he seems to be finding his way in terms of responsibility. If he makes the team, suspect JP will be up and down the depth chart many nights depending on how he is performing on a given night. I would say it is very possible he does not make the team.
Tyler Pitlick always looks like an NHL player to me, and he was splendid last night. Three shots on goal, takeaway, blocked shot, all kinds of good things. Todd McLellan mentioned his fine play, and with the Hendricks and Pakarinen injuries this could be his chance to make opening night.
Ryan Nugent-Hopkins was fantastic last night: four shots, three takeaways, a sublime pass to JP for a brilliant chance on the power play. He is such an intelligent player, and can get the puck to a good place from a defensive position in a heartbeat. Such a fine center.
Anton Lander did not have a strong game in my opinion. Late in the game he took an unnecessary interference penalty that appeared to be a lapse in concentration. He is not a fast skater, and several times that lack of speed was on display. 80 percent on the dot, did not spend any time on the PK. I think he may be in trouble for a roster spot.
Anton Slepyshev was strong around the puck all night, you can see why McLellan likes him. He is a determined player, and as was the case last training camp the young Russian does enough in games to project him onto the opening night roster. He has to be close to a roster spot now.
LIKELY HEADED OUT
Word from the rink last night that we will see a few cuts today. Possible candidates include:
Laurent Brossoit spending time in Bakersfield makes perfect sense, doubt very much he is there for the entire year based on the NHL depth chart.
Dillon Simpson showed very well last night and throughout training camp. He is not one of the eight best defensemen in camp in my opinion, but he is not far from that point.
Andrew Ference will be LTIR'd opening day, but remains on the roster for now.
Iiro Pakarinen and Matt Hendricks will be placed on IR before the final roster is set.
Griffin Reinhart may not be sent out today, but is probably ticketed for Bakersfield before the roster is set.
Edmonton would be down to 27 men at that point in time, with bubble players Anton Lander, Anton Slepyshev, Tyler Pitlick, Drake Caggiula, Jesse Puljujarvi, Nail Yakupov, Kris Versteeg, Eric Gryba, Matt Benning and Jordan Oesterle all pushing for employment.
CURRENT OPENING NIGHT ROSTER ESTIMATE
Goal: Cam Talbot, Jonas Gustavsson
Left Defense: Oscar Klefbom, Andrej Sekera, Darnell Nurse
Right Defense: Adam Larsson, Mark Fayne, Brandon Davidson, Eric Gryba
Center: Connor McDavid, Ryan Nugent-Hopkins, Leon Draisaitl, Mark Letestu
Left Wing: Milan Lucic, Benoit Pouliot, Patrick Maroon, Tyler Pitlick,

Drake Caggiula

Right Wing: Jordan Eberle, Kris Versteeg, Nail Yakupov, Zack Kassian,

Jesse Puljujarvi
Jesse Puljujarvi just makes the roster, and I can see the club keeping Anton Slepyshev and sending the young Finn down. It is also possible we see a trade—possibly Nail Yakupov—and the Hendricks injury may change the overall decision-making process for management. Stick around, stay close to the worldwide web over the next few days.
A few notes:
A fine item from Dan Barnes on Cam Talbot is here.
We could see the Oilers grab a defender today, and that could inform the roster (impacting Eric Gryba, Matt Benning and possibly Mark Fayne).
Brandon Davidson's injury time line is not yet known. This could impact some roster movement.
LOWDOWN WITH LOWETIDE
At 10 this morning, TSN 1260. Scheduled to appear:
Bruce McCurdy, Cult of Hockey. Bruce will chime in on the roster, expectations of the Oilers and we might chat some MLB playoffs, too.
Jared Book, Bluebird Banter. Blue Jays are through and now face Texas. We will chat about the big game last night and how far Toronto can go.
Don Landry, CFL.ca. A big weekend in the CFL ahead, we will chat about the surging Eskimos, the Argos flushing receivers and big changes in Saskatchewan.
10-1260 text, @Lowetide on twitter. Talk soon!