I know many of you probably think this blog rambles on too much about balance and depth, but the Edmonton Oilers are going to make several decisions in the next few hours and those two items—or lack thereof—will play a big part in the final roster. Edmonton has substantial issues, we know them well.

DEFENSE, LAST NIGHT

Nurse—Fayne had brilliant possession numbers but were not an effective pairing. Nurse had three shots, two blocks but was chasing the puck quite a bit and had trouble getting the game under control. Fayne looked very poor, he could not corral the puck and send it to a good place. He gave away the puck four times, an incredible total for a veteran in an exhibition game. I sincerely believe in not overreacting to one game, but that was a bad one for him to have on the eve of cutdown day. Both men should be considered bubble players today, suspect they make the roster. If life was fair, Brandon Davidson—Matt Benning would be the third pair, opening night.
Klefbom—Larsson were excellent again to my eye, good outlet passing and skated miles. Klefbom had four shots, a takeaway and a blocked shot, Larsson had two blocked shots, two takeaways and three giveaways—too many for sure, but he has been excellent this week overall.
There was a lot of anger last night in the comments section, but teams lose on flukey goals and for whatever reason the Oilers are often heartbreaking on Saturday.
If you are judging Adam Larsson on last night—or the preseason—then I think it is reasonable to question your judgement. Folks, we all need to give this top pairing some time and defensive breakdowns per 60 have been less with Klefbom—Larsson. Chin up, all is not lost.
Andrej Sekera—Kris Russell had some issues, one should expect it from a new pairing. I think Sekera is primed for a brilliant season, he has been quality in the exhibition season. Sekera had an assist, two shots, played well to my eye. Russell looked like a guy in his first day of training camp. We should take a longer view on him, as is the case with Larsson.
Cam Talbot is also taking some heat, his preseason performance was just okay to my eye, I don't think he cost them the game last night but your mileage may vary. Peter Chiarelli will make a move—at a large cost, no doubt—if the Talbot—Gustavsson tandem cannot get it done. I remain confident in Talbot, less so with the Monster.
FORWARDS, LAST NIGHT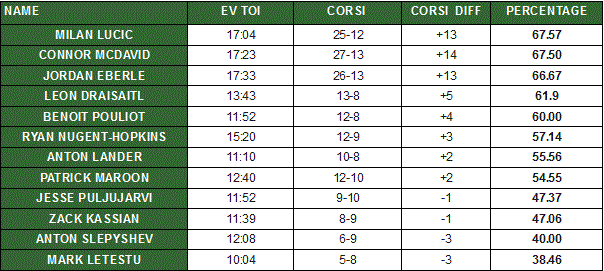 Lucic—McDavid—Eberle performed very well, this was their best game as a line to my eye.  McDavid went 1-1-2, skated miles, was dangerous from halfway through the anthem until the end of the game. I felt (apparently some disagree) this line showed far better chemistry last night, Lucic specifically making effective passes compared to his own training camp resume heading into the evening. Jordan Eberle had five shots on goal and some great looks, nice to see him rounding into form. Easy to forget his injury in preseason a year ago and the impact his loss had on the early season.
Pouliot—Nuge—Draisaitl were also impressive last night, which is important because at this point the trio probably represents the end of the offense on the depth chart. Benoit Pouliot scored a brilliant goal, Leon sent a stunning pass and of course the line did well in possession. One of the things we need to be aware of with this line is even-strength offense. A year ago, Taylor Hall played most often with Leon Draisaitl and Teddy Purcell. Those three men accounted for 45 goals in 205 games—or 18 per 82 games. Can the current 2line deliver that kind of offense?
Maroon—Lander—Puljujarvi contained exactly one sure thing NHL forward in Maroon, who has posted a dandy preseason. Maroon had four shots, Lander was 54 percent on the dot and Puljujarvi added a couple of shots. I am not absolutely certain the Finn makes this team, suspect the organization is leaning that way—confirmation (for me) coming in the Yakupov trade.
Slepyshev—Letestu—Kassian struggled in possession and were chasing a lot, I liked Slepyshev's speed and determination. Kassian got the line's two shots, Letestu was solid in the faceoff circle but did not generate much in the way of offense. I like Pitlick more than Slepyshev for the Hendricks spot, but it is interesting coach McLellan chose the Russian last night.
OPENING NIGHT ROSTER (A GUESS)
Milan Lucic—Connor McDavid—Jordan Eberle
Benoit Pouliot—Ryan Nugent-Hopkins—Leon Draisaitl
Patrick Maroon—??????—Jesse Puljujarvi
Tyler Pitlick—Mark Letestu—Zack Kassian
Extras: Drake Caggiula, Anton Slepyshev
Oscar Klefbom—Adam Larsson
Kris Russell—Andrej Sekera
Darnell Nurse—Brandon Davidson
Extra: Mark Fayne
Cam Talbot (Jonas Gustavsson)
This is the same list posted in yesterday's GDT, and I am still not certain about the ? 3C—but am fairly confident it is not Anton Lander. Why? Speed. Edmonton badly needs more speed on the bottom two forward lines, and there should be a window of opportunity for procurement in these next hours. Perhaps it is Drake Caggiula, time will tell. I should also mention Kris Versteeg, who is not signed and for all we know may never be signed by Edmonton. I wonder what kind of injury has one side or another hesitant to sign a contract.
WAIVERS
It is probably wise to watch the waiver wire this weekend, as Edmonton still has some specific needs (backup goalie, RHD and a Pisani). Among the players currently available who may hold interest for Peter Chiarelli:
RC Derek Ryan, Carolina Hurricanes: Bob has mentioned him many times as an option, and Ryan is a pretty good offensive player. The Oilers badly need some offensive punch for that 3line, and maybe Ryan and Caggiula can deliver some this season.
L Brad Malone, Washington Capitals. I don't think the Oilers will take him, but he does fit the Chiarelli template and could slide into the Matt Hendricks role.
F Landon Ferraro, St. Louis Blues. He is smaller, but has speed and some skill. Not a fabulous faceoff man, but he has a good range of skills and would be an interesting option.
50-MAN LIST
As we have discussed all summer, the roster remains unbalanced. The addition of Kris Russell may help (Fayne is not just leaving the door open, he apparently took it off the hinges), but the backup goalie, power-play issue (no RH shot) and lack of a Pisani mean this is not a playoff team. There is still time to address that center situation, perhaps Peter Chiarelli can find a Pisani and place him there. Year two of Connor McDavid's NHL career means finishing outside the playoffs unless the young man goes super nova, and even then the defense and goaltending may let him down. As we reach Thanksgiving weekend, the third line is a mess, now, this day. The only way to fix it? Put Leon at 3C, and that risks having only one scoring line. I think Jesse Puljuarvi makes the team and does it in a feature role. Connor, Jesse and Leon are going to get this team to the playoffs or this team is going to fail. It is on the kids, one. more. time.