One year ago, we were so excited for the start of the season even adults had ants in their pants all day. Connor McDavid—Oiler!—would make his NHL debut in game 1 and this city was rocking like mad. In that game, against the Blues in St. Louis, McDavid played 18:07, had two shots and finished -1 in a 3-1 loss. Do you remember that game? Do you recall how you felt during the contest? I missed that game (had an MC job for a wonderful cause) but when I got home did a breakneck rundown in the comments sections. Here it is.
Early shift, Oilers having a terrible time getting puck out (two chances and nothing then Tarasenko with a great chance).
Another bad shift, this time Reinhart and Gryba. McDavid finally makes a play at the blue to get it out. 2 minutes in and all I see is no breakouts.
Sekera finally makes a breakout pass, 2.5 minutes it. To Gazdic.
15:24 left in first, textbook breakout Reinhart to Gryba to Nuge. Music!
Reinhart is going to have to be harder, more physical. He's a big man and doesn't delay the winger in any way.
Effective shift featuring Hall with the kids, they get a bit of a look and then Gryba fires a hopeless shot from the point. Good shift by Hall line at about 8 minute mark, niftty pass hall to Slepy
Fabulous effort by Nuge ends up with an impressive shot from Schultz as he moves to the center. Nuge is using the McLellan shot and retrieval method more effectively than Hall. He places it better. Nuge. Big brain.
Fabulous defensive play Reinhart. McDavid with an edge but Gunnarson closes him out. Blues are stifling. Holy crap they're a tough checking team.
Letestu line with a FANTASTIC shift at 12+ minute mark of P! and then Yakupov dances and they get a chance. I'm liking this game men.
The Oilers score! Holy crap! Where was THAT G7 SCF?
Sekera Fayne isn't working boys. Early second period, the McDavid line with a nice chance, there was a hook there (wasn't called) and that could have been a big point in the game.
Scrambly now, we're back to not winning faceoffs and the breakouts are getting sloppy. We're five mintues from Staios to Lupul here.
Okay, I don't think McDavid Hall like the chip and chase. It isn't their style. We're going to have to watch how they enter. God Hall just folded like a cheap suit.
Gryba fight on a hit from behind. I think Gryba won but no real idea. Gryba a ginger? Filthy hit by a Blue on Letestu.
The third line ran what looked like a set piece, Sekera long pass to maybe Hendricks, who chips it back to Letestu. Interesting. A monster stretch pass and it worked.
Lander quiet until this point, he and Nail work well and Yak passes nicely to Reinhart for a shot. Gazdic with a nice power move, haven't seen that. Purcell is Cory Cross slow. Yak seems to close on things, playing with Slepy now.
Gazdic had the best shift as an Oiler with Pouliot and Nuge. Lordy. Hammering people. Lehtera is going to need a new bumper.
Gryba with a nice sequence, really good defending. Travis Yost said he could do it and he's right. Cam Talbot is the best Oiler in the game. Korpikoski is trying my devotion to the Finns with his SWIM moves. That rookie tandem in St. Louis are going to be good, someone needs to trade for the St. Albert kid.
Getting a bit choppy now, were 17 minutes in. Yakupov is a tank, just crazy hammering and he keeps going. SCHULTZ nice defensive play. Lander invisible. Gazdic back out with Nuge and Poo! Sekera with Gryba! What the hell McLellan.
Faceoffs are silly bad I bet, Hendricks working hard, Hall looks confused, he's kind of chasing the puck everywhere like we all did as kids. Maybe they've filled him with too much information?
McDavid getting no space this game, agree with whoever said this was a bad team for him to debut. Fayne battled Ott, really nice work there. I think Sekera is better without Fayne. OH MCDAVID! Close.
Nail made a poor decision and a turnover results in Brodziak iron. Why did we trade him again? Bad sideburns? Reinhart hits a guy and he's down. The young man needs to do more of it. Blues are pricks.
Tonight, it looks like Jesse Puljujarvi will draw in and play his first NHL game. We should not expect 18:07 in TOI—the top two lines are going to get much the big minutes—and we should not expect him to get noticed a ton. I am seeing a lot of negative verbal about Puljujarvi staying and the impact of it. My RE had the Finn at 65 games, seems to me some are projecting the past onto this player. If he does poorly in the NHL, they will send him down—and I do think that is very possible.
Wondering what you would consider a good night. A point? 15 minutes? No giveaways? I think there is a chance he gets less than 14 minutes. Why? Suspect the Oilers are going to ride the McDavid and Nuge lines in a big way for the Rogers debut. I also think that no matter what he does, Thursday will see a lot more criticism of the young man and the decision to keep him in Edmonton. This does represent news, as in the past Oilers fans wait to see the player before burying him. Progress!
Once again, the games I saw him in during the preseason showed a big winger with speed, an ability to mark his man and a willingness to battle. Suspect that is why he is still here, but he has to score goals and this will be (imo) the challenge. This is going to be an interesting season.
 23-MAN ROSTER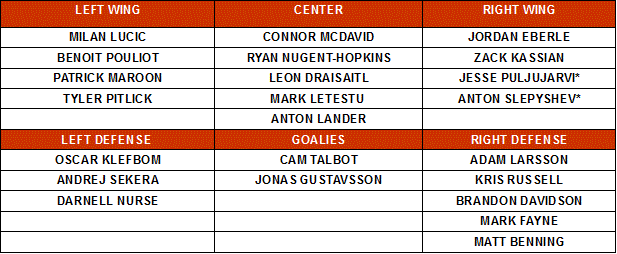 These do not represent the lines (I think Leon plays RW tonight) but this is the opening night roster. Drake Caggiula will be 3C when healthy and that should be soon, but Anton Lander could slide in tonight between Maroon and Puljujarvi. Opportunity knocks early for Lander? Maybe.
PROBABLE LINEUP
Lucic—McDavid—Eberle (20 minutes)
Pouliot—Nuge—Draisaitl (20 minutes)
Maroon—Lander—Puljujarvi (10 minutes)
Pitlick—Letestu—Kassian (10 minutes)
Klefbom—Larsson (26 minutes)
Sekera—Russell (17 minutes)
Nurse—Davidson (17 minutes)
Talbot, Gustavsson
That list of six (in photo capture) is from the days after the lottery and the watershed win by the Oilers (McDavid). One year on, the team continues to be built around 97 and tonight Edmonton needs him to be magic. The Flames have the look of a playoff team, and this Oilers group has two substantial forward lines, one rock solid pairing and a good No. 1 goalie. The rest of Edmonton's team is going to get exposed, and I do question the wisdom of having Mark Fayne in the pressbox. Can the Oilers win tonight? Yes. How do they do it? The top two lines have to account for 40 of the 60 minutes and must be productive, and the Swedes must never leave the ice.
Note: Among the 20 names playing tonight, 11 men arrived after Peter Chiarelli took over as general manager. Jordan Eberle, Benoit Pouliot, Leon Draisaitl, Ryan Nugent-Hopkins, Anton Lander, Tyler Pitlick, Oscar Klefbom, Darnell Nurse and Brandon Davidson are the holdovers.
MATTI HAGMAN
Matti Hagman passed away, he was 61. As is the case with so many players over the years, Hagman played for my two favorite teams, the Boston Bruins and Edmonton Oilers. As a Bruin, he was a utility player who filled in ably as required. Boston was loaded at center in those years (Jean Ratelle, Peter McNab and the brilliant Gregg Sheppard) so Hagman moved around and played some good minutes in a secondary role.
As an Edmonton Oiler a few years later, he served as mentor to several emerging talents, including fellow Finn Jari Kurri.
Kurri: "Matti passed and I one-timed it from the high slot. It went in and out, play went on, but the referee (veteran Ron Wicks) saw that it was in." Source
Along with Risto Siltanen, Jari Kurri, Esa Tikkanen and Reijo Ruotsalainen, Matti Hagman helped the Edmonton Oilers grow into the team they became during the 1980s and I am saddened by the news of his passing. RIP, Matti Hagman.
LOWDOWN WITH LOWETIDE
Today on the show, 10 this morning on TSN1260:
Bruce McCurdy, Cult of Hockey. Opening night Oilers! The roster, good and bad, and expectations of the season. Bruce saw Tyler Benson last night, so we will also discuss.
Don Landry, CFL.ca. Eskimos on a roll and the West has four teams who appear superior to the rest of the league.
Tom Lynn, Veritas Hockey. What a crazy time for players—and their agents!
Jared Book, Bluebird Banter. Jays through to the ALCS, Cleveland is the nut. Good matchup?
10-1260 text, @Lowetide on twitter. See you on the radio! PS, start time is 8:45 pm, so for the older set, we need to pace ourselves.