The Edmonton Oilers won their opener on Wednesday night, but did not escape unscathed from the battle. Brandon Davidson, who has a long and growing injury resume, went back on the IR today and it may be some time before we see him again.
According to Todd McLellan maintenance day for Larsson and Davidson will be out a while

— Bob Stauffer (@Bob_Stauffer) October 13, 2016
Larsson and Davidson (along with Kris Russell, who was hit from behind early) came out with some shrapnel after encountering rookie wrecking ball Matthew Tkachuk. Oilers fans spent much of the day tweeting and posting about the new demon, but the truth is Tkachuk is going about his business in a manner that suggests he will be in the NHL after October.
Brian Burke: "Kid's a kind of pain in the ass. We don't have enough guys who are pains in the ass. And the way I like to play, I like guys who are pains in the ass." Source
When we discussed Tkachuk as a possible Oiler, plenty of verbal flew (from this blog and its commenters) in regard to his young man's rugged, edgy play. I don't like watching Oilers defenders drop like flies, but this is part of his story and the Oilers have to deal with this player while also grabbing two points tomorrow night. If he continues to play on the outer edge, he will develop a reputation and that has its own impact (see Gudas, Radko).
CURRENT ROSTER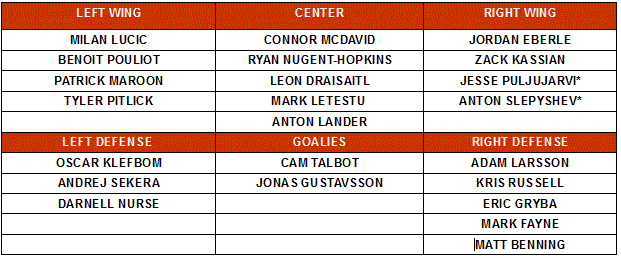 Injured: Brandon Davidson, Andrew Ference, Matt Hendricks, Iiro Pakarinen. Also Drake Caggiula is being held in stasis.
Darcy McLeod was a guest on the Lowdown this morning, and suggested the best partner for Darnell Nurse on the third pairing (sans Davidson) might be Nurse—Gryba. That is an excellent point.
The Oilers need to see if this young college center can help post haste, and if not they need to trade for a better Versteeg. You buggers laughed at my Purcell idea, but that guy can do things.
#RT @OilersNation @Lowetide #Oilers pick Ellis to backup Brossoit with Condors. Laurikainen shipped to ECHL Norfolk.

— Scott Zerr (@scottmaxfight) October 13, 2016
Goalies are voodoo (and don't bother typing in the comments that goalies are not voodoo, because you typing that is just more damned voodoo, and I am on to you) so who knows, but Ellis looked good to me. I don't like the idea of losing a Finn to Norfolk and eventually the call of Finnish sauna's, but this Joker Man Puljujarvi appears to have that country covered for the Oilers through the next decade or so.
HIGH DANGER CHANCES, AMONG DEFENSEMEN
Oscar Klefbom 6-1 +5
Adam Larsson 4-0 +4
Kris Russell 4-0 +4
Andrej Sekera 3-1 +2
Brandon Davidson 2-3 -1
Darnell Nurse 3-5 -2
More tomorrow, and a discussion of Eric Gryba versus Mark Fayne versus Matt Benning may be a major them for tomorrow's post. The man with the most total high danger events is the guy you would like to have quiet games, and that is going to be a problem until it isn't.