Well. These things usually write themselves, but 2-0-0 isn't easily found in the database, so I am going to have to work a little extra to find something called sunshine from my keyboard this morning. Hey, there are negatives and things to fret about, but two wins at the start of the season is borderline Hallelujah for Oilers fans.
ROLL OVER BEETHOVEN, YEAR OVER YEAR
Oilers in October 2015: 4-8-0
Oilers in October 2016: 2-0-0
Edmonton began last season 0-4-0 before getting things settled and finishing the month 4-4-0. Peter Chiarelli's Bruins went from 76 points in his first season there to 94 points in year two. Chiarelli's Oilers posted 70 points in year one, can this club hit 90 this season?
DEFENSE LAST NIGHT

Adam Larsson saw the Monahan line most often, sawed them off (4-4) and did well in high danger scoring chances (5-2) overall. I think he stood tall on a night when the Oilers defensemen spent a lot of time trying to settle the waters in difficult rapids. Sometimes survival is success, and this was such a night. He hits effectively.
Darnell Nurse picked up another assist, played four minutes shorthanded and played a tough, physical game that saw increased discipline. He played against the Sam Bennett line (5-6) and went 1-1 in high danger scoring chances. Miles to go, but I thought he had a good game. A couple of monster hits, but he did not take the bait and did not cost his team with a poorly timed penalty seeking revenge. Had a takeaway and a blocked shot.
Oscar Klefbom played 21:59, had three blocked shots and played well in a defensive role. Less freewheeling than in Game 1, I like his ability to defend when necessary—he has a fairly complete skill set. Played 13:18 with Larsson and the pairing went 4-2 in HD scoring chances. Played mostly against Backlund-Frolik and had a 2-0 edge in HD scoring chances.
Andrej Sekera played over 20 minutes and performed in all three disciplines. Paired mostly with Kris Russell at evens, he was steady and effective to my eye. Faced Backlund most often (1-0 edge in HD scoring chances) but was pitted against all of the top forwards last night. I think he is on another level compared to last season—and I thought he was great then, too.
Kris Russell had an assist, three blocked shots and played on the PK—not the power play. His numbers are basically the same as Sekera's, I think this tandem gives Todd McLellan some cover. He makes small, nifty plays with the puck. A little shy of Game 1, it was a different game and in my opinion he did enough good things to warrant a good arrow.
Eric Gryba played a ton on the PK as well as the items listed above. Played a bunch with Nurse and they faced the Bennett line—probably the preferred matchup by Calgary coaching.
Event Summary from NHL.com
Game results from Natural Stat Trick.
FORWARDS, LAST NIGHT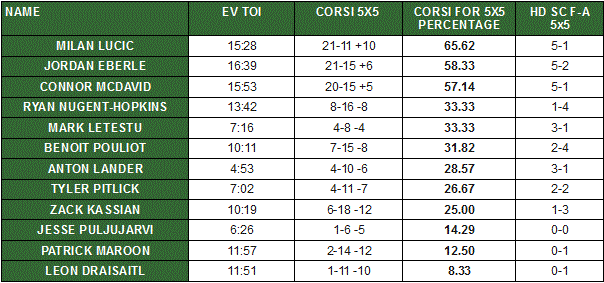 Score effects were in play again last night, but the truth is Calgary kicked ass early and later.

Milan Lucic had his best game, exhibition or regular. He had two assists, three shots, and plays with McDavid. Lucic faced the Brodie—Giordano pairing and went 15-4. The key to Corsi success is playing with McDavid! Huzzah! I loved his power-play work, the man can pass so very well and he makes intelligent decisions with the puck.
Jordan Eberle appeared more involved and got in the way more—not quite Pouliot-level but he made himself a better player by  doing it. Also scored a goal, added an assist, had four shots and nine directed at the net. The line went 4-5 head to head with Johnny Gaudreau 5×5 in 3:37.
Connor McDavid played 22:09 but it looked like 35 minutes—oh my, this man impacts a hockey game. A goal and two assists for the evening, he leads the NHL in points. I don't have the words. Honestly, his shifts should be chronicled as art, or music. Breathtaking.
Ryan Nugent-Hopkins posted two shots, two takeaways and was 50 percent on the dot—while getting caved in possession. The first period was dire—DIRE! All the forwards not playing with McDavid were ineffective in possession, but Nuge has to be better. Played most often with Benoit Pouliot and Zack Kassian, and faced the Hamilton pairing (7-11) and Sam Bennett line (5-5) more than any other set. Played five fewer minutes than McDavid, power-play time was only 1:33. His 1-4 in HD SC was poor.
Mark Letestu scored a huge goal (SH) and had three shots. Skated miles on the PK, for me he is a good 4C on this team and frankly I do not understand why people don't appreciate him. He went 4-5 with Lander and Pitlick at evens, went 3-2 against Ferland.
Benoit Pouliot had a bad game. He had two shots, took three penalties and did not deliver his normal effective forechecking game. Vital he and Nuge recover, suspect they will. Edmonton needs to find a suitable RW for this duo, which is not the same as saying Kris Versteeg was the ideal RW for this duo. He was 1-8 in 1:37 against Chiasson, no idea how that happened.
Anton Lander had a good game and I think there is a chance we see him again tomorrow. Effective on the PK, he had one shot and three blocked shots. He also has a bit of an edge that forces the opposition into reacting. Good to see him play last night.
Tyler Pitlick had a good game despite the possession number. He can be a royal pain in the ass, got away with a crosscheck on Wideman (it was nothing, but I have seen Edmonton get a penalty on that play many times). He was 2-5 against Stajan and played most often with Letestu and Lander.
Zack Kassian stepped up to the 2R spot last night, had one shot and three takeaways. He was 4-7 against Bennett line, probably a matchup both teams would have been satisfied with (Nuge line). He played over two minutes shorthanded, that is becoming a trend and he appears to be effective.
Jesse Puljujarvi had a quiet night, no surprise since he didn't see the ice a lot. One shot on goal.
Patrick Maroon also had a night where the puck wasn't on his stick a lot, but he did work hard along the boards and there was plenty of that kind of work. Played most often with Leon and Puljujarvi, the line got passed like a house on the side of the road quite a bit. He was 1-11 with Leon at evens.
Leon Draisaitl had two different evenings, one at evens and one on the power play. He went 2-1-3 and had five shots on goal. Good in the dot. Impressive evening in many ways, but a tire fire in possession. He went 1-4 against the Gaudreau line, Edmonton has to get the two and three lines settled in here at 5×5. Showed nice chem with Milan Lucic, perhaps we will see a left wing shuffle.
Text from Scotty Bowman to me just now: "I have not seen a player accelerate like McDavid since Bobby Orr." #nowthatspraise

— Adrian Dater (@adater) October 15, 2016
I have never seen actual NHL defensemen sell out so early, absolutely desperate to stop the madness. McDavid shines like a diamond and every shift is shock and awe. He shocks the brain and delights the eye. We are blessed to be watching this man on our home team. Jesus, Mary and Joseph this is going to be a fun, wild ride. Do not blink! You might miss something.
Summary of Giordano's first two games this year trying to handle McDavid's speed.
#Oilers #Flames pic.twitter.com/pTmGY5fddM

— Paul Almeida (@AzorcanGlobal) October 15, 2016
Edmonton is winning some very important parts of the games:
Game One: 14-9 edge in scoring chances, 11-5 in high danger scoring chances. Source
Game Two: 17-12 edge in scoring chances, 9-7 in high-danger scoring chances. Source
You can say McDavid effect and that is fair, but my counter is that the team is built around 97 and is being deployed properly. If your point is that the Oilers are not a good team when McDavid sits, I agree. Work to do. If you are arguing this won't work, I am going to need an explanation. Take as many pieces of foolscap as you need, front and back please, no need to cut down more trees.