The Edmonton Oilers have a chance to turn a good early start into a something else this week, and that begins tonight with a game against the injury-riddled Buffalo Sabres. I chatted with Bill Hoppe yesterday and the list of wounded Sabres is borderline incredible—leading one to believe a third victory is at hand. Let's not get ahead of ourselves, but a nice bullet point as we head into the Sunday game.
BRAM TCHAIKOVSKY, YEAR OVER YEAR
Oilers in October 2015: 0-2-0, goal differential -4
Oilers in October 2016: 2-0-0, goal differential +5

Good arrows here and the two victories this season have been earned against a Western Conference foe many believe is a playoff team. Positives all around, the key is to keep it going and not stumble against a team like the current Buffalo Sabres.
EARLY NUMBERS
5X5 Scoring Chances for and against: 31-22 (No. 6 NHL)
5X5 High Danger Scoring Chances for and against: 20-12 (No. 5 NHL)
5X5 Corsi For Percentage: 41.88 (No. 29 NHL)
Wildly differing snapshots but the key word here is 'early' and we need to wait until 20 games in to see things and make sweeping statements. You have to like those scoring chance totals though, and an argument can be made about score effects impacting possession—but early days.
FORWARDS AFTER TWO GAMES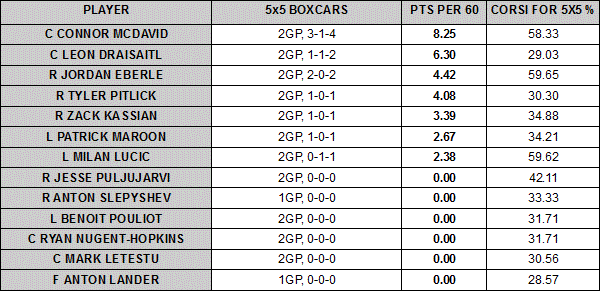 The points-per-60 were done by hand by me, so there might be an error here or there. I couldn't find them anywhere, so used NaturalStatTrick TOI and NHL.com scoring totals.
If you play on Connor McDavid's line, music! If not, your Corsi is in the ditch and for several important players, the offense is there too.
Secondary scoring is going to be important, and it is here. Tyler Pitlick and Zack Kassian are examples, but this is early. Vital for that even-strength scoring continue in the bottom six, one reason why Drake Caggiula (as an example) made this team.
Leon Draisaitl has had a nice start to the year.
Milan Lucic is the subject of some verbal surrounding his spot on the McDavid line. I think 20 games is going to be a far better measure, but his totals so far are in line with reasonable expectation.
Connor McDavid is beyond reasonable.
DEFENSE AFTER TWO GAMES

Same deal as above, the points-per-60 is by hand and could be off in some areas (my addiator has seen better days).
The Oilers team Corsi 5×5 for percentage is 41.88, and we have talked about score effects and that blazing first period by the Flames. Still, with 41.88 as the line in the sand, and understanding that quality of competition is a real thing, we can draw some very early conclusions.
Kris Russell has played very well by eye, and the numbers are good to great.
Darnell Nurse has, to my eye, shown calm feet far more often than a year ago. His possession number is a couple of points off, but there is at least the germ of an idea that progress is possible.
Andrej Sekera would be my choice for best defenseman on the team so far—and it is a difficult field for once.
Adam Larsson has been rock solid to my eye, he is more physical than I thought he would be and makes excellent decisions. Less flashy than his partner, very good so far this season.
Oscar Klefbom is playing a lot, but not as much as thought (if that makes sense). I light a candle every day for his health, and hope the organization makes hay while the defensive group is (mostly) healthy.
Brandon Davidson cannot buy a break, and I do think that his injury may also impact Darnell Nurse. Get well soon young man, and a mean streak wouldn't hurt.
Eric Gryba isn't sexy, but he can defend. I do not know how many more years we will see this player type, but I will enjoy watching them for as long as it lasts.
Portland's Caleb Jones gets it past Weatherill on the Winterhawk's third attempt in the shooutout to win 3-2 over Chiefs #gochiefsgo

— Thomas Clouse (@ClouseThomas) October 16, 2016
Jones is posting a very strong first leg of the season (currently 9gp, 1-6-7 with the Portland Winterhawks) and is among the young prospects bubbling under we should be paying attention to this year. Others include Tyler Benson (7gp, 5-4-9 with the Vancouver Giants), Dylan Wells (Peterborough Petes goalie 7gp, 2.90, .923), and Aidan Muir (4gp, 0-5-5 for Western Michigan).
KRIS RUSSELL
Bruce Garrioch: The Flames tried to move defenceman Dennis Wideman this summer but didn't find any takers. You would have to think if he was dealt Calgary would have brought back Kris Russell. Source
Russell has been solid to excellent in the first two games (I thought he was very good in Game 1), and for me the signing had some appeal on two levels. Adding actual NHL players (Russell is one) is always a good idea, and a smaller point (but an important one) is that he has real trade value (D always do) at the deadline.
The downside? If he continues to perform well, I think the Oilers may end up signing Russell long term, something that would impact the cap moving forward and the final expansion protected list. Interesting decisions.