The Edmonton Oilers were going to lose sooner or later, but the Buffalo Sabres were not the team most of us thought would represent the stumble. You will read a lot about 'it is how they react to this loss' and there is some truth to that, but in reality the Oilers looked off all night against the Sabres—and if they bring that kind of dull work ethic, then Carolina will set them on their ass, too. Last night, in my opinion, had nothing to do with talent and a lot to do with execution—something Todd McLellan may have been in favor of around midnight. Edmonton faced early push back from Buffalo, went down 0-2, and surged back to tie. When Cam Talbot let in a goal from Laredo (the JC Tremblay play!), the Oilers folded like a cheap suit. Do that 75 more times and Nolan Patrick will be putting on an orange and blue in June.
RICHARD HELL, YEAR OVER YEAR
Oilers in October 2015: 0-3-0, goal differential -6
Oilers in October 2016: 2-1-0, goal differential +1

 Well damn, it was a nice start. It was a difficult game to endure for all kinds of reasons—the goalie was not good, the defense was poor in important moments, the forwards did not cash their chances—but it is one game and these things happen. The great baseball manager Casey Stengel said there are 50 games you win no matter what and 50 games you lose no matter what—and what you do in those other 62 that determines who wins the pennant.Taking baseball's GP totals and applying them to hockey that would be 25-25 in the 50 games (no matter what), and then performances in the final 32 games making all the difference. I think the Oilers had one of their 25 L's last night. What can we learn from it?
DEFENSE, LAST NIGHT

This was a tough game to view and then break down, because there were lots of chances and the Oilers won the possession battle 5×5 by a handsome margin.
It's possible to have good numbers and get noticed for negative things—single moments and events can have super importance while being exactly single moments and events. Such was the case last night.
Andrej Sekera and Kris Russell were solid again, with and without each other. You want to see this for 20 games, and I believe in the power and the glory of lefty-righty, but hot damn this looks good. Maybe it is Sekera being just that good, but in fairness to Russell he looks good from here.
Klefbom had an off game with the puck on his stick in my opinion, but he is in a prominent spot while also lacking a ton of NHL experience. His Corsi for 5×5 percentage is now the worst among regular D on the team (43 percent—Larsson is at 50 percent), but we would do well to remember that he missed a lot of time last season. I still believe in Oscar.
Darnell Nurse and Eric Gryba had tough moments, mostly with the puck. For me young Nurse did do a few good things too, and I am a encouraged by him this season. A hat tip and thank you for standing between an apparently angered Josh Gorges and Connor McDavid late in the game (after 97 and McDavid scampered up the middle for 12 yards and an ass-over-tea-kettle goalie).
Cam Talbot was not good. I remain convinced he is a suitable No. 1 goalie—not brilliant, but suitable—and that Peter Chiarelli should have aimed higher for the backup. I sincerely hope Jonas Gustavsson is okay.
FORWARDS, LAST NIGHT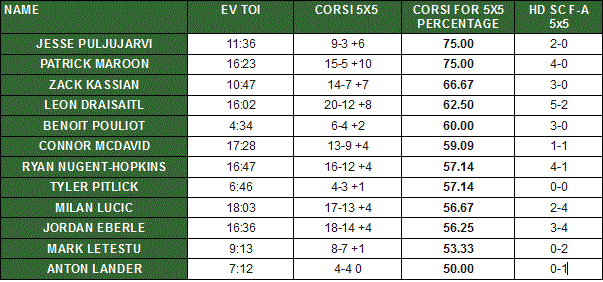 Jesse Puljujarvi impresses me (and I have said it) as a guy who does a lot of things we expect from older players, like being on the right side of the puck and winning battles. Poster

Sliderule

said this about him in the comments section last night: Puljujarvi was noticeable in that he played his position well marking a man and engaging.Only 18 but they are not going to send him down as he is better than options. That is exactly how I see it.
Patrick Maroon worked hard, got things done but nothing rhymes—some days are diamond and some days are stone. I like him more than some of you, but he needs to be productive every night—there is a thin line between usefulness and down the road for role players.
Zack Kassian was solid to very good. Had three shots, an assist and played up the roster.
Leon Draisaitl was high event and I thought he could have had more than one assist with a little luck. Six shots, 70 percent on the dot, he was probably the best center last night.
Benoit Pouliot took two penalties in the offensive zone and then saw the bench for the rest of the night. I don't agree with that call—Pouliot is an effective player even with the penalties—and benching him gave Edmonton less of a chance to win the game. He scored, which is important.
Connor McDavid had several good moments, but did not cash and ended the game with one shot on goal. The line shuffling may continue, and I do think eventually we will see one or the other winger move from his line. It might be Lucic, who seems to have chem with Leon. He followed two insane games with a quieter one, and I suspect we see a breathtaking performance on Tuesday. Sabres marked him well.
Ryan Nugent-Hopkins picked up an assist, had three shots and was 47 percent on the dot. Also was part of the penalty killing group. People are on him already, but he looked fine early in camp (after returning from World Cup of Hockey) and I thought he was good last night.
Tyler Pitlick had a nice game in a support role. Hope he sticks around for the whole season.
Milan Lucic was high event, scoring a goal (nice chem with Leon), elbowing people randomly and creating collisions as able. Also shot the puck in the net after a whistle (it was awful, he was late and did it on purpose, God love him) and it seemed to wake up the team. I am biased, but love that he is an Oiler.
Jordan Eberle had an assist, two shots and a takeaway—also knocked Kulikov on his tail feathers. He seems a more determined player these days, think Lucic may be having an impact.
Mark Letestu did not have a strong night, but these things happen and he is a game rooster. You need guys like these because asking McDavid and Nuge to PK and take own-zone faceoffs is crazy.
Anton Lander made an amazingly addled slash and got a penalty, lordy Anton this is not the time, man. He is, I suspect, hanging by a blasted thread, and then takes a dumb penalty.
"We have some foundation issues and stupidity is one of them." McLellan

— Jason Gregor (@JasonGregor) October 17, 2016
Yes. Well. McLellan also said no one was ready to play and seemed to blame it on the early start time, but didn't let anyone off the hook. They were bad, and they have a chance to fix it Tuesday. I do wonder if Pouliot is living on borrowed time, especially with Patrick Maroon at the ready. I think a smart team plucks BP and gets a top flight winger for years to come.
THE HEART OF THE MATTER
Todd McLellan: "The preparation. We looked like the Bad News Bears. We had a five o'clock game in the afternoon, we had guys falling all over the place. Our passing was poor. Positionally, from the goaltender on up to the forwards,

no one was ready to play

." Source
I have no quarrel with the Oilers moving the practice day from Wednesday to Monday, because I do think it is important to win the Tuesday. The concern for all Oilers fans should be the underlined portion of the quote from Mr. Barnes article (a worthwhile read). I will tell you that the Oilers have stunk the joint out (to my memory) on early Sunday games going back a very long way, and that for me this reaction is a breath of fresh air. React before the season is lost!
You may feel Todd McLellan made a wrong move here, but for me this Oilers team has to turn north. How long have we been discussing it? If this team cannot get through October with a 5-3-1 record (or similar) then at some point in November we are going to begin talking about Nolan Patrick, Peter Chiarelli is going to make some trades and Todd McLellan's hold on this coaching job is going to erode. If not now, when?
LOWDOWN WITH LOWETIDE
At 10 this morning, TSN1260. Scheduled to appear:
Scott Burnside, ESPN. Quick starts in St. Louis and Pittsburgh, Flyers's rookies and McDavid, Matthews and Marchand off to hot starts.
Andy McNamara, TSN4Downs. NFL weekend saw the Cowboys continue their rise and the AFC West remains the most interesting division in football.
Jason Gregor, TSN1260. Oilers loss last night gives fans pause, Eskimos cross over and Toronto Blue Jays in a must win game tonight.
10-1260 text, @Lowetide on twitter. I will also be on the round table with Dusty and Wil (and Matt Iwanyk!) at a little after 9 this morning.