I will never forgive the Hurricanes. That 2006 Oilers team worked their collective asses off and found a way despite not getting a goalie until half past Valentine's Day. To lose to the Hurricanes—who once played in a mall—remains a heartbreaking and noxious memory. You can say get over it, and I have tried. Pisani scores that goal in the third period, Oilers win. I believe it. Give me another 10 years, I will try to get over it. Promise.
LONG TRAIN RUNNING, YEAR OVER YEAR
Oilers in October 2015: 0-3-0, goal differential -6
Oilers in October 2016: 2-1-0, goal differential +1
Game 4 one year ago was a 4-2 loss to the St. Louis Blues (at Rexall) that would see the first goal of the season for Taylor Hall and Lauri Korpikoski. Cam Talbot stopped 25 of 29 and the season was heading south in a quick hurry. Edmonton would recover (4-4-0) over the last portion of the October schedule but the 0-4-0 start was a killer. In the Bettman extra point era, going down six points (for a poor team) means never having to worry about playoff talk. Ultimate buzz kill, like those kisses from Aunt Stella (may she rest in peace) a young Lowetide would try to flee every time we visited her in Vancouver.
DEFENSE, 2016-17

This is via NHL.com and NaturalStatTrick. So far this season, Edmonton is running Klefbom—Larsson, Sekera—Russell and Nurse—Gryba (since the Davidson injury). The six blue lack a hammer for the power play, and you would like to see Davidson back soon. That said, the blue line has been much improved to my eye season over season.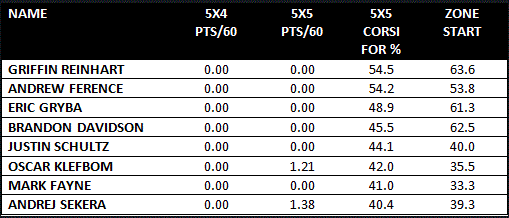 It would have been (this is from memory) Sekera—Fayne, Klefbom—Schultz and then the rest. If we take Sekera, Klefbom, Davidson and Gryba out of the conversation, how many of this year's blue do you consider better than a year ago?
Adam Larsson versus Justin Schultz
Kris Russell versus Mark Fayne
Nurse versus Ference
The Oilers sent Matt Benning to Bakersfield yesterday, leaving Mark Fayne as Stone Alone seventh man. I don't think they can trade the contract, and at some point he will need to get some ice time. We could see him on a conditioning stint at some point later in the month. I think he is a helluva No. 7 defender, but there are very few members of the Mark Fayne Marching and Chowder Society these days—we meet in a phone booth.
FORWARDS, 2016-17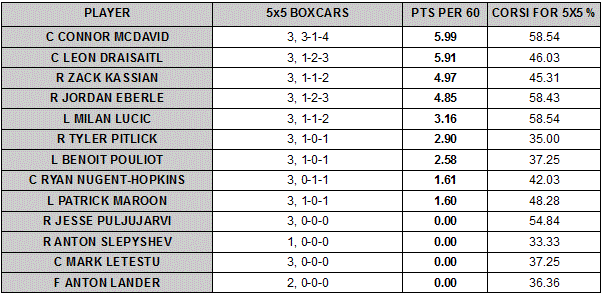 This is all even strength totals, and shows a strong forward group based on points-per-60 at even strength. Early days of course, but there are seven forwards over 2.50 points-per-60 so far this year. Music! McDavid is beyond the space time continuum, Leon is killing it and Eberle plus Lucic are starting to post numbers. Good secondary help from Pitlick and Kassian, plus signs of life from Pouliot—Nuge. This is a good set of numbers, especially compared to this time last season.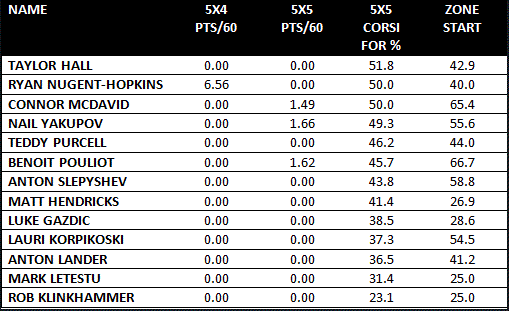 Edmonton scored only three goals in the first three games of last season, as you can see it was pretty damned depressing. Still, Taylor Hall, Nail Yakupov and Teddy Purcell were in this group, so there were two men who could push the river and some helpful wingers skating about a year ago. Luke Gazdic was on this team, Rob Klinkhammer, Lauri Korpikoski. Do you prefer last year's forwards?
 LAURENT BROSSOIT RECALLED
Laurent Brossoit had a nice run during preseason (2gp, 2.00 .942) with the Oilers and finds himself back for an early recall. Jonas Gustavsson had 10 perfect minutes (one shot against) before getting hurt in the Buffalo game on a fluke play. This is a period in the season where Talbot should be able to play all of the games, and since a good start is vital, we should expect it. I do believe Edmonton looks at Brossoit as a long term answer, possibly a future starter. The question I have is this: How good is Nick Ellis? He will likely start in the Bakersfield game tonight and begin his pro career. Two legit goalie prospects hasn't been seen around these parts since the Dubnyk-Deslauriers wild times.
TOP LINES IN 2016-17
Early days of course, but the insane possession number being posted by the McDavid line made me wonder where the trio ranks league wide. Courtesy Corsica.Hockey, here are the top 5 lines in Corsi for 5×5 percentage so far this season:
Jeff Skinner—Victor Rask—Lee Stempniak CAR 75.68
Jonathan Marchessault—Aleksandr Barkov—Jaromir Jagr FLA 69,57
Chris Kreider—Mika Zibanejad—Pavel Buchnevich NYR 66.67
Milan Lucic—Connor McDavid—Jordan Eberle EDM 63.46
Daniel Sedin—Henrik Sedin—Loui Eriksson VAN 61.22
Interesting for two reasons. First, the line is storming the gates in a big way, this despite a fairly large group of voices wondering if Lucic is going to be able to play successfully with McDavid. I would argue this is pretty successful. Second, we will see the top line in the NHL (so far, early in the year) tonight—via the Carolina Hurricanes!
BENOIT POULIOT
We had a spirited discussion yesterday on the Round Table (I was ill-mannered at one point, and apologize) yesterday morning on TSN1260 in regard to Benoit Pouliot. I argued that the penalties in the offensive zone—while a negative—are shrapnel from all of the excellent forechecking he does each game. He is also a strong offensive performer 5×5 and a good linemate for any center. I am very encouraged that Todd McLellan has him back in the lineup.
LOWDOWN WITH LOWETIDE
At 10 this morning, TSN1260. Scheduled to appear:
Matt Henderson, Oilers Nation and Hockeybuzz. Oilers so far this season, holes in the roster.
Rob Soria, The Hockey Writers. Oilers goaltending situation, plus Blue Jays.
Scott Cullen, TSN. Blue Jays, McDavid, Matthews and the Carey Price situation.
10-1260 text, @Lowetide on twitter.