The Edmonton Oilers have had a fairly easy schedule so far this season, the Calgary Flames (twice), Buffalo Sabres and Carolina Hurricanes representing the second division of the current NHL. Tonight? One of the big boys is coming to town, and this is a test. For the second time this season, the Oilers could get blown out.
HAMMER ON A DRUM, YEAR OVER YEAR
Oilers in October 2015: 0-4-0, goal differential -8
Oilers in October 2016: 3-1-0, goal differential +2
I think the Oilers are in a little trouble here, this game could go sideways in a hurry. Despite the record, Edmonton has been inconsistent—typical of a young team trying to climb the standings. St. Louis? They are tigers in a cage, every damned game. And oh yeah, they lost on Tuesday.
Jeremy Rutherford: Hitch on Yakupov: "Yesterday was his best game. We moved him up (the lineup) based on his play. He's got an element that we need." Source
I will trust Ken Hitchcock never, so expect him to use Nail all night in a feature role if it is working, and Nail Nail's ass to the bench if it isn't working. He sees the opportunity for an edge and is playing that card. Good for him, gamesmanship has its place. I do hope Nail does well and receives a warm welcome.
DEFENSE SCF-SCA (5X5)

These are pretty good numbers across the board, but we are going to have to be aware of the McDavid WOWY effect. If a defenseman is spending a lot of time with McDavid, the skew is pretty damned strong. Russell is 10-5 (66.7) with McDavid, 13-12 (52.0) without—and that is a helluva push.
DEFENSE WOWY MCDAVID (5X5)

The Fayne numbers are in a very small sample size, in fact all of these numbers are too small to trust (but Fayne's numbers are basically nothing at all).
Adam Larsson and Oscar Klefbom are the only pairing that doesn't lose a pile of scoring chances away from McDavid—Larsson actually increases which is a helluva trick and unlikely to continue. The top pairing is playing a lot with the top line so far this season.
DEFENSIVE TIME-ON-ICE WITH MCDAVID (5X5)
Adam Larsson 29:16
Oscar Klefbom 26:07
Kris Russell 24:19
Andrej Sekera 18:58
Darnell Nurse 15:55
Eric Gryba 6:04
Brandon Davidson 1:28
Mark Fayne 1:25
Sekera has been my early defensive MVP, interesting to see that he is playing far less with McDavid (while also delivering excellent results). All of this information is early, but as we approach Game 20 we will have another look at things to see how (especially the top 5D) the icetime is being doled out.
FORWARDS SCF-SCA (5X5)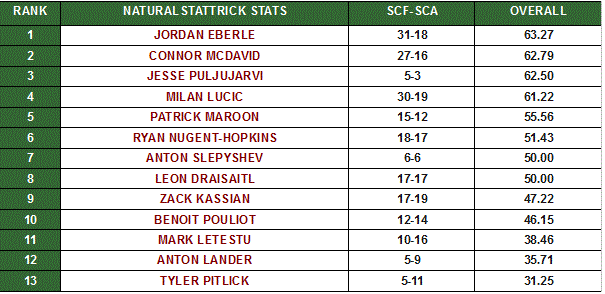 No surprise here, the scoring chance numbers on the McDavid line are amazing and I don't think that number is going to change a lot—even if and when Eberle or Lucic move to the 2line.
The 2line (Pouliot—Nuge—Kassian) is good not great, you would like to see them above 50 percent across the board.
The 3line (Maroon—Draisaitl—Slepyshev) actually looks like the 2line based on scoring chances, I wonder if this trio is getting the easier minutes (as we have discussed at length) against the soft parade. A third scoring line is vital—especially if the Nuge line continues to struggle.
I wonder if we see Lucic—Draisaitl at some point in the coming days. Tonight is a game I am concerned about—St. Louis is an excellent NHL team—and we could see some line shuffling if the game gets past a two goal Blues advantage.
ABOUT JESSE
The Oilers sat Jesse Puljujarvi in Game 4 and there is a chance he sits again. Down on the farm, Jujhar Khaira scored two goals while centering the top line for the Condors as the AHL season got underway. JP is a special case, because he is a special player. In order for Todd McLellan to send the young Finn down, he would have to believe that his young winger would benefit from the experience more than staying with the big club and learning on the job. It is a difficult decision and could go either way. We can all agree he has to play, so if JP is out again tonight it may indicate a switch out, and Khaira appears poised to be the man heading to the NHL.
REGRESSION TO THE MEAT
Connor McDavid scored six points in the first two games and then has been shutout in the last two games. This leaves us wondering when the next breakout game will occur, but in truth 97 had all kinds of chances in the Carolina game (setting up Lucic and Nuge, among others). It is important to remember that in any season there can be incredible surges up and down—and that luck works both ways. If Connor McDavid doesn't score tonight, take heart. Regression sounds like a bad word, but it does work in both directions.
LOWDOWN WITH LOWETIDE
A fun morning, with some things in play and not yet form. Scheduled to appear, TSN1260 at 10 this morning:
Rob Vollman, Hockey Statistician. Author of the wildly successful Stat Shot will visit and discuss the Oilers so far. Very early, but I would like to drill down on all the goals—against and for—and discuss early points of interest like Kris Russell and Jesse Puljujarvi.
Frank Seravalli, TSN. The Calder race looks like it is going to be a phenomenon, and these Oilers are in a playoff spot this morning—how long will it last?