The Edmonton Oilers won a game against the St. Louis Blues last night, in October, while still in contention for a playoff spot. It was not a perfect effort, but a win is a win is a win—and they are officially rolling in October. Rare air, ladies. Call out the instigators, because there's something in the air.
GOOD DAY SUNSHINE, YEAR OVER YEAR
Oilers in October 2015: 1-4-0, goal differential -5
Oilers in October 2016: 4-1-0, goal differential +4
This was a big win for the organization, seriously the momentum at the beginning of the season for this team has been wretched for many years. I have suggested 5-2-1 would be a good October, but with this start it is probably fair to hope for more.
HD SCF-SCA (5×5): 14-8 (63.64 percent) (Source)
CORSI FOR-AGAINST (5X5): 44-62 (41.51 percent) (Source)
DANGEROUS FENWICK (5×5): 35-35 (50 percent) (Source)
Interesting night for things other than Corsi, as the HD and DFF had the Oilers tied or ahead, while the Corsi numbers favored the Blues by a wide margin. G and friends have been doing great work and this kind of distance (and being on the right side of the result) is a good arrow for the measure. Now, we need seasons of evidence that DFF is a better predictor of success, but small victories are big steps. I remain a stubborn Corsi man, but look forward to the journey ahead.
DEFENSE, LAST NIGHT

Oscar Klefbom had a terrific night, he can wheel and makes good decisions—even went deep into the offensive zone a time or two. Played 14:58 with Adam Larsson, and faced Steen, Schwartz and Tarasenko most often. His best game of the season.
Darnell Nurse—Eric Gryba played some high event hockey (nine total high-danger scoring chances is a lot for a third pairing) but survived. If Edmonton plans to make a playoff push, the third pair is going to be an issue, unless Nurse takes a step this season. I see signs, but never trust a fan.
Kris Russell is getting better press than Connor McDavid these days, he had five blocked shots and two takeaways. He faced Robby Fabbri and Paul Stastny most often while partnering with Andrej Sekera. So far this season, Russell has a Corsi for percentage 5×5 of 47.26, ranking him No. 2 among regulars (Nurse 50.0). Edmonton's overall number is 46.36, meaning Russell is slightly above average in this area. Too soon to make any sweeping statements, and of course we have to remember it is five games into the season. That said, Russell has had a nice run.
Andrej Sekera played with Russell most often, and they lost the Corsi battle while doing well in the scoring chance metric. I don't have an answer for it, it will be interesting to see if it follows a trend.
Adam Larsson is going to be a favorite of mine, he was gold with Klefbom (everyone was) and blocked three shots. He also took a penalty on a pretty strong elbow to Tarasenko, he is at least rugged and maybe a mile or two past that at times. Interesting to see him come into view.
Cam Talbot has had two strong recovery games since the Buffalo roamed, good for him. Edmonton needs him to be consistently the best goaltender in every game they play.
FORWARDS, LAST NIGHT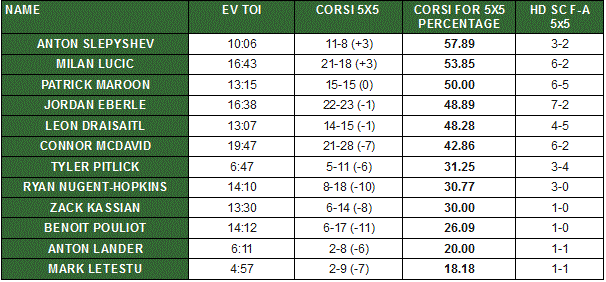 Lucic—McDavid—Eberle went 6-2 in HD SCs and 12-5 in scoring chances. That is fantastic, and of course the winning goal came from this trio. Faced Bouwmeester—Pietrangelo much of the night, very successful evening. Easily the best night by far for Lucic, McDavid seemed quiet for two periods but ripped the cover off the ball in the third period. The end play of the GWG featured McDavid and Lucic in starring roles, but we shouldn't forget the Eberle pass. So far this season, in five games, the McDavid trio has scored nine goals. This 97 is going to run over the wild west for a long, long time. McDavid 53 percent on the dot, nine shots on goal for the trio.
Maroon—Draisaitl—Slepyshev line impresses me with how much they get done. They have skill, work hard, forecheck well and can pass and take a pass. Did not cash but this group gave a solid effort. Leon was 78 percent on the dot, six shots on goal—four from Maroon.
Pouliot—Nuge—Kassian got some things done tonight although they did not cash a goal. Nuge had a really strong moment with Maroon and Pitlick, maybe we see that at some point. Nuge was up against the Tarasenko group for 8:45, I think that was probably the matchup both coaches could live with (McDavid faced Fabbri-Stastny, but did get about five minutes of Tarasenko).
Lander—Letestu—Pitlick didn't play a lot, Letestu less than five minutes at evens, but they got a goal. Don't know why, but the Oilers are getting all kinds of secondary goals from these fellows. Pitlick has three goals this season! Insanity.
MARK SPECTOR
Spec had an interesting quote via twitter:
Jake Allen: "They are not the Oilers of the last few years, I'll tell you that. They are a good hockey club, made some good additions." Source
I get emails from folks who worry that the Oilers will do well and Taylor Hall will be blamed for it. Seriously. I feel very strongly this team needed (and needs) better balance, with a backup goalie, a RH puck moving D and a Pisani added. Hard to make any argument and be heard this morning, the Edmonton Oilers have a mitt full of wins after just five games.
You know what stills the thunder? Winning. Winning hockey games makes it hard for me to argue that Peter Chiarelli stopped before balance, that the Jonas Gustavsson bet was not a good one, that Kris Russell is shy in terms of addressing need. We are very early in the season, and it seems silly to suggest storms never last after a decade plus, but the Oilers are 4-1-0 this morning. To the victor goes the spoils.
That said, I remain convinced the Hall-for-Larsson trade was not full value and am not going to surrender on the need for more balance. Chiarelli and McLellan may have found a Pisani (Tyler Pitlick does not have great possession numbers but it is early and the young man is scoring), but the defense needs a hammer and the goaltending is thin on depth.
The early winning streak does give me hope that the team will be aggressive in-season if these issues hurt the team's chances. The possession totals are still an issue, but at 4-1-0 it is more difficult today to rage and be heard. Winning changes everything.
Check this out >> Sallinen scores his first in North America and then @GriffinReinhart starts throwing bombs! #Condorstown pic.twitter.com/nPUvYU4JpD

— Bakersfield Condors (@Condors) October 21, 2016
This video is a sign that things are getting through to the prospects. Sallinen scores, gets leveled by Scott Kosmachuk and then takes several rights from Griffin Reinhart. Oilers want aggressive defensemen—at the blue line, along the wall and after the whistle.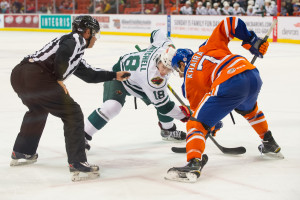 Photo by Rob Ferguson, all rights reserved
Jujhar Khaira is emerging as a strong candidate for early recall on the basis of his early season production for the Bakersfield Condors. He is 2gp, 3-1-4 so far and with Jesse Puljujarvi possibly heading to the minors (Edmonton is winning with the young Finn in the pressbox) we could see it happen. Matt Benning is 2gp, 1-1-2 and we might also see a recall (with Ben Betker sent back) before the minor league team heads to America.
LOWDOWN WITH LOWETIDE
At 10 this morning, TSN1260. We kick off an interesting weekend and a fantastic evening in sports with:
Steve Lansky, BigMouthSports. Jays run ends, what is next? Oilers good early.
Guy Flaming, Pipeline Show. Oil Kings update plus early season performances from top draft prospects.
Matt Iwanyk, TSN1260. Why aren't we more excited about the Winnipeg outdoor game?
Paul Almeida, SSE. Oilers are 4-1-0, can they keep going?
10-1260 text, @Lowetide on twitter. See you on the radio!