Back in the summer, we talked about balance. I had a monster shopping list (kind of got carried away, gotta say) that was divided into categories based on need. It was called See the Sky About to Rain.
THE CHIARELLI LIST
Top-pairing RHD (Adam Larsson)
Second-pairing RHD (Kris Russell, a lefty)
Acquire RHC with some skill (tried for Kris Versteeg)
Backup goalie (Jonas Gustavsson)
Add a "Pisani" (Tyler Pitlick might be an inside answer)
Re-stock the shelves via the draft (Puljujarvi, Benson, others in a good draft)
Improve overall team speed (Puljujarvi, but still a concern)
Offload Lauri Korpikoski (done)
Improve goaltending depth (added Nick Ellis)
Improve AHL quality (Caggiula, Russell, Ellis, Benning)
Cull the LHD herd (added, but also brought in righties like Larsson and Benning)
Rob the World of something
Very few of his solutions were ideal and many appeared unsatisfactory—still others did not reveal themselves until preseason and could be categorized as luck. Adam Larsson is a good NHL defenseman, we agreed as soon as the trade was made, but holy hell folks the price was searing. If Steve Tambellini or Craig MacTavish had made the trade, God knows what vehicle would have been parked (and who knows what would have been on the sign!) on Kingsway!
I remember when the team re-signed Tyler Pitlick, it seemed rather curious to me. Iiro Pakarinen had taken the job Pitlick would have been applying for and no one could have blamed the young man for trying to find his way with another organization. Loyalty counts for something and he signed another one-year deal. It appears to have finally clicked, although early days. Pitlick always looked like a player to me, reflected in this from fall 2012:
Pitlick is a shooter, and despite the wasteland that is his score sheet continues to rip it. So far in his pro career, Pitlick has 156 shots and 7 goals. That's 4.49%, which is piss poor. How much of that is luck? No clue. However, I think its a reasonable bet that he'll improve that number as he matures. Pitlick is still a kid, he has time. Source
That was four years ago, and it is amazing he is still here. In a world where struggling prospects normally get flushed in the minutes after their entry-level deals expire, this is Pitlick's sixth season with the Edmonton organization. How much credit do we give Peter Chiarelli and his crew for continuing the patient approach? To the victor goes the spoils.
OILERS FORWARDS, AFTER FIVE GAMES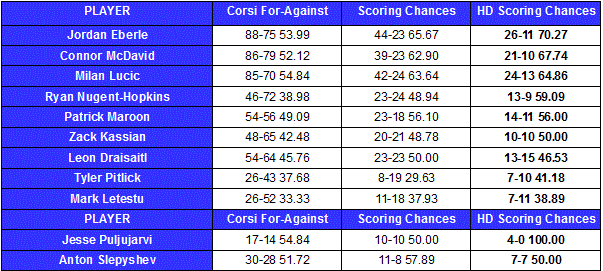 This is sorted by HD scoring chances (all numbers via NaturalStatTrick) and for me there is some very interesting information here.
The Lucic—McDavid—Eberle line is flying high above everything, the Oilers are a different team when the line is on the ice.
Ryan Nugent-Hopkins does poorly by Corsi for 5×5 percentage, saws off in scoring chances and is strong in high-danger scoring chances. My assumption (note: not a math expert) is that these things will normalize once we reach 20 games (these numbers above are too early to trust) but it is a fascinating look at one player's first five games.
Anton Slepyshev may fall out of the lineup tomorrow in Winnipeg but his numbers are excellent. He has played well with Patrick Maroon and Leon Draisaitl, and that line should get another shot.
Anton Lander was missed, he is 39.13 Corsi, 33.33 Scoring Chances and 5-4 in high-danger scoring chances. As is the case with the Nuge, his HD SC number is out of time with the possession numbers.
I think this gap in the numbers will find its way, and the Oilers record will too. I remain convinced that:
Hall for Larsson was an overpay
Jonas Gustavsson is not satisfactory as a backup goalie
Kris Russell was not a strong solution to the RHD puck-moving issue
Tyler Pitlick makes for a wobbly Pisani (although I cheer for him)
The RHC situation (now a RW situation) is too thin to last.
You know what? I sound like a loose cannon on a morning when the team sits at 4-1-0. No one is going to listen, but the Oilers as a team are running good luck and an easier schedule and no one wants to hear it. Old man yells at cloud! Will this Oilers team pull up the possession numbers and find a way to fix the PP without a RH shot as a hammer? Will the goaltending (Talbot) hold up? Will Pitlick have a shooting percentage run for the ages?
We wait.