The Edmonton Oilers are in Winnipeg today to face the Jets. Dustin Byfuglien usually runs over one of Edmonton's defensemen and at least one of the team's giant wingers will fall into the Oiler goalie. The best reason to visit Winnipeg? Two points—and if the town team can keep on trucking, certain Pacific Divsion teams are going to begin sweating. The worst thing about today? Different rink, different bounces, different lighting, same giant Byfuglien. Two points, no injuries. Deal?
BETTER CHECK AGAIN, YEAR OVER YEAR
Oilers in October 2015: 1-4-0, goal differential -5
Oilers in October 2016: 4-1-0, goal differential +4
In Game 6 one year ago, the Oilers won 2-1 in overtime against the Vancouver Canucks (courtesy Lauri Korpikoski). Anders Nilsson stopped 33 of 34 and Nail Yakupov scored in what would be his final season with the team.
OILERS FORWARDS, BY NUMBERS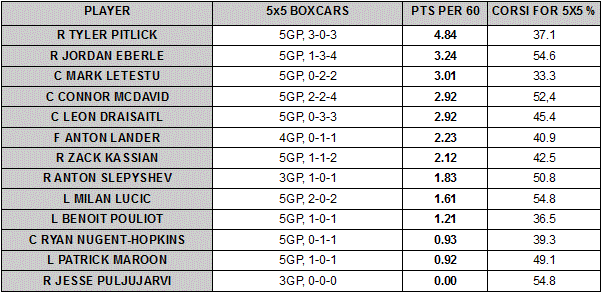 Two fun items that are unsustainable: Tyler Pitlick scoring at close to 5.00/60 at 5×5, and Jesse Puljujarvi at almost 55 percent in possession. Strange days indeed.
Seven players are over 2.00/60 at even strength, that is a good number.
Ryan Nugent-Hopkins and Benoit Pouliot will be better as the season wears along, but it is kind of incredible that the team could be 4-1-0 with so little coming from the 2line.
Connor McDavid is posting 2.92/60, as is Leon Draisaitl. They rank in a tie for No. 26 so far among forwards.
Jordan Eberle ranks No. 18.
All numbers via Stats.HockeyAnalysis.com.
OILERS DEFENSE, BY NUMBERS

The Oilers Corsi for 5×5 percentage is 46.5, ranking the team in a tie for No. 24.  That is not a good number, and cause for concern.
Among regulars, Darnell Nurse is tops, and the third pairing work with Brandon Davidson and Eric Gryba seems to be a good spot for him. Moving up the lineup has not been successful so far for the young blue.
Kris Russell is around average for Edmonton's defense, and that is an improvement. Russell was over 50 percent in years with the Blue Jackets, well below that number in Calgary. Playing with Sekera in this system, can he emerge as a 50 percent possession defender?
Klefbom—Larsson have played the tough minutes and are hovering around 45. They will need to improve that number, and as we have seen so far the easy way to do it is play when McDavid is out there. I think this is a good pairing, but number needs to be better in possession.
You folks are running ahead with great metrics, but this old observer still likes Corsi Rel when it comes to sussing out defensemen.
Darnell Nurse 2.0
Andrej Sekera -0.7
Kris Russell -0.9
Oscar Klefbom -1.0
Adam Larsson -1.2
Eric Gryba -2.0
Considering we are so early in the year, and the top 4D gap is so small, I would suggest all of these boats are about even—although it is nice to see Darnell Nurse posting a solid number in these early moments.
MATT BENNING
The Oilers recalled Matt Benning on the weekend, sending Ben Betker down. I imagine we will see the young college defender play in his first NHL game soon, it will be interesting to see where he plays. The logical spot is on the third pairing with Darnell Nurse, but that is a very young pair. He is a good skater and a smart defender, no idea how they will work him in with a veteran blue. Sekera—Benning, Nurse—Russell? That might be it.
JUJHAR KHAIRA
Jujhar Khaira didn't play for the Condors last night, picking up an injury in Manitoba that has him day-to-day. Bakersfield does not have a lot going beyond the 1line (Hamilton-Khaira-Beck) and only Scott Allen found the back of the net. Laurent Brossoit had a .920 save percentage, The Hamilton-Kris Newbury-Beck line had 14 shots, that is a strong game. The Condors had basically three CHL prospect forwards (Kyle Platzer, Mitch Moroz and Braden Christoffer) in the lineup, and they didn't manage a shot on goal. Your prospects this season—Khaira aside—are college men. Seriously.