The Edmonton Oilers may or may not be a 5-1-0 team in quality, but they are a 5-1-0 in reality—and that is what counts. It was a strong road game in Winnipeg, under difficult circumstances, and from what we can tell everyone emerged healthy. A good day.
WHAT IS HAPPENING???, YEAR OVER YEAR
Oilers in October 2015: 2-4-0, goal differential -4
Oilers in October 2016: 5-1-0, goal differential +7
This is officially a good start, and at this point it is reasonable to suggest the Oilers should be expected to finish the month in a very good spot. Before the season, I suggested 5-3-1 in the first nine games, but perhaps 6-2-1 is in the wind. What a fun way to start the season after so many years of Groundhog Day. I haven't heard "I Got You Babe" all season, nor have I thought about Andie MacDowell one time. A busy, tough week ahead, but this has been a very good seven days for Edmonton.
Todd McLellan: We're a growth team, I wouldn't consider us a championship team or anything like that right now, we're still a growth team—we're learning how to do things.
DEFENSE LAST NIGHT

Klefbom—Larsson were incredible yesterday, winning their minutes across the board. They played most with the McDavid line, facing the Scheifele line (seven minutes) and the Byfuglien pairing (6.5 minutes). That is the heart of the order, ladies and men, and the pairing did well. Larsson had four hits, btw, I know that pleases some people. I don't really care, unless they also contribute to separating the puck from opponent. My observation of Larsson is that does in fact occur with regularity. Four shots for Klefbom.
Sekera—Russell spent a lot of time with McDavid's line too, and against names like Wheeler/Ehlers and that is some tough territory,too. I liked their game, save for a point in the first period where the pairing could not get the puck out of their own zone. This duo is a key element in Edmonton's improved defensive structure.
Nurse—Gryba played most with the Draisatl—Maroon—Puljujarvi line, and against Mattias—Armia—Lowry—and lost possession 5×5 at about a 0-5 clip. That is a battle Edmonton should win, but there were some difficult moments for sure. Three blocked shots for Gryba and six hits.
I am not certain how much score effects had to do with these numbers, but will say I loved the top pairing and saw good things in both the second and third duos.
Nurse had the only point among defenders, a really nice goal.
Oscar Klefbom leads the way in terms of possession, Larsson and Nurse also showing well via Stats.HockeyAnalysis.com.
FORWARDS, LAST NIGHT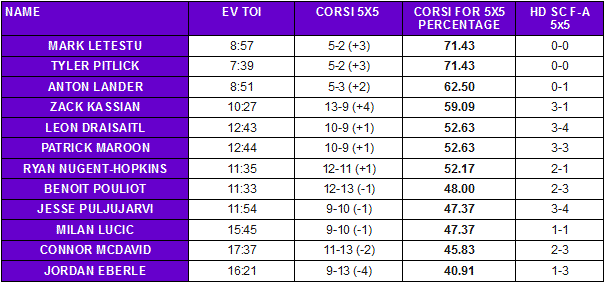 Lander—Letestu—Pitlick went 4-2 together at Corsi 5×5, and of course Letestu scored a shorthanded and winning goal. That is a solid performance from the 4line, raising a question. What do you do when Matt Hendricks and Iiro Pakarinen return? I think this line, as is, has a story to tell.
Maroon—Draisaitl—Puljujarvi had a good game, perhaps less offensive than you would like but they had some good looks too. A total of nine shots on goal—four each by Leon and Jesse—give some encouragement for this line. This was a road game, and they sawed off possession against the Matthias line and the Chariot—but also spent five 5×5 minutes against Byfuglien. Seriously.
Pouliot—Nuge—Kassian had a fine game, including a dandy goal that got all three men a crooked number in the boxcars. Poo and Nuge also spent a lot of time on the PK and I saw the line very good. Can Kassian play this far up for extended periods? Answer is….maybe. BP has not been himself this season, but that cool back pass to Kassian is a little more of what we have come to expect.
Lucic—McDavid—Eberle lost the Corsi and HDSC battle, something we haven't seen much this season. They were fine with the top two pairings, but 1-4 with Gryba and 2-4 with Nurse. That is your hiccup. McDavid played against Tyler Myers for 13 minutes, by the way. McDavid was 8-10 against the tall man.
I hope they keep Puljujarvi, but this is probably close. If Hendricks comes back before the kid scores again, suspect the decision is going to be fairly easy. He looks good, but has some wobbly own-zone passes in his game.
CHIARELLI
Peter Chiarelli's first Boston season saw his team finish with 76 points but in year two the club spiked to 94 points. What changed? Claude Julien replaced Dave Lewis, and the minor league system was producing insane talent for the organization:
2006-07 rookies Phil Kessel and Mark Stuart
2007-08 rookies Milan Lucic, David Krejci, Vladimir Sobotka
2008-09 rookies Blake Wheeler, Matt Hunwick
2009-10 rookies Tuukka Rask, Johnny Boychuk
2010-11 rookies Brad Marchand, Tyler Seguin, Adam McQuaid
That is a stunning five-year run of procurement, and lots of this is luck and some of it (Boychuk, etc) is via good moves by the general manager. If you look at those names, pretty easy to see how a championship can come from the group—when added to Zdeno Chara, Tim Thomas and Patrice Bergeron.
2015-16 rookies Connor McDavid, Brandon Davidson, Darnell Nurse
2016-17 rookies Jesse Puljujarvi, Anton Slepyshev, Drake Caggiula, Matt Benning
Edmonton needs to keep adding, and Connor McDavid changes everything. That said, the college procurement is already emerging as a key element, and if you look at early Condors scoring it is pretty clear the emerging talent in the minors are the college men—Matt Benning, Nick Ellis, Drake Caggiula when he gets there—and the draft picks (save Jujhar Khaira, Laurent Brossoit) are going to get shut out in the next 18 months. If you are an Oilers prospect and in the middle of an entry-level deal signed when Chiarelli took over, this probably won't end well.
RD Matt Benning 2gp, 1-1-2 (rookie)
L Joey Benik 3gp, 2-0-2 (rookie)
R Patrick Russell 3gp, 0-2-2 (rookie)
R Jaedon Descheneau 3gp, 0-1-1 (rookie)
G Nick Ellis 2gp, 2.53 .925 (rookie)
The Condors have five rookies who are playing a lot, four of them college men and the other an AHL contract who plays ahead of the draft picks. Jujhar Khaira, Mitchell Moroz, Greg Chase, David Musil, Joey Laleggia and the other picks are populating less prominent spots in the roster and that trend is likely to continue. Peter Chiarelli's procurement model basically ignores what was here on the day of his arrival—not unusual for a new general manager, but this is drastic. Here is the 50-man (46) when he took over, with gonzo strikethrough:
G Ben Scrivens
G Tyler Bunz (RFA)
G Frans Tuohimaa
D Nikita Nikitin
D Justin Schultz
D Martin Marincin
D Keith Aulie
D Brad Hunt
D Martin Gernat
C Boyd Gordon
C Travis Ewanyk
C Kellen Lain
L Taylor Hall
L Luke Gazdic
L Matt Fraser
L Ryan Hamilton
L Curtis Hamilton
L Kale Kessy
R Nail Yakupov
R Teddy Purcell
R Rob Klinkhammer
R Andrew Miller
That is basically half of the inherited 50-man, and if you are Mitch Moroz or Greg Chase or David Musil there can be little doubt about how this story goes. This doesn't always work, sometimes a prospect cast away turns out (Martin Marincin a recent example) and PC has traded some substantial talent in Taylor Hall, Nail Yakupov and Justin Schultz. Still, the roster reflects the manager and the coach and we should expect more of the same. For those who don't see enough skill arriving, I give you Drake Caggiula via college and the top picks in his two drafts (Connor McDavid, Jesse Puljujarvi, Tyler Benson). Can this Oilers team hit 94 points this year?
TUXEDO JUNCTION
Nothing cleans up a look—seriously—like a tuxedo. If you are a younger male, you may not have had the opportunity to parade around in one, but a tuxedo that has been fitted and altered can make even the most unusual frame look spiffy. Seriously. For the Edmonton Oilers, Connor McDavid is their tuxedo. When the other lines hit the ice, the look is basically Hawaiian shirt and loud sweat shorts. McDavid? Perfectly cut tuxedo, every shift. Here are the WOWYs for Edmonton's defensemen and McDavid:
Darnell Nurse: 62.3 with, 39.8 without
Oscar Klefbom: 50.0 with, 48.7 without
Eric Gryba: 50.0 with, 40.3 without
Andrej Sekera: 49.3 with, 42.0 without
Kris Russell: 48.9 with, 43.8 without
Adam Larsson: 48.6 with, 48.4 without
Klefbom—Larsson show little effect, the rest is pronounced. It is interesting to see that the gap in TOI: Klefbom pairing 35-40 minutes with; Sekera pairing 36-43 minutes with; Nurse pairing 14-24 minutes with McDavid. The top pairing with the McDavid line is doing damn well, and you know it is against tough opp.
LOWDOWN WITH LOWETIDE
At 10 this morning, a rocking show with a heavy Oilers theme. Scheduled to appear:
Scott Burnside, ESPN. Outdoor game, Canada's teams surging, Anaheim and Lindholm.
Antony Bent, Soccer Insider. EPL Table is fantastic, stories galore and Man U. is struggling.
Jason Gregor, TSN1260. A great WS matchup, Oilers rolling, Eskimos crossover? and last night's NFL game.
Sunil Agnihotri, Copper & Blue and the SuperFan. Oilers are a fast train, can they keep it up?
10-1260 text, @Lowetide on twitter. Good times!