Tyler Pitlick has six NHL goals in his career, and a 17.1 shooting percentage at the NHL level. This season, his shooting percentage is 37.5, three goals on eight shots. Incredible. We know that isn't sustainable of course, and for Pitlick the goals/shots ratio is outside his established levels:
Pitlick in the NCAA: 11 goals in 72 shots, 15.2 percent
Pitlick in the AHL: 28 goals in 425 shots, 6.59 percent
Pitlick in the NHL: 6 goals in 35 shots, 17.1 percent
Yeah, that's not going to work. I have always thought Pitlick ran in bad luck in the AHL, so this NHL success is kind of hilarious, although math isn't smiling. Can we project him as a 10 percent shooter in the NHL? I don't think we can, and I can't see him getting the 150 shots (he is averaging about 1 per NHL game now) in a season that would project him as a 15-goal scorer. Pitlick is a talented player, but a 4line RW until he can show an ability to move up the depth chart. His early showing implies as much, but the shooting percentage is skewing things. I think 4R is the role for him and he has the speed, size and aggressive style to fit into that slot on a Chiarelli—McLellan team.
MARK FAYNE CAN PLAY
At least once a day, I see a ridiculous comment (mostly on twitter) about Mark Fayne. Listening to some normally responsible people, you would think Fayne would be unable to walk and chew gum at the same time. Fayne does have some issues—speed, lack of offense in his game—that could cause him to fall out of the game with the next expansion. This doesn't mean that he is incapable of helping the Oilers, and for me that has been lost in a flood of truly regrettable verbal across formats. Look, Mark Fayne's lack of aggressiveness and speed are two reasons Kris Russell was hired, but there may come a time this season (should he get healthy again) when the veteran righty can come back and help. He is an actual NHL player. I would like to remind you of it, and express my surprise at just how quickly he has been buried by the fan base. If you believe he is worthless, carry on. I do not believe it to be the case, and would hope some degree of decorum could be maintained.
HIGH-DANGER SCORING CHANCES, DEFENSE

This is via NaturalStatTrick.
Klefbom—Larsson get a giant number of HD scoring chances for, far less against. That is a terrific total this early, and a big part of it (8-2 in 35:36 Klef) comes when the pairing is on the ice with Connor McDavid. Still, without CMD the pairing comes in at 16-7 (Klef numbers) and that is pretty damned cool. Too early to make sweeping statements, but if this isn't a top pairing, it might be close enough for jazz.
Sekera—Russell also have handsome numbers but have not been as successful in the McDavid time. In 35:51 with 97, Sekera is 8-7—meaning the pairing is 10-12 without the big (young) man. So, maybe that is quality of outlet pass or maybe it is luck but it is worth following.
Nurse—Gryba is 23:25 and 8-2 with 97 (those are Nurse numbers) meaning (for Nurse) 11-19 without—and that is the soft underbelly of the SC scheme currently being run by the Oilers. Does Brandon Davidson cut that gap by half? Leon and Nurse are 6-13 and that should be a strong line based on opp.
HIGH-DANGER SCORING CHANCES, FORWARDS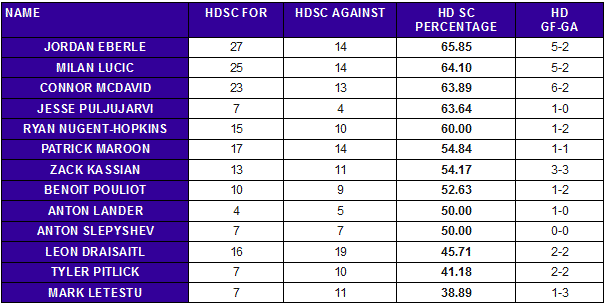 The McDavid line are kings. If this resembles the metrics used by the Oilers, one suspects it will take a helluva lot to break up that top line. I don't know if it is wise, but believe it to be so.
The Nuge line does well by HDSC percentage but haven't converted it into the net very well (1-2 HD GF-GA for Nuge). Is that Puljujarvi being a drag? I think you could also blame Pouliot, and then again Zack Kassian is the most high event forward outside the top line. It has been a strange start.
The LD line should be hammering like Dick Pound based on opponent but the numbers suggest he is skating back into his own end as much as pushing the chances. I hope JP pops one or two, suspect Slepyshev and or Caggiula won't wait forever to grab the opening.
The Letestu line is a good line, running some crazy luck but these dudes deserve it. Back in the olden days the guy on the extra line would sometimes get a push with Gretzky when double shifting was going on, but sometimes it works out badly. Tyler Pitlick has played with McDavid for 3:25 (HDSC 1-0), Nuge 4:54 (2-0) but gives it all back with Leon 3:40 (0-4). I do like Pitlick's shot, seems to have some English on it, but we don't see it enough to even contemplate it as a weapon.
SCOTT CULLEN
He will be a guest tomorrow, and his weekly rankings give a little love to the Oilers. Rankings here.