This verson of the Edmonton Oilers, the new Originals, are at times viewed as being like that old Kinks song Uncle Son. Not terribly sophisticated, a throwback, rugged, reliable and ready to bleed a little, as required. Milan Lucic personifies this group, his career basically made up of endless sorties of calamity and shrapnel contained only by the actual structure of the rink. If you liked 1970, you will love these Edmonton Oilers.
That isn't really it, of course. The Milan Lucic verbal—enforcer, one dimension wrecking crew—is badly out of time with reality. Lucic can bring the hammer—and pass the puck well, hold on to the puck in anticipation of a play opening up, and help with the offense. He has two goals and four points in six games, seems to make sense alongside Leon but is valued as 1L by coaching and management. He leads the Oilers in one category (hits, 18) and is averaging 18:25 a night. He is not Taylor Hall, but he can help you win hockey games and is more than a Coke Machine. I keep reading he is just a big body being placed in a lucky spot, and would encourage you to disregard the nasty verbal and pay attention to the results.
OILERS FORWARDS, THROUGH SIX GAMES
OILERS DEFENSE, THROUGH SIX GAMES

There are legit good numbers here. Let's not call this group the Robinson-Savard-Lapointe Habs, but you can see enough NHL experience and actual ability to see the promise of something structured and effective.
Score effects have had an impact through these six games, but we should look for more of these Corgis to head toward and past 50.
Klefbom—Larsson looks good, and the 5×5/60 totals are good early for the group.
Darnell Nurse gets credit only for his goal, the two even-strength assists are not included in the Stats.HockeyAnalysis.com look. If you include his 1-2-3, Nurse's even-strength/60 number is 2.17. Either way, Edmonton's blue are more involved offensively this year than one year ago.
OILERS BY THE NUMBERS (5×5)
Goals-For Percentage: 56.0 (No. 5)
Shots-For Percentage: 48.9 (No. 19)
Fenwick-For Percentage: 47.5 (No. 22)
Corsi-For Percentage: 47.2 (No. 23)
Shooting Percentage: 10.29 (No. 6)
Save Percentage: 92.25 (No. 10)
PDO: 102.5 (No. 6)
Edmonton's shooting percentage a year ago (7.17) and the PDO of 2015-16 (98.7) are more reasonable (82 games is more reliable) than the numbers above—we should expect regression. I think the Fenwick and Corsi may improve too, we have seen some score effects through the piece. Puck on Net has the score-adjusted Corsi (49.4) and Fenwick (50.1) about even—an encouraging sign.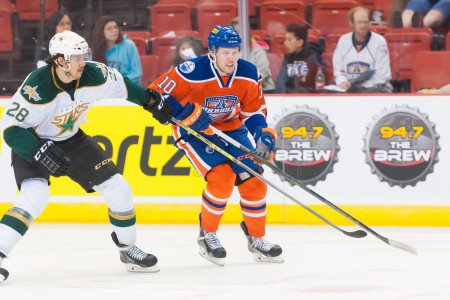 Rob Ferguson Photo, all rights reserved
CURTIS HAMILTON
The 2010 draft looked so good early this blog dubbed Stu MacGregor 'Magnificent Bastard' which is something I came to regret. The 2010 draft sure as hell took its time, but Taylor Hall, Martin Marincin and Brandon Davidson appear poised for NHL careers—and Tyler Pitlick is running down the tracks trying to catch the train. That is a pretty nice—if delayed—return from a single draft.
Curtis Hamilton was a second-round pick who—like Tyler Pitlick—lost a lot of development time due to injury. It is nice to see him doing well in the Sm-Liiga (SaiPa) where he has scored 10 goals in his first 13 league games. He turns 25 in December, so his NHL window is closing, but success in the Finnish league is a story on its own.
LOWDOWN WITH LOWETIDE
10 this morning, TSN1260. A moving target this morning in terms of guests, we have two confirmed:
Jonathan Willis, Cult of Hockey. Will PC add if this team begins to show itself playoff worthy?
Scott Cullen, TSN. World Series gets underway tonight, and Scott's power rankings show a major spike for the Oilers.
10-1260 text, @Lowetide on twitter. Talk in 90 minutes!