At some point, in the distance, we will learn to trust this. I expect it comes after the 20-game mark, maybe Christmas, or perhaps there is enough wobble to keep us anxious all year long. It is possible. I have asked the smartest hockey math people I know about this, and they all say wait 20 games. So we will. I am smiling this morning though, an older smile than 2006, a more subdued and battle hardened smile. We sure have been to hell and back, you and me, and we are just going to have to settle into this thing at our own pace. Watch out for that last step, it's a doozy. And do not be surprised if we see a misstep in the coming days, as the roster is young and not yet balanced.
YOU HAVE GOT TO BE KIDDING ME, YEAR OVER YEAR
Oilers in October 2015: 3-4-0, goal differential -2
Oilers in October 2016: 6-1-0, goal differential +10
At this point, we have to assume this team is going to post a fantastic October record (worst case scenario now is 6-3-0 and that isn't bad), and should enter November in a very good spot. I do not recall anyone in my circle of influence (five guys and a girl wearing tinfoil hats) who suggested anything close to this result. I think we should try to enjoy this, God knows it has been a long time coming. If you have experienced the wonder of Sebastian Bisaillon, the MacT power play, is it me? or any of 1,000 other extreme moments, then you should enjoy the day. Whatever happens after this, well, this was something.
Corsi For 5×5: 45-45 (50 percent)
HD SC: 9-7 (56.25)
DEFENSE LAST NIGHT

Klefbom—Larsson are solid as a rock, great at puck movement and intelligent in all areas. The pairing was 8-1 in 3:57 with McDavid and 7-8 in 6:01 with the Nuge. They were 9-8 against Ovechkin, 12-6 against Niskanen. Klefbom had an assist, and it was good.
Sekera—Russell were 8-5 in 6:37 with the McDavid line, 2-6 in 4:30 with Nuge. They went 4-7 against Oshie (Ovie line) and 3-6 against Backstrom—that is a tough 1-2 punch in terms of lines. Major PK minutes for these two as well. Sekera is fab, I am hearing less negative chatter about his getting the shot through on the power play these days.
Nurse—Gryba went 8-6 with Leon's line (6:19) and were beaten soundly with the Letestu line (1-7 in 4:22). Gryba played exactly one whole helluva lot at evens. I am liking Nurse's game more and more now, the game is slowing down for him. He re-set the sortie a couple of times last night (one of which went awry anyway) and for me that is a terrific sign.
Cam Talbot now possesses a .927 save percentage. Wow.
FORWARDS, LAST NIGHT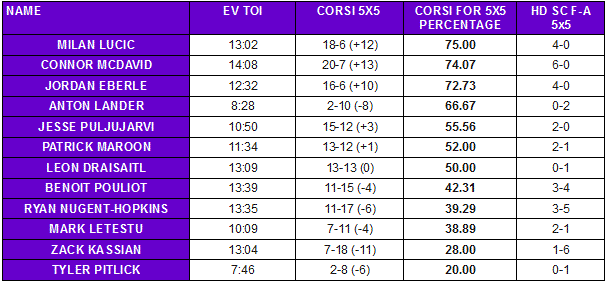 Connor McDavid (mostly with Lucic and Eberle, but spent some dominant moments with Maroon and Puljujarvi) was on most often with the Sekera-Russell pairing, most effective with Klefbom. This line now has 10 goals in seven games and we are looking at an impressive trio. Eleven shots, and as mentioned they were not together for the entire night. The Maroon goal came when 97 and Puljujarvi combined on a speedy and dangerous sortie—perhaps a preview of coming events.
The gap between McDavid (74 percent Corsi for 5×5 percentage) and the rest of the roster (40 percent) is the challenge for Todd McLellan and Peter Chiarelli. It's the reason why the answer to 'are you still worried about this team's playoff chances?' is yes.
Ryan Nugent-Hopkins (mostly with Benoit Pouliot and Zack Kassian, but also with Mark Letestu at times) finally posted some crooked numbers (2A for Nuge, and two goals for Pouliot). RNH was 63 percent on the dot (does he have a dominant side? Perhaps that was the reason for Letestu being on the line at times) and I thought he played well. Zack Kassian was a day late and a dollar shot all night to my eye, but it is important to treat each game as an event and not a trend—Kassian was the scorer on this line for the Winnipeg game.
Leon Draisaitl (mostly with Patrick Maroon and Jesse Puljujarvi) and faced the likes of Lars Eller and Justin Williams (8-9 Corsi for 5×5 against Williams). Leon's wingers each got a point, but McDavid was the center on the play—97 is going to do this more and more as he gets double shifted consistently. LD was 50 percent on the dot, played well to my eye.
Jesse Puljujarvi is a special prospect, but not just in the way we thought he might be coming in. Based on scouting reports and viewing, JP looked like a big, fast and dynamic winger who could shoot the puck, pass it, and contribute in multiple ways offensively. Now that we have seen him (5gp, 1-1-2) for a few games, I am shocked to see how 'old soul' his game is at such a young age. We are possibly looking at a complete skill set, a real difference maker at both ends of the ice. Now, he makes an errant pass in dangerous areas too often, but it is important to remember he doesn't turn 20 until May of 2018. He and Nuge thwarted Ovechkin on separate sorties last night, I bet we include those two names for years to come when it comes to dousing forward progress for the opposition.
Mark Letestu (mostly with Lander and Pitlick) went 2-8 together, had three own-zone faceoffs and two of the three played a lot on the PK—this is looking like a useful 4line. Lander has found a spot, far from the vision of him Todd Nelson had, and looks good in that role. Nice to see, hope he can hang onto it.
EVEN-STRENGTH SAVE PERCENTAGE (5GP OR MORE)
Corey Crawford, Chicago .973
Petr Mrazek, Detroit .950
Braden Holtby, Washington .938
Cory Schneider, New Jersey .937
Cam Talbot, Edmonton .929
Along with Connor McDavid, the performance of Cam Talbot has been a big damned deal in the first month of the season. This is a massive deal, as Edmonton sends a young team out there in some important areas. If Talbot can keep this up, Edmonton might be home and dry with a playoff spot. Is that sustainable?
Hampus Lindholm and ANA agree to terms on a six-year contract with an AAV of $5.25M. #TSNHockey

— Bob McKenzie (@TSNBobMcKenzie) October 27, 2016
Massive deal for the Ducks, that is a beautiful contract. Anaheim placed Simon Despres on LTIR recently, that does give them relief but not enough if my ciphering jives. Is this the day Cam Fowler is traded? Would the Oilers move Benoit Pouliot to get him? How does that help the Ducks? If you are the Oilers, Sami Vatanen would be a terrific target, but one doubts he is the one to leave. I think we will see a trade, but can't see the deal involving Edmonton.
LOWDOWN WITH LOWETIDE
At 10 this morning, TSN1260. Scheduled to appear:
Alex Thomas, The Oilers Rig. Edmonton is now on the verge of a ridiculous month, can they finish it off?
Jeff Mrak, Concordia University of Edmonton. The 2016-17 ACAC Women's Soccer Championship starts tomorrow, we will tee it up and discuss the event.
Don Landry, CFL.ca. The Eskimos are likely to cross over, and on the face of it that looks like a terrific break. How does Edmonton perform against Hamilton and Ottawa?
Frank Seravalli, TSN. Oh, those Oilers! Plus the Anaheim trade and when it will drop.
10-1260 text, @Lowetide on twitter.