The Edmonton Oilers are two wins away from an incredible October sky. If the team can win tonight on the left coast, and then find a way to get past the Senators on Sunday, their record will be 8-1-0. Mail that back to last year and what would you hear? 'Shut your whore mouth' most likely. Yet, here we are. Does the fever break tonight? Or is this team actually better by a lot?
The truth is, every game day thread you read on every Oilers blog this season could be boiled down to one sentence: If McDavid is in the lineup, this team has a chance to win two points. Every night.
EVEN IN THE QUIETEST MOMENTS, YEAR OVER YEAR
Oilers in October 2015: 3-4-0, goal differential -2
Oilers in October 2016: 6-1-0, goal differential +10
In Game 8 one year ago, the Oilers lost to the Washington Capitals 7-4. Evgeny Kuznetsov was on fire that night, he was so fast and the Oilers defense was very poor. If you check the names on defense that night, and compare them to the current roster, suspect we can agree there has been progress.
DEFENSE, AFTER SEVEN

I prefer Corsi For (this is all 5×5, courtesy NaturalStatTrick), but have sorted by HD SC.
Oscar Klefbom is on another level, with Adam Larsson not far behind. In terms of HD SCs, the Oilers are basically double the opposition. Man. That's electric.
Andrej Sekera has been very good to my eye, but trails partner Kris Russell across the board. Thoughts? I have to say that a veteran second pairing (we had discussed Fayne in the role during summer) has been a Godsend. Calm moments tower over the chaos most nights, and that is a very good thing. Russell is one of three Oilers defensemen with more high-danger scoring chances for than against. WheatnOil is drilling down on CorsiRel in the comments section of the previous thread (you know I love my Rel!) and making good points. Lefty-Righty is a thing.
Darnell Nurse is basically even in HD scoring chances and regular scoring chances, Gryba just a shade behind. I think eventually we will see Brandon Davidson there, but what kind of top 6D might we see in 2017-18? My guess is Klefbom, Larsson, Sekera and Nurse are locks, with Benning close to same. Kris Russell? Eric Gryba? Both have a chance to be back, imo.
Where does that leave Griffin Reinhart? Where does that leave Griffin Reinhart?
FORWARDS, AFTER SEVEN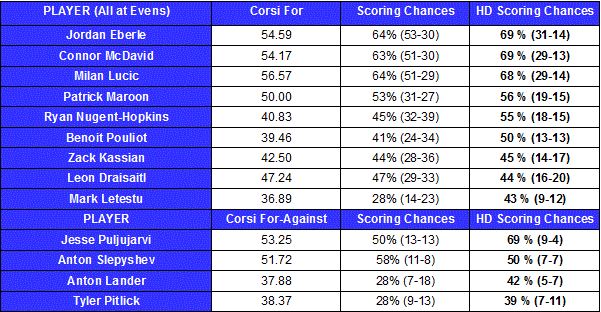 The Lucic—McDavid—Eberle line is the best 20 minutes on television—or in the arena. Honestly, the 97 shifts approach Beatlemania. Part of the magic is that I feel he could score on every play, and that is going to end in a 5-point night along the way, sure as hell. Maybe it's tonight? I well remember some pretty vacant Vancouver teams being run over by the 80s Oilers.
Pouliot—Nuge—Kassian are struggling in the Corsi but sawing off in high-danger scoring chances. Kassian is not ideal, but how many months will it be until Jesse Puljujarvi is ready? March? I think they have the solution and are just waiting for this player to push Kassian out of the way. Could happen sooner than later, JP is going to be a special player.
Nugent-Hopkins is a key player on this team. If he can play his quality two-way game and post 50 points, this team has a chance (if Leon can level the soft parade) to improve markedly in GF.
Maroon—Draisaitl—Puljujarvi looks good in HD scoring chances, and reasonable in possession. I think this line should be pushing more 5×5 and bet we see it as time rolls along. Draisaitl is exceeding my RE, that is an excellent sign.
Lander—Letestu—Pitlick is doing some pretty impressive scoring from the 4line, only question being can it continue. I am beginning to wonder if Matt Hendricks and Iiro Pakarinen will be able to force their way onto the roster when they return. Pakarinen is in an especially tight spot at this point.
THE RE SERIES
Each summer, I do an RE series in search of reasonable. After tonight, we will be 10 percent into the schedule and it is a chance to see where we are in the early days. Here are the actual numbers, and what RE would have suggested at this point.
Connor McDavid 7gp, 4-7-11 (6gp, 3-4-7) +4
Jordan Eberle 7gp, 3-3-6 (6gp, 2-3-5) +1
Leon Draisaitl 7gp, 2-4-6 (6gp, 1-2-3) +3
Milan Lucic 7gp, 3-2-5 (7gp, 2-3-5) Even
Benoit Pouliot 7gp, 3-1-4 (5gp, 1-2-3) +1
Mark Letestu 7gp, 2-2-4 (6gp, 1-1-2) +2
Zack Kassian 7gp, 2-2-4 (5gp, 0-1-1) +3
Ryan Nugent-Hopkins 7gp, 0-4-4 (6gp, 2-2-4) Even
Tyler Pitlick 7gp, 3-0-3 (1gp, 0-0-0) +3
Darnell Nurse 7gp, 1-2-3 (6gp, 0-1-1) +2
Kris Russell 7gp, 0-3-3 (Not included in RE)
Andrej Sekera 7gp, 0-3-3 (6gp, 1-2-3) Even
Jesse Puljujarvi 5gp, 1-1-2 (6gp, 1-1-2) Even
Patrick Maroon 7gp, 2-0-2 (6gp, 1-1-2) Even
Oscar Klefbom 7gp, 0-2-2 (5gp, 0-2-2) Even
Mark Fayne 1gp, 0-1-1 (6gp, 0-0-0) +1
Anton Slepyshev 3gp, 1-0-1 (0gp, 0-0-0) +1
Anton Lander 6gp, 0-1-1 (4gp, 0-1-1) Even
Adam Larsson 7gp, 0-1-1 (6gp, 0-2-2) -1
Eric Gryba 5gp, 0-0-0 (Not included in RE)
Brandon Davidson 1gp, 0-0-0 (5gp, 0-1-1) -1
Cam Talbot 7gp, 2.49 .927 (5gp, 2.44 .920) Seven points up in SP
Jonas Gustavsson 1gp, 0.00 one (2gp, 2.95 .905)
The RE hasn't badly overestimated anyone (numbers here), with only Larsson trailing the prediction (and Brandon Davidson injured). There is however evidence that I may have underestimated Connor McDavid, Leon Draisaitl and Zack Kassian. I am fine with it, the idea of RE is to find reasonable. Thoughts? One thing we should probably expect is a dip in Cam Talbot's save percentage moving forward.
DYLAN MCILRATH
I wrote about Dylan McIlrath last night here, and at ON in a kind of obscure way. So. I don't think the Oilers will claim him, but would not be shocked to my shoes if they do in fact grab him. McIlrath is a defensive defender, but unlike a Mark Fayne (and even unlike Eric Gryba) he has good straightaway speed. Edmonton has the position covered (RH stay-at-home) and seem to like Gryba this year (and possibly beyond). I think you should be close to your internet at about 10:15 today, and we will cover this on the Lowdown. Again, I don't think it happens, but it could this morning. Bet it was discussed. Paajarvi? They didn't take him last time he was on waivers—when it made more sense—doubt they do it today.
LOWDOWN WITH LOWETIDE
A fun Friday as always, 10 this morning on TSN1260. Scheduled to appear:
Steve Lansky, BigMouthSports. The Cubs are playing in Chicago in a World Series—historic. Plus the early start for the Oilers and media coverage of the Leafs.
Guy Flaming, Pipeline Show. Oil Kings progress (send goals!) and some of the early risers in the 2017 draft.
Matt Iwanyk, TSN1260. Should the Oilers tweak the roster (adding McIlrath, perhaps a Purcell) or stay the course with a young, improving group.
Paul Almedia, SSE. Can the Oilers get to 9-1-0 in October? And the wobbly rich that represent Man U.
10-1260 text, @Lowetide on twitter. Talk soon!