Craig MacTavish always used to say a teams win one or two games at the end of a winning streak without earning them, and (conversely) lose a couple at the end of a losing streak that were earned. I think the Oilers were on borrowed time before last night, and they paid for it. Still, seven of nine (heh) is a damned good October.
THE MONSTER MASH, YEAR OVER YEAR
Oilers in October 2015: 3-6-0, goal differential -6
Oilers in October 2016: 7-2-0, goal differential +10
This is a terrific start, let's not allow the loss to Ottawa last night to cloud the view. The trick for Edmonton is to immediately right the ship, meaning a big game in the Big Smoke tomorrow night. Seriously. Maybe the Oilers can pay them back for 'Dubnyk's Nightmare' a game I will never forget.
HDSC: 5-6
Todd McLellan: "We had no substance, no attack, no tenacity to recover pucks… We needed some better performances." 
DEFENSE, LAST NIGHT

Nurse—Gryba had a good night by the numbers, their TOI cut back from previous evenings. Darnell was skating very well—had a fabulous sortie that ended in a Nuge SOG—and Gryba had a good look late (that he did not do a lot with, but this is the world we live in). Played the Pageau line mostly, that guys is a living hornet's nest.
Sekera—Russell had another uneven game to my eye, spent a lot of time against the Turris line. Not a lot about last night was seamless, but this pair had a tough time passing the puck effectively. Russell did a nice job by carry a few times, but the sortie generally died on the vine. I would call the pairing somewhat high event and a little chaotic compared to previous outings—but the coach trusted this duo more than his top pairing—on merit.
Klefbom—Larsson did not have a good night by their own standards. The winning goal came on a play where both men were not on their marks, and the usual calm these two have was disrupted time and again. Struggled badly against the Turris line and seemed to have Erik Karlsson in their faces all night. Love this pairing, but for me this was their least impressive effort.
Cam Talbot was outstanding. Really good.
FORWARDS, LAST NIGHT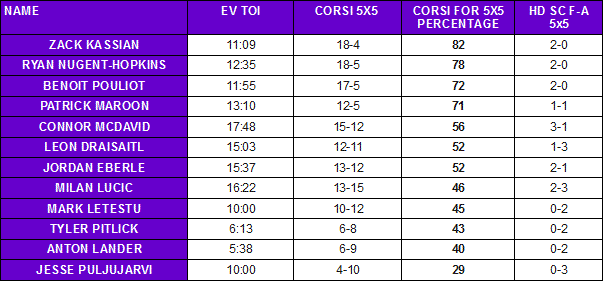 Nuge was fire last night, he is entering a zone and Pouliot can play his usual consistent game, there will be goals. Man he looked good. The line (Pouliot-Nuge-Kassian) had 10 shots on goal, and were 2-0 in high-danger scoring chances. The line got the Phaneuf pairing and the Pageau line, and my belief is they earned a goal that never came. Have to cash those chances, and this line is shy offensively, but not much to quarrel over with this trio last night.
Connor McDavid got 11:36 of Erik Karlsson and went 10-10 head to head. I think that is a compliment to both men, and they threw the Brossard line out there for good measure. McDavid's trio got the HD scoring chance edge 3-1, but part of that was 97 moving around. Lucic (9:52) got dropped for Leon (5:10) and Maroon (1:26) as possibly a harbinger of things to come on this road trip. Lucic was 7-9 with McDavid, Leon was 7-2. Interesting in a small sample size kind of way.
The power play sucks and blows.
Jesse Puljujarvi sat for a big part of the game, once Leon's line was Borged for the McDavid line. I have no idea if that means he will get sent out, but he got a hammer chance in the second period. I wonder if he had the Eberle one timer or the Gryba chance late, would things have been different?
Mark Letestu was 5-1 against Mark Borowiecki, but Edmonton needed their top lines to dominate that third pairing. McDavid (3-2), Leon (3-1), Nuge (1-2) could not find the range, and for me that is disappointing. Home game, matchup opportunities, and the coach and players could not find the soft underbelly.
CHIARELLI DISCUSSED
Dan Barnes is the best sports writer in town. One of the really cool results of what must have been a difficult adjustment (media morph division) was his return to the sports pages a little while ago. I rarely disagree with Barnes, and in fact his recent article is another quality item. I disagree with the title, something Mr. Barnes may or may not have been a part of in any way. It is called With the Oilers at 7-2, critics of Taylor Hall deal fall silent. I don't find it to be true, and in fact one of the impressive things about Oilers fans is their due diligence when it comes to keeping the record straight on this Hall deal.
I have no wish to relitigate it, but it is important for history to know it was not an exchange for equal value. In fact, many of Chiarelli's trades have either been clear wins or clear losses, with the losing end deals often being of the spectacular variety. Let's quickly review the major trades.
Acquired Griffin Reinhart for the picks that turned into Mathew Barzal and Mitchell Stephens. One of the main reasons to make a deal like this is to hurry the development timeline, but Reinhart did not come to the NHL in year one, and is not in the NHL in year two. Meanwhile, Barzal is in the show as a teenager. This was an extremely poor trade and it didn't look good the day it was made—that isn't revision of history, this blog said so at the time.
Acquired Cam Talbot and the pick that turned into Ziyat Paigin for the picks that turned into Jonas Siegenhalter, Sergey Zborovskiy and Adam Huska. I think this was a terrific trade for Edmonton, and settled a position that had been filled with loose cannon options for some time. You have to wait five years to see what happens with the prospects, but unlike the Reinhart deal, Talbot was an immediate and substantial upgrade. This was an excellent trade by Peter Chiarelli.
Acquired Eric Gryba in a series of deals that cost Martin Marincin. I think Edmonton lost this trade, but it is true they received a righty in the deal. Gryba (for me) has been an adequate third-pairing D, while Marincin has been better than that (he players up the order). It was a win for Toronto, but I don't think it is a trade we should get our gonch in a knot over.
Acquired Zack Kassian for Ben Scrivens. A good trade, sometimes forgotten because Scrivens is no longer in the NHL to remind us of the piece sent away. Kassian is playing too high up the order, but is also an actual NHL player and I think helping this team.
Acquired Patrick Maroon for Martin Gernat and the pick that turned into Jack Kopacka. So far (25gp, 10-6-16) I think this trade ranks with the best made by PC since his arrival. Maroon is beginning this season slowly (9gp, 2-0-2) but has contributed to wins and been a good LW for Leon in my opinion.
Acquired Adam Larsson for Taylor Hall. Chiarelli lost this trade, and the fact I have no banner at the top of this blog screaming it does not mean it is not true. I very much like Adam Larsson, and am pleased that he is playing so well, but the fact remains Peter Chiarelli lost this deal and that won't change. Taylor Hall does more to help his team win games than Adam Larsson can do no matter how well he plays. That isn't meant as a putdown, I like Larsson as a player and value his player-type far more than you do. Folks, it is important to establish these things, because if we are going to be the thinking person's version of fans/observers, then right is right and there is no neutral ground. It is possible to value Adam Larsson fully for what he brings and also believe it was a poor value trade. These are the facts. I respect Dan Barnes enormously, but vehemently disagree with the headline he may or may not have written.
Acquired Zach Pochiro and a conditional third-round pick for Nail Yakupov. This is a recent one and I am torn on it. Nail Yakupov is 9gp, 2-2-4 so far—basically Zack Kassian's production. Nail is a confounding player, and someone who Todd McLellan would have had a full chance to evaluate. He is a gifted but flawed player, and the organization has chosen to move on. I don't know that it is reasonable to bury Chiarelli for this trade, because there is every chance Nail was not going to blossom here. I have settled on being happy for the young Russian and his second chance, but can gather no anger for the GM who did the deed. Perhaps that will change in time, but it is how I feel about it at this time.
Chiarelli has acquired solid to excellent solutions in Cam Talbot, Adam Larsson, Zack Kassian and Patrick Maroon. He sent away a highly-rated but struggling Nail Yakupov while also paying an extreme price for the same problem in Griffin Reinhart. I think it is fair to say that Chiarelli's additions have been on point and productive, but the price paid is searing, and that price will define his time in Edmonton unless he can bring the Stanley Cup back to this city.
And you may say that was his assignment and you have to give to get, and that his fine. My response to you is this: He better be right. I think Mr. Barnes would be justified in writing that story, and he should write the headline, too.
LOWDOWN WITH LOWETIDE
At 10 this morning, TSN1260. Scheduled to appear:
Scott Burnside, ESPN. The brilliant and touching story that Craig Anderson and his wife wrote this week, culminating in Anderson's shutout at Rogers Place last night. Also, McDavid heads east to Toronto and Pittsburgh, and those games should be national stories while the team is away.
Andrew Stoeten, BlueJaysNation. WS goes to Game 6 and back to Cleveland. Is this the year the city of lights, city of magic grabs an NBA and MLB championship? Or is it to be heartbreak by the Cuyahoga river?
Jason Gregor, TSN1260. A crazy weekend for the Oilers, Eskimos, MLB and NFL. We will review.
Sunil Agnihotri, Copper & Blue and The SuperFan. What is good and what is bad and what is true about these Edmonton Oilers?
10-1260 text, @Lowetide on twitter. A fun show ahead!